Upon reaching the end of eighth grade, playing football was the last thing Eddie Johnson wanted to do. However, with a little nudging from the coach, he acquiesced to the request long enough to try out for the team.
"I don't regret it at all," Eddie recalled. "When we moved to Midlothian at the end of my eighth-grade year, Coach Clark asked me to try out. I really didn't want to play football anymore. I was burned out because I had been playing since Little League and wanted to do something else; but I tried out in the ninth grade and made the team. Now I can't go a day without it." As a senior this year, Eddie will again play wide receiver for the team.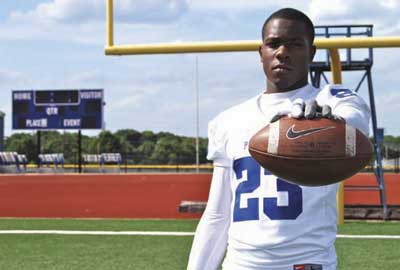 Since returning to football, the benefits and rewards Eddie receives from being a part of the team are immeasurable. One important way he has reaped benefits is the four-year full scholarship to Baylor University in Waco, Texas, that was offered to him during his junior year in high school. Eddie explained, "Baylor was one of the [football] camps I went to as a sophomore. I talked to the coaches after camp, and they didn't show a lot of interest. They just said, 'Good job.' Later in the season, Coach Clark called me into his office. He told me to sit down. He was looking very mean and I was thinking, What did I do? I thought I was in trouble. He handed me
something and said, 'I want you to read this,' and I thought it was something bad. I saw Baylor on it and thought, Oh my goodness! It was a scholarship."
Smiling, Eddie still speaks of the occasion with awe. He and his parents, Jeanette and Eddie Sr., fully appreciate the opportunity. Although Eddie continues to get calls from other schools, he is committed to Baylor. He said, "I really liked Baylor when I visited. It is only an hour's drive away, so if I need a home-cooked meal, I can come home and go back. I have seven scholarship offers right now. It's a verbal commitment to Baylor so other colleges can still talk to me."
Being courted by so many colleges can be a weighty thing for a young man to handle; however, Eddie's parents used his experiences to help build his character as he grew up. According to
Eddie, "My mom knew when I was young that I was going to be an athlete because I was tall. She told me to keep a good head. She always says that. The college process is kind of crazy. You have
to be smart and watch what you say.
You have to watch what you do and don't get big headed about it. Take one step at a time." In addition to his parents' support, Eddie enjoys the support of his teammates. "The team at Midlothian High School is more of a brotherhood than any other team I've been a part of," he stated. "Coach Clark is doing a terrific job. The first thing Coach Clark says is we need to get together and be stronger as a group of brothers before we can take on other obstacles. If you have that, you can conquer anything. In doing everything together, you know that in the crunch time of the game you
can count on the person to the left or to the right."
The team's sense of brotherhood causes each person to want the best for each other. Eddie remembers how hard they tried to win the last game of the season [last fall] for all of the players
who would graduate. Sometimes, it is during those moments that a player demonstrates his best abilities. Eddie stated, "It was the last game for Bryce [Petty] and all the other senior players.
So, every play I went out there and thought, Man, you really have to work. I did a fade route, which is a straight line where you run down the field, and Bryce threw to me. He overthrew it,
and I jumped over this kid's head to catch the ball. I felt like everybody gave 100 percent at that game."
Eddie wants to go to the National Football League (NFL) someday, but realizes the value of a back-up plan. He said, "I want to major in kinesiology in college because I like sports and education. I want to be a coach. My main goal is to be in the NFL, but if not, then I want to be able to interact with kids, I love working with kids."
Eddie realizes the importance of teamwork whether playing football, being a member of the track team or being involved with his youth group at Cedar Hill Church of Christ. He summarized it by saying, "When everyone is one, it's like a chain. If the links are strong, you can't break it.
When it's time to work, then have the mindset to work harder than the next person. You have to keep that motivation all the way through high school, college and if you make it to the big leagues. I
stress that every day."
– By Betty Tryon