According to the U.S. Charter Schools organization, nearly 3,000 new schools have been launched since state legislatures began passing charter legislation in the 1990s. Chartering is at the center of a growing movement to challenge traditional notions of what public education means. Charter schools run independently of the traditional public school system, and they tailor their programs to community needs. Policy makers, parents and educators are looking at chartering as a way to increase educational choice and innovation within the public school system. In Texas, charter schools serve more than 90,000 students in some 500 schools.
When Tanis Stanfield was an elementary school special education teacher, she said she met the children who fell through the cracks of larger, more impersonal schoolrooms.
"Some kids just do not do well in a seven-hour school day. I am a hands-on learner," she said. "What worked for me was visual learning and doing things." So Tanis designed a program that focused on small group learning and one-on-one teaching and opened the original ComQuest Academy in Tomball 10 years ago.
The success of the students enrolled in her Tomball program prompted school administrators to encourage Tanis to open a new campus in Corsicana. In Corsicana, the ComQuest Academy enrolled its first class last January with six students, two boys and four girls, in attendance. As a school fully accredited by the Texas Education Association, the Academy can award a diploma like
any other high school. The Academy offered a structured program of studies that included all of the required secondary subjects, but in the place of elective courses, it offered workforce development for high school credit. It is this combination of academic and job-related learning that distinguishes this program. Tanis explained, "The 'Com' part is about communication and community and the 'Quest' part is about the student's quest for communication skills and membership in a community of learners."
In a pre-enrollment process, parents meet with the teachers to present academic records and discuss their child's needs and goals. Incoming students are counseled to understand the expectations of the school and to commit to the rules that are designed to make the classroom a safe environment where all students can prosper.
"We are trying to create a win/win situation where students experience success," Tanis said. Students attend classes from 8:00 a.m. until 1:00 p.m., and then they report to a job for four hours in the afternoon. Students with jobs can earn 1.5 credits per semester for 15-20 hours of paid or volunteer work. "It all counts," Tanis said. "It allows them to try out different interests, develop job skills, learn appropriate workplace conduct and one of the most important lessons is the chance to discover the consequences of poor performance or attendance.
If they get fired, they still have a second chance to do better in another job." Employers write evaluation reports on a student's performance. This helps the teacher encourage the student by recognizing a job well done and helps them advise the student/worker on ways to improve in less successful areas.
Those who need more time to study can work with college student tutors in a second session held in the afternoon. Students have computers to do research projects, learning how to search for information and to evaluate it for its authenticity and usefulness. They also use a tutorial program that gives them experience in taking tests in the format used by the
TAKS test.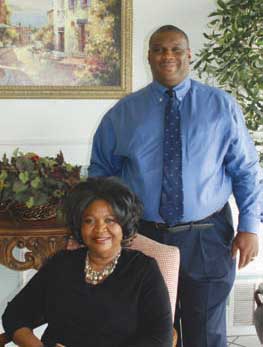 While Tanis was organizing the Academy, Ricky Walter was dreaming of an optional school for students who needed help to prepare for the TAKS test. He made space available in his Lifeline Fellowship Family Church and gathered some young people from his congregation, as well as other congregations within the community.
"I wanted them to have a place where they don't feel threatened by expectations they believe they
cannot meet," he explained, "a place that won't label them, but show them alternative ways to achieve their goals." The students' success reawakened a previous interest in starting a charter school that would provide support to students at risk of dropping out of high school. "That's when Tanis Stanfield came by," Ricky said. "We talked about a partnership between Lifeline and ComQuest that would offer a high school core curriculum along with training in how to learn and how to work."
They planned to serve 50 to 75 high school students who, for various reasons, were encountering
obstacles to their education, but were motivated to earn a diploma. During the summer, Lifeline ComQuest Charter High School moved to the Lifeline building on Highway 31.
There are four full-time teachers who teach English, social studies, science and math. Part-time teachers will come in to teach music and Spanish. Volunteers will be welcomed to bring an array of
talents to share with the students. ComQuest Academy offers the kind of learning environment that works well for students like the young man who said, "I know this is my last chance. I've
got to make it work.
"Students who have this kind of determination," Ricky added, "will find the opportunity and
guidance they need to reach their goals here at ComQuest."
– Written by Joan Kilbourne