The sprawling stone and brick Mediterranean-style home of Bruce and Lynn Basden is the third house they have built, and the one they plan on calling home permanently — quite a claim for a family, which has moved about a dozen times.
With its beautiful landscaping, inner courtyard, guest house and pool, this 4,000-square-foot Tuscan villa, built in 2007, is the house of their dreams. Bruce, owner of Basden Steel and a Burleson native, and Lynn, who grew up in Joshua, have enjoyed 30 years of marriage.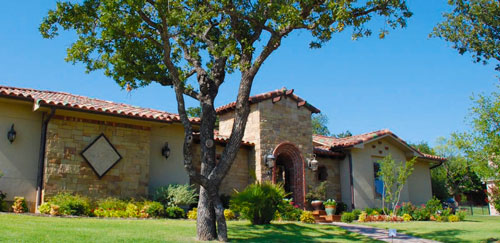 "We've always been in Burleson, but we've moved around a lot," Lynn said. Their previous residence began to feel too large once the three older of their five children began leaving home, so Bruce and Lynn decided to downsize. "My dad was a master bricklayer and he helped us build our previous house, but was unable to help us with this one. We tackled this one by ourselves, and I stayed up here during the day in a little trailer, overseeing everything. It was quite a job," Lynn added. Bruce and Lynn found out they work well together as they began the building process. "Bruce handles the construction and the structural things, of course, and the interior stuff I get to decide," Lynn said.
Bruce added, "The whole house is suspended on steel beams. Ground is really active in Burleson and suspending it [the house] keeps it from moving."
Travertine marble floors run throughout the kitchen and living areas, perfect for wet feet coming in from the pool.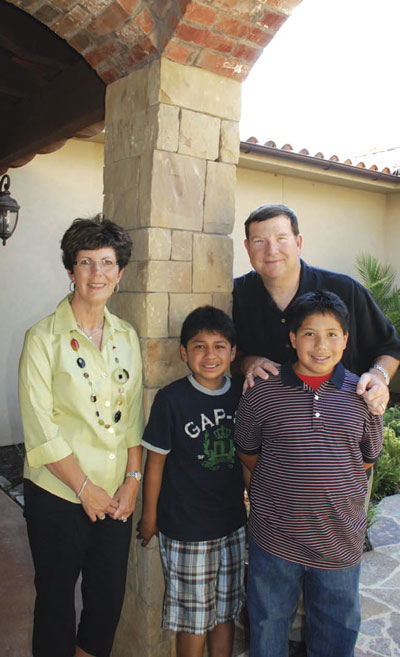 "We really wanted the house to be open and family-oriented," Lynn explained.
"We knew we'd have a lot of traffic in and out with the kids and because we like to entertain."
The Basdens have included a separate guest house in their last two homes, an important necessity due to their many visitors. The guest house, decorated in "I Love Lucy" memorabilia, offers a bedroom, bath and small kitchen area. "Bruce has a detailing service in Romania and a plant in Oklahoma, so sometimes we'll have workers come for training and stay 30 days at a time," Lynn said. "It also comes in handy if our church needs a place to put somebody for a few days."
Gorgeous woodwork is found throughout the home, from hardwood flooring to the dark-stained cabinetry. "Our cabinet guy built and finished everything in his shop and then installed them. There was no onsite staining or finishing, which is pretty remarkable," Bruce noted. The cabinets in the living room are a unique feature, swinging open to reveal a long closet for their Christmas trees, fully decorated and wrapped.
"I got so tired of pulling everything out every year and then taking everything down again, especially since I rarely get any help," Lynn said with a smile in Bruce's direction. "I love Christmas trees, and it's just a lot easier this way."
As many home builders and decorators can attest, some projects start small, only to evolve into a long and arduous process. The glass-paned doors leading to the formal dining room were just such a project. Lynn gave each member of the family their own pane to paint, a creative way to imbue
the house with their personalities. "After we got the panes done, I had to take them up to the church to bake because they were too big to fit in my oven. Then I had to drive them to Fort Worth to the door company to have them put in, trying to make sure they didn't break," she recalled. "I
love it now, but at the time, all I could think was, Why, why,
why did I do this?"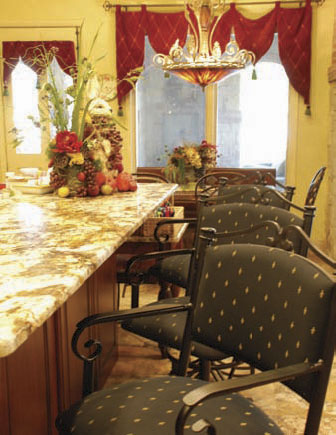 The panes, decorated with flip-flops, fish, flowers, pelicans and suns, are now a fun accent to the red
walls and patterned ceiling. A hutch holds some of Lynn's collectibles, including her mother's Precious Moments figurines.
The living room fireplace, made from a unique fossil stone surrounded by more stone and
brickwork, also presented a challenge when it was being installed. "The [fossil] stone did go all the way up to the ceiling at first. There was scaffolding holding it and the builders left for the day," Lynn said. "About 15 minutes after they left, we heard this huge crash. The whole top section had fallen off and broken pieces of stone were all over the floor."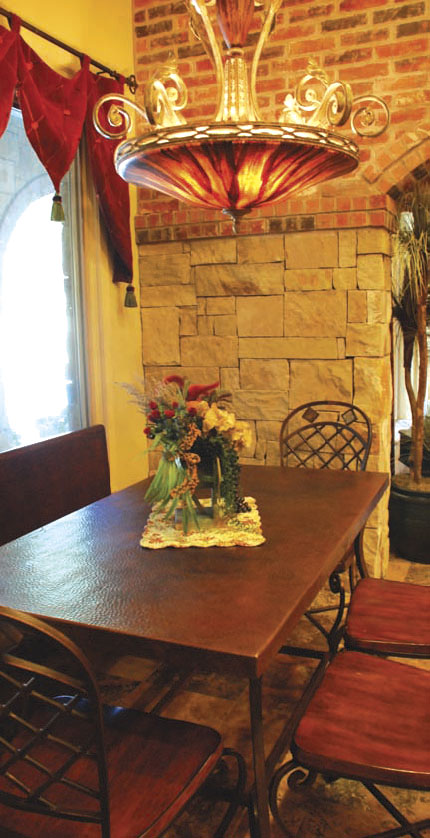 Opposite the dining room, double doors open to a front room which is home to Bruce's college memorabilia, including his trombone from Aggie band days. Theater chairs front a large flat screen and cabinets with glass fronts hold shelves of souvenirs. Following in their father's footsteps, the boy's game room and bedrooms are also covered with the maroon and white Aggie colors, from rugs and pillows to wall hangings. Hanging with pride in the game room is a picture of the Basdens' older sons, Kyle and Daniel, with retired Texas Rangers pitcher Nolan Ryan. "When they were little, their grandma took them to the game and whistled for Nolan Ryan to come over for a picture. They were pretty excited," Lynn said.
The master bedroom, complete with a baby bed for visits from grandchildren, has a massive family photo gallery wall. A hutch below the pictures contains some of Lynn's miniature shoe collectibles, a
tradition carried on from her mother, as well as baby quilts made by her grandmother.
"We keep a lot of stuff in my family," she smiled. On another wall hangs a shadow box containing one of Bruce's favorite conversation pieces — a mourning wreath. "In the Civil War era, when a young lady would die, they would cut a lock of her hair and put it in the center and then all her
friends would cut locks of their hair and make a wreath out of it. It's pretty unique — and maybe a little spooky," he explained with a laugh.
Off the kitchen is Lynn's utility room, complete with a table for sewing and crafts. "Our son, Simon, and I got irritated that she had a craft room and we didn't, so we built one for ourselves," Bruce joked.
The recent addition, located to the side of the driveway, was made to resemble a train depot.
"It's a knock-off of the depot at College Station," he added. "It's going to be a hobby room [where] Simon and I [can] build our model trains."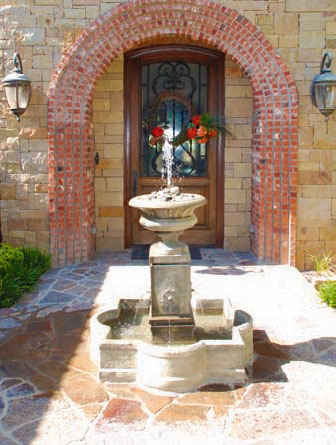 The Basdens have built a beautiful house, one they intend to call home for many years to come, as evidenced by the cornerstone near the back door, engraved with their names, the date and the scripture, Joshua 24:15. "It took us about a dozen tries," Bruce said, "but we finally have our dream house."
— By Jaime Ruark