Special Weapons and Tactics (SWAT) teams tend to have a glorified reputation based on TV more than reality. Why are specialized law enforcement teams needed anyway? Cedar Hill's team, designated Emergency Response Team or ERT, is made up of police officers who volunteer both for training and service when crisis situations arise or when the safety of law
enforcement officers or the public is at risk.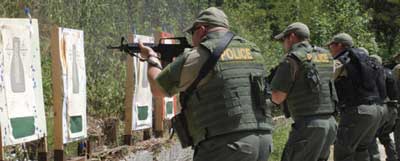 "The main qualification for the ERT is maturity," stated Lt. John Densmore, who leads, organizes and oversees training and deployment of the Cedar Hill team. "We look for a good record in their primary job responsibility. Our team is considered part time, even though they are on call 24/7.
The bulk of our calls involve issuing high-risk warrants, but we also deal with barricade situations or any other high-risk event. We train to respond to mass
casualties, natural disaster calls and any other special assignment from Police Chief Steve Rhodes," said Lt. Densmore. Lt. Densmore was a Marine, from a family of Marines. His primary duties in the Corps included being a marksmanship instructor and artilleryman. He had grown up around guns and was familiar with them.
Following his time with the Marine Corps, he tried out various fields of work, but police work seemed like a natural fit. Once out of the academy, his police career in Cedar Hill
began as a patrolman. When the chief wanted to add a response team, Lt. Densmore was asked to coordinate the development of a manual and training program. "Really, it was a cooperative effort of some 15-20 guys who were interested. We wrote the manual and once it was approved, we formed the team in 2000. The bulk of our team is made up of original members, although
we lost and gained some," Lt. Densmore related. Each team member also functions full time in various other police roles. Lt. Densmore is a night shift patrol commander.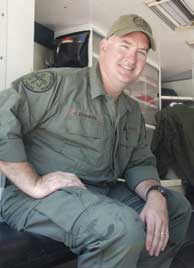 "We are blessed to have strong backing from the city manager, mayor, city council, school district, the business force and residents. The predominant view of city leadership is proactive toward police/fire/parks/streets. The priority is safety. For me personally, and my team, it is reassuring that everyone pretty much works together," Lt. Densmore stated.
"I have to say this city is made up of people who, by and large, work together. The citizens and business owners really contribute to our success by allowing us to train in their facilities and use their employees as role players in life-like training situations. Many of the businesses have helped provide equipment for the entire police department," Lt. Densmore remarked. "I could never remember everyone, but I would like to mention Mt. Lebanon Baptist Camp; they have let us train on numerous occasions, even at the last minute when other arrangements fell through. Northwood University, the Cinemark, CHISD, Texas Trust Bank, La Qunita, Chick-fil-A, Uptown Village [and] Trinity Church all have hosted us in training or helped in some manner. Drama students from the high school have also participated."
Another thing the team does is visit businesses, meet the employees, review the business layout and speak to them about what plans they have in place should something happen. "We familiarize ourselves with the business, building floor plans and employees, as well as letting them get to know us. This instills trust," Lt. Densmore said, "which is crucial in an emergency. We also work with crime watch groups. They are the ones who, along with patrol officers, do a lot of the footwork and observation for us. They know what is normal and what is not, and they are key in helping to solve crimes. Again, we couldn't do our training without all of these people."
Besides training and serving locally, team members attend SWAT training events and train with other agencies and with departments in Ft. Worth, Garland, Irving, as well as the Best Southwest cities. "We can call on other chiefs and agencies to share information and experiences whether we have questions or requests. We have a good networking relationship," Lt. Densmore commented.
Within the police department itself, this compatibility and cooperation is integral to the unity and efficiency of the force as a whole, as well as supplying tactical support for the ERT. "We have a PACT unit (Police and Community Together). This is not what has become identified as traditional community policing, but more of a link of communication between citizens (who live there and see things we don't) and the patrol officers. Our victim assistance team walks victims through the process of getting as immediate of help as possible following crimes or accidents, thus freeing the detectives and officers to pursue criminals. In fact, detectives do most of the work, calling us in when a situation necessitates use of ERT to serve a warrant or preserve the safety of police officers, civilians and suspects. Patrol officers block traffic and work the perimeter so we can be free to work without endangerment to innocent onlookers.
"One of our main goals," Lt. Densmore emphasized, "is to do the right thing at the right time every
time. To accomplish that, we train and then act; training eliminates a lot of difficulties ahead of time. When a situation occurs, we create a written pre-op plan based on our training, brief those involved and follow through with action, somewhat dictated by the suspect or subject, yet based on our plan. After every training and op, we debrief. Each member provides input on the plan, the action, each other and themselves. We also make a detailed critique of both ops and training events. This actually creates confidence, making it easier for each team member to do their job."
Another key element to success as a police officer and as an ERT member is being grounded at home. "Most of our guys are married with families, mature and experienced at life, as well as skilled in police work. They range in age from 24-44, most being older,"
Lt. Densmore maintained. To become a team member requires an extensive selection process involving physical fitness and fire arms qualification; oral interviews with members of the team resulting in a recommendation, which will be reviewed by both the chief and assistant chief; psych evaluations; and an interview with the chief.
"Our guys have to be prepared to save lives — that's the objective. They cannot take things personally. Most criticism and resistance is directed at the badge, the authority — not the individual.
We also have to realize whatever decisions we make have to be backed by law, not personal opinions
or our own sense of justice," Lt. Densmore indicated. "We are grateful, not only that no one has ever been hurt, but also to serve a city that backs us up so willingly."
– Written by Beverly Shay