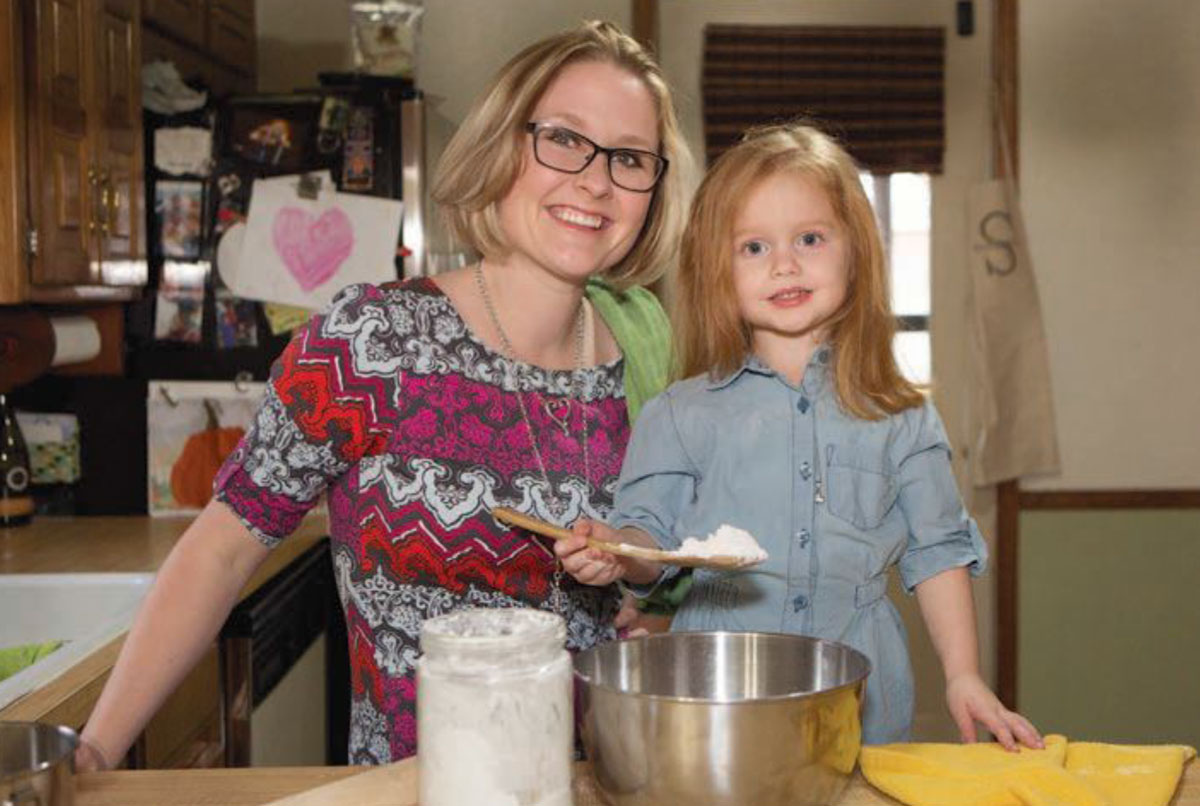 These recipes were contributed by Sally Stanfield, a Granbury resident, and originally appeared in the GranburyNOW April 2015 issue.
Dad & Lisa's Rice Crust Pizza
1 egg

 

1 1/2 cups cooked white rice

 

1 tsp. Italian seasoning
1 tsp. garlic powder

 

1/2 cup each your favorite vegetables, chopped
1/2 cup each your favorite meats, precooked
1 cup cheese, shredded

 
Beat egg and mix into cooked rice.

 

Add Italian seasoning and garlic powder.
Press into a buttered 9×13-inch casserole dish.
Bake at 350 F for about 20 minutes, or until lightly browned.

 

Remove from oven and add your favorite pizza toppings.
Return to oven and bake until cheese has melted, about 8-10 minutes.
Mom's Creamy Potato Soup With a Dilly Twist
1 5-lb. bag red potatoes
1 gal. water
1 15-oz. can evaporated milk

 

1 stick butter
1 packet Dill Dip Mix
1 1/2 cups cheddar cheese, shredded

 

1 tsp. salt
1 tsp. pepper
1 bunch green onion, chopped

 
Cube potatoes, leaving skin on, and place in a large soup pot. Cover potatoes with water and bring to a boil. When the potatoes are soft, pour some of the water into a side bowl. (You may want to add back into potatoes if they get too thin.)
Add milk and butter, stirring slowly after each addition.

 

Add half the dill dip mix. (Depending on your love for dill, you can add more.)
Add 1 cup cheese and stir until melted. Season with salt and pepper.
Using a hand-held potato masher, mash potato chunks to preferred thickness.
Garnish with green onion and remaining cheese.

 
Puffy Gingerbread Pancakes 
From Grandma's recipe box. 
2 eggs

   

1/2 cup cottage cheese
1/4 cup yogurt

 

2 Tbsp. oil

 

2 Tbsp. molasses
1/2 cup brown rice flour

 

1/2 tsp. potato flour
Dash of cloves

 

1/4 tsp. cinnamon
1/4 tsp. ginger
1/2 tsp. baking soda
1/2 tsp. salt
Beat eggs until light. Add next four ingredients, beating well.

 

In a separate bowl, sift together flours, spices, soda and salt.

 

Mix wet and dry ingredients. Mix well.
Cook the same way as traditional pancakes.
Blaire's Peanut Butter Bars 
1 stick margarine

 

1 18-oz. jar peanut butter
1 lb. powdered sugar
3 cups Kellogg's Rice Krispies Gluten-free

 

6 oz. chocolate chips

 

1 tsp. oil
Mix and melt first three ingredients. Stir in Rice Krispies, or any other brand gluten-free crisp rice cereal. Press into a 9×13-inch greased pan.
Melt chocolate chips with oil, stirring well. Pour over cereal mixture. Let cool before cutting into bars.
Grandma's Cornbread for Sally
1 cup corn meal
4 tsp. baking powder

 

1/4 cup potato starch
3/4 cup soy flour
2 Tbsp. sugar
1/2 tsp. salt
1/4 cup oil
1 cup milk
1 egg
1 15-oz. can corn
1 7-oz. can green chilies
Stir together dry ingredients.

 

In a separate bowl, whisk oil, milk and egg. For a more exciting mix, add corn and green chilies.

 

Combine dry with wet mixtures. Pour into greased 13×9-inch pan and bake for 15 minutes at 400 F.