These recipes were contributed by Kizzy Miller, a Southwest resident, and originally appeared in the SouthwestNOW September 2015 issue.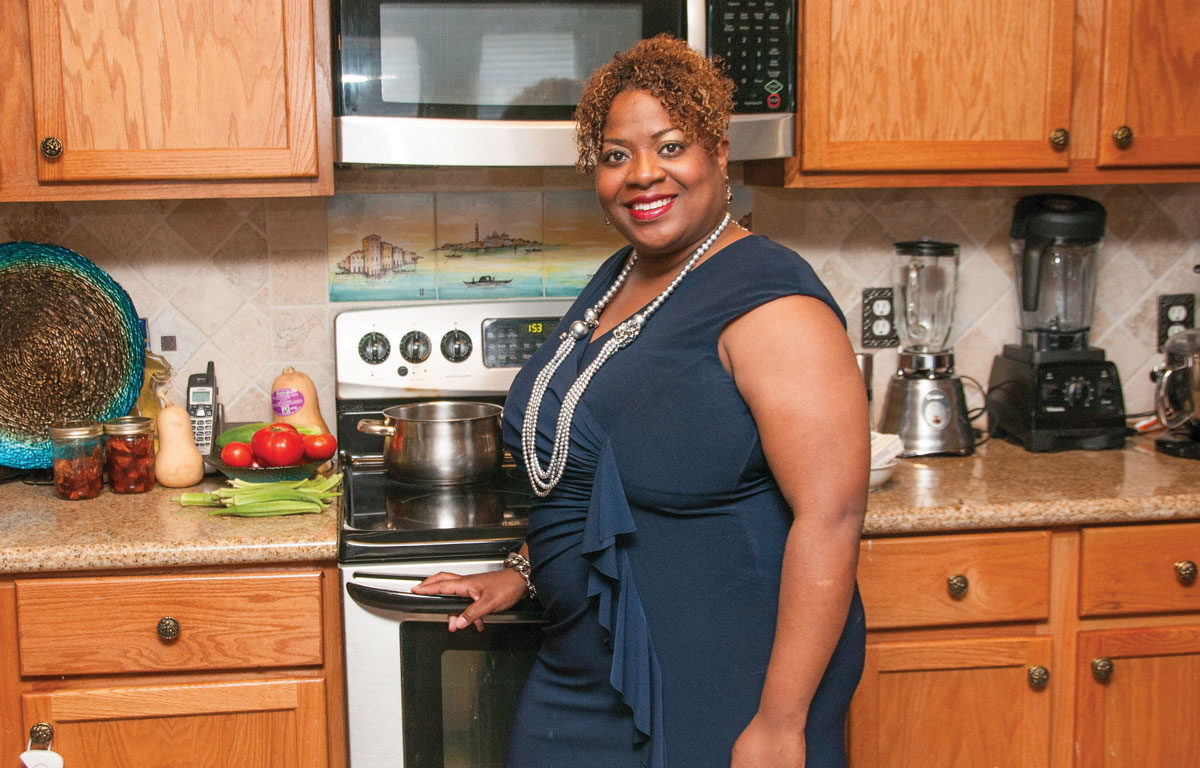 Blackened Tilapia With Crawfish Cream Sauce
Fish:
2 Tbsp. paprika
1/2 tsp. cayenne pepper
2 tsp. dried oregano
1 tsp. kosher salt
1 tsp. freshly ground black pepper
10 6-oz. tilapia fillets
3 Tbsp. olive oil
Cream Sauce:
1/2 each: yellow onion, red and green bell peppers, diced
1/2 cup butter
2 cups half-and-half
Louisiana Cajun Seasoning, to taste
Tony Chachere's Original Creole Seasoning, to taste
Sea salt, to taste
1/4 cup flour
1 12-oz. pkg. Boudreaux's Crawfish Tail Meat
2 cups cooked rice
For fish: Combine first 5 ingredients in a small bowl.
Place fillets in a single layer on a large baking sheet. Lightly coat both sides of fish with oil; liberally rub seasoning mix onto both sides of fish.
Broil, watching closely, until slightly charred (about 5 minutes). Turn and broil until cooked through (about 5 minutes).
For sauce: In a small skillet, sauté peppers and onions in butter.
In a separate pot, cook half-and-half over medium heat; add vegetables and seasonings to taste. Scoop small amount of milk into a cup measurer; add flour and stir until there are no lumps. Slowly, return half-and-half to the pot. Taste to see if more seasoning is needed. Add crawfish tails.
Serve fish over rice and top with sauce.
Fresh Green Bean Medley
4 Tbsp. margarine (divided use)
2 Tbsp. extra-virgin olive oil
2 lbs. fresh green beans
Sea salt, to taste
Freshly ground black pepper, to taste
2 Tbsp. parsley flakes
1/2 yellow onion, diced
1/2 each: green and red bell peppers, diced
1 zucchini, diced
Garlic powder, to taste
4 Roma tomatoes, diced
Heat 2 Tbsp. margarine and olive oil in a saucepan over medium heat. Add green beans; sprinkle with salt, pepper and parsley flakes.
Layer onions, peppers and zucchini over green beans. Season with garlic powder and more salt and pepper, if desired. Dot with remaining margarine. Cover and simmer until green beans are tender. Add tomatoes and heat through.
Kelby's Summer Salad
1 head Romaine lettuce, chopped
1/4 cup fresh cilantro, chopped
2 jalapeños, deseeded and sliced
1 4-oz. can sliced black olives
1/2 lb. fresh strawberries, sliced
1/2 cup feta cheese
1 English cucumber, sliced
Balsamic vinaigrette
Combine first 7 ingredients in a bowl; toss with vinaigrette.
Aunt Katie's Cream Cheese Pie
 

2 8-oz. blocks cream cheese
1/2 cup sugar
2 eggs
1 tsp. pure vanilla
1 tsp. lemon flavoring
2 tsp. lemon juice
1 graham cracker pie crust
In a bowl, cream cheese and sugar. Add eggs, one at a time; stir thoroughly.
Mix in next 3 ingredients. Pour into crust. Place pan in water bath and bake at 350 F for 40-50 minutes.
Mama Jeanette's Chocolate Pound Cake
Cake:
1/2 lb. butter
1/2 cup shortening
3 cups sugar
5 eggs, beaten
1 Tbsp. pure vanilla
3 cups flour
1/2 tsp. baking powder
1/4 tsp. salt
4 heaping Tbsp. cocoa
1 cup whole milk
Icing:
2/3 cup butter
2/3 box (about 1 1/4 cups) powdered sugar
1 Tbsp. pure vanilla
2 Tbsp. Hershey's cocoa
3 Tbsp. hot coffee
For cake: Cream butter and shortening. Add sugar, cream until stiff. Add eggs and vanilla and mix well.
Add dry ingredients alternately with milk to creamed mixture.
Bake at 325 F for 80 minutes or until done. Cool 10-15 minutes.
For icing: Combine butter and powdered sugar until creamy. Stir in vanilla and cocoa; slowly add hot coffee. Pour over cooled cake.
Potato Beef Casserole
Created by Kizzy.
6-8 red potatoes, cubed with skin on
1/2 lb. ground beef or turkey
Garlic powder, Tony Chachere's Original Creole Seasoning, onion powder and Emeril's Essence, to taste
2 cans golden mushroom soup
2 cups mild cheddar cheese, shredded
Boil potatoes until partially cooked, but still retaining their shape; drain.
Brown meat in a saucepan and season as desired. Add soup.
In a casserole dish, layer potatoes and meat mixture. Top with cheese. Bake at 350 F for 20 minutes.