These recipes were contributed by Ashley Phimm, a Midlothian resident, and originally appeared in the MidlothianNOW September 2015 issue.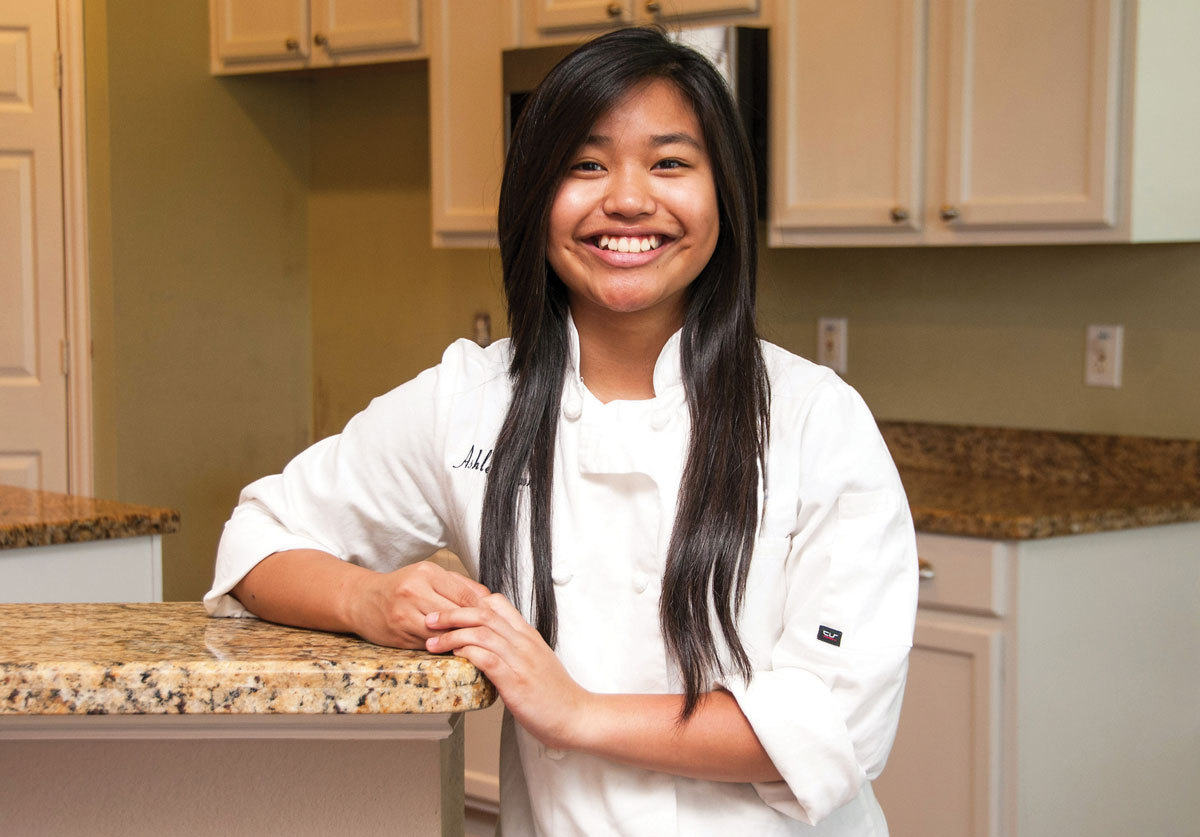 Chocolate Pecan Pie
Dough:
10 oz. all-purpose flour
1.25 oz. sugar

 

1.25 oz. salt

 

4 oz. butter

 

2 oz. ice water

 
Filling:
4 oz. light corn syrup
4 oz. dark corn syrup
8 oz. granulated sugar
3 eggs
1 tsp. vanilla bean paste
6 oz. pecans, chopped
6 oz. semi-sweet chocolate chips
6 oz. pecan halves
Topping:
12 oz. heavy cream

 

3 oz. confectioners' sugar

 

1 tsp. vanilla bean paste
Dough: In a food processor, combine flour, sugar and salt; pulse to combine. Add butter; pulse until mixture resembles coarse meal, with just a few pea-size pieces of butter remaining. Sprinkle with ice water. Pulse until dough is crumbly but holds together when squeezed with fingers. To help ensure a flaky crust, do not over process.
Transfer dough (still crumbly) onto a piece of plastic wrap. Form dough into a disk 3/4-inch thick; wrap tightly in plastic. Refrigerate until firm, at least 1 hour. Roll out crust and place in the bottom of a pie plate.
For filling: Combine the first five ingredients in the bowl of a stand mixer and blend, using the paddle attachment until combined.
Gently fold in chopped pecans and chocolate chips. Pour mixture into prepared pie shell and top with remaining pecan halves in a circular pattern.

 

Topping: Place all ingredients into the bowl of a stand mixer. Use the whisk attachment to whip cream mixture until very thick and creamy; top pie.
Bake at 350 F for 1 hour or until it is set. Let cool before cutting.

 
Vietnamese Meatball Soup
Meatballs:
1 lb. or less ground turkey
1 Tbsp. shallot or onion, chopped
1 Tbsp. fish sauce
2 cloves garlic, minced
1 Tbsp. ginger paste
1 lime, zest only
1 small bunch cilantro leaves, chopped
Salt and pepper, to taste
Broth:
1 qt. beef stock
1 qt. chicken stock
2 tsp. chili paste
2 tsp. ginger paste
2 Tbsp. soy sauce
1 Tbsp. honey
Salt and pepper, to taste
Fish sauce, to taste
Noodles:
8-oz. to 12-oz. rice noodles, soak or boil according to package directions and set aside.
Bean sprouts, to taste
Carrots, julienned, to taste

 

Cilantro, chopped, to taste
Green onions, chopped, to taste
For meatballs: Mix all ingredients; form into meatballs and set aside.
For broth: Combine all ingredients and bring to a boil. Add meatballs and simmer about 10 minutes until cooked through. Remove meatballs.
For noodles: Soak or boil noodles according to package directions. Set aside until meatballs are done.

 

When ready to serve, place noodles in bowls along with bean sprouts, carrots, cilantro and green onions. Cover with broth and add meatballs. Garnish with additional cilantro.
Sassy Ham and Cheese Sandwiches
8 oz. cream cheese
2 tsp. fresh chives, chopped
1 pinch dried thyme
1 stick unsalted butter, melted
2 Tbsp. onion, freshly grated
2 Tbsp. Parmigiano-Reggiano, grated
2 Tbsp. Worcestershire sauce
12 count pkg. Hawaiian rolls
8 oz. Black Forest deli ham, thinly sliced
8 oz. gruyere, grated
Preheat the oven to 350 F. In a small bowl, combine the cream cheese, chives and thyme. Mix until well-combined and set aside.
In a separate bowl, mix together the butter, onions, Parmigiano-Reggiano and Worcestershire sauce. Set aside in a warm spot to keep the butter from solidifying.
Cut rolls in half. Place the roll bottoms in a 9×13-inch pan. Place equal amounts of ham (about 3 slices) on each roll. Top with gruyere. Spread a generous amount of chives and cream cheese on the roll tops. Place the tops of the Hawaiian rolls on each sandwich.
Pour the butter mixture over top of sandwiches. Cover with foil and bake until the cheese is melted, about 20 minutes. Remove foil and bake an additional 5 minutes to toast the buns.