These recipes were contributed by Chef Dré Johnson, a Waxahachie resident, and originally appeared in the WaxahachieNOW September 2015 issue.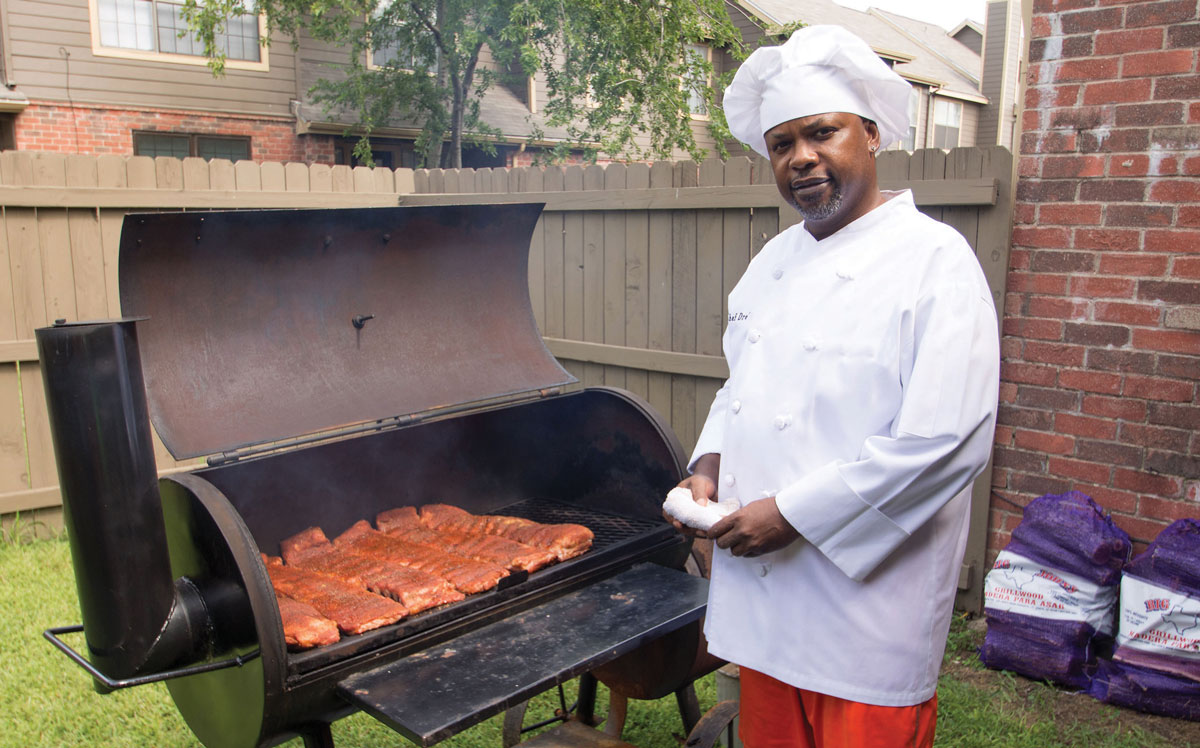 Chipotle Plum BBQ Pork Ribs
1/4 cup hot water
1 tsp. instant coffee
3/4 cup plum sauce
1/2 cup fresh-squeezed orange juice
2 Tbsp. minced chipotle in adobe with sauce
2 Tbsp. brown sugar
Salt and pepper, to taste
2 1/2 lbs. pork back ribs
Mix hot water with coffee to dissolve. Once dissolved, combine with plum sauce, orange juice, chipotle sauce and brown sugar in a small saucepan over medium heat.
Bring sauce to a boil; reduce heat. Simmer until sauce thickens, about 5 minutes.
Season with salt and pepper, to taste.
Coat both sides of the ribs with sauce, saving 2/3 cup of sauce for basting. Arrange the ribs, meat side up, on a lined baking sheet.

 

Cover lightly with foil. Bake at 350 F for 1 hour, basting throughout with the remaining sauce. Allow to cool before slicing.
Daisy Mae's Tea Cakes
1 cup butter, room temperature
1 1/2 cups sugar
1 tsp. baking soda
1/2 cup buttermilk
3 eggs
4 cups all-purpose flour
2 tsp. baking powder
1/2 tsp. salt
1 tsp. ground nutmeg

 

1 tsp. vanilla flavoring
Cream butter and sugar until well-blended. Dissolve soda in buttermilk; add to butter/sugar mixture. Stir in all remaining ingredients in the order listed. Mix until dough forms.
Roll dough out lightly on a floured board. Cut dough with cookie cutters of your choice. Bake at 400 F on an ungreased cookie sheet until lightly browned.
Strip Steak With Rosemary Butter
1/2 cup butter, softened
1 Tbsp. fresh rosemary
2 tsp. grated lemon rind (divided use)
Salt and pepper, to taste
1 Tbsp. dried Italian seasoning
1 1/2 Tbsp. olive oil
2 garlic cloves
1 tsp. pepper
1/2 tsp. salt
4 6-oz. beef strip steaks, 1/2-inch thick
Rosemary sprigs, optional
Stir together butter, rosemary, 1 tsp. lemon rind, salt and pepper. Cover and chill until ready to serve.
Combine Italian seasoning and next four ingredients in a small bowl. Stir in remaining lemon rind. Rub mixture over steaks. Cover and chill for 1 hour.
Cover steaks with grill lid and grill over medium/high heat (350 F) for 3 to 4 minutes on each side, or until desired doneness.
Serve with butter mixture. Garnish with rosemary sprigs.
Fire-spice Roasted Chicken
1/4 cup soy sauce
2 Tbsp. fish sauce
1 Tbsp. Asian sesame oil
1 Tbsp. brown sugar
2 tsp. fire spice seasoning
1/2 tsp. kosher salt
1 Tbsp. garlic, finely chopped
2 tsp. chopped ginger
3 1/2 lbs. chicken legs and thighs
Preheat oven to 375 F. Combine the soy sauce, fish sauce, sesame oil, sugar, fire spice seasoning and salt in a large bowl, mix well. Stir in the garlic and ginger. Add chicken pieces, turning to coat.

 

Cover and refrigerate for at least 1 hour or overnight. Turn the pieces now and then so that the marinade coats them evenly.
Place chicken in a roasting pan. Cook for 30 to 45 minutes.