These recipes were contributed by Ronnie and Shawn Davis, a Ennis resident, and originally appeared in the EnnisNOW September 2015 issue.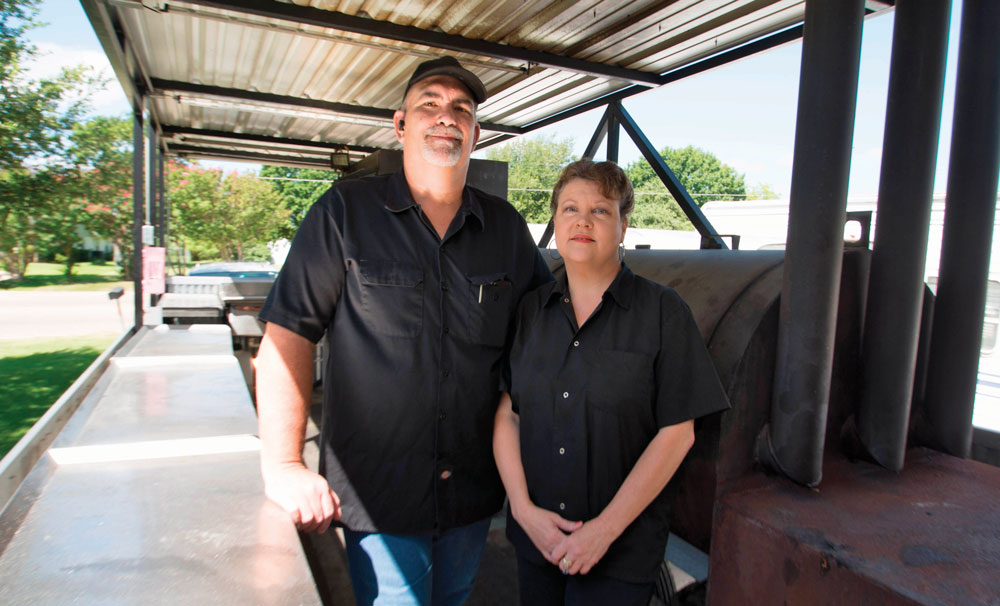 Pickled Shrimp
1 lb. medium shrimp, peeled, deveined and cooked
2 oz. pickling spice
16 oz. apple cider vinegar
1/4 cup sugar
Mix ingredients together; pour into a quart-sized jar and cover. (If needed, top off jar with additional vinegar.)
Refrigerate 4-5 hours, gently shaking jar every hour.
Serve chilled as appetizer or add to a summer salad.
Saint Louis Style Pork Ribs
Serves 3-4.
1 tsp. garlic powder
1 tsp. ground peppercorns
1 rack Saint Louis style pork ribs
Aluminum foil
Barbecue sauce, to taste
Rub garlic powder and ground peppercorns into ribs.
Cook on smoker or grill on indirect heat at 250 F for 3 hours.
Remove ribs; wrap rack tightly in aluminum foil; place on grill for an additional hour.
Remove foil; place ribs on grill for another additional hour, basting every 20 minutes with barbecue sauce of your choice.
Crab-stuffed Jalapeño Peppers
30 medium-size jalapeño peppers
Crab Stuffing:
1 cup onion, chopped
1/2 cup celery, chopped
1/2 cup bell pepper, chopped
2 garlic cloves, peeled and diced
1/4 lb. butter
1/2 tsp. Worcestershire sauce
1 lb. crab meat (can substitute with canned crab)
Salt, black pepper and red pepper, to taste
1/2 cup green onion tops, chopped
1 Tbsp. parsley, chopped
6 slices stale bread
1 cup evaporated milk
4 eggs (divided use)
Breadcrumbs
Flour
Cooking oil
Wash jalapeño peppers. Cut a "T" on the side of the peppers; remove membrane and seeds; leave tops on.
Wash the peppers' insides; drain.
For crab stuffing: Sauté onion, celery, bell pepper and garlic in butter until wilted.
Add Worcestershire sauce, crab and seasonings. Cook over medium heat for 15 minutes, stirring constantly.
Add onion tops, parsley and bread soaked in evaporated milk and 3 beaten eggs; mix well.
Stuff jalapeño peppers; roll peppers in a mixture of breadcrumbs and flour. Dip peppers in remaining beaten egg, then again in flour mixture.
Deep fry in oil until golden brown.
Milky Way Cake
Cake:
7-oz. Milky Way bars
1/2 cup butter
2 cups sugar
1 cup Crisco
4 eggs
2 1/2 cups all-purpose flour
1 tsp. salt
1 1/2 cups buttermilk
1/2 tsp. baking soda
1 tsp. vanilla
Frosting:
2 cups sugar
1 13-oz. can Carnation milk
1/2 cup butter
1 6-oz. pkg. semi-sweet chocolate chips
1 cup marshmallow crème
For cake: Melt candy bars and butter in a heavy saucepan over low heat; stir often; set aside.
In a bowl, combine sugar and Crisco; beat until creamy.
Add eggs; beat until light and fluffy.
Add flour and salt, alternating with buttermilk and baking soda; beat well. Stir in vanilla and melted candy mixture.
Pour batter into three layer cake pans that have been greased and floured (or lined with waxed paper). Bake at 350 F for 30 minutes.
For frosting: Cook sugar, milk and butter in a heavy saucepan on medium heat until it becomes a soft ball; remove from heat.
Add chips and marshmallow crème; stir until melted. Frost cake and serve.
White Chocolate Fudge
Makes 3 lbs. 
3 cups sugar
3/4 cup butter
1 5-oz. can evaporated milk
14-oz. white chocolate, shredded
1 7-oz. jar marshmallow crème
1 cup broken walnuts
1 tsp. vanilla
Combine sugar, butter and milk in a heavy pan; bring to a boil, stirring constantly. Boil 5 minutes on medium heat.
Remove from heat; add chocolate and mix well.
Add remaining ingredients; blend well; pour into a butter-greased pan.
Let cool before cutting.