These recipes were contributed by Candace Jock, a Corsicana resident, and originally appeared in the CorsicanaNOW September 2015 issue.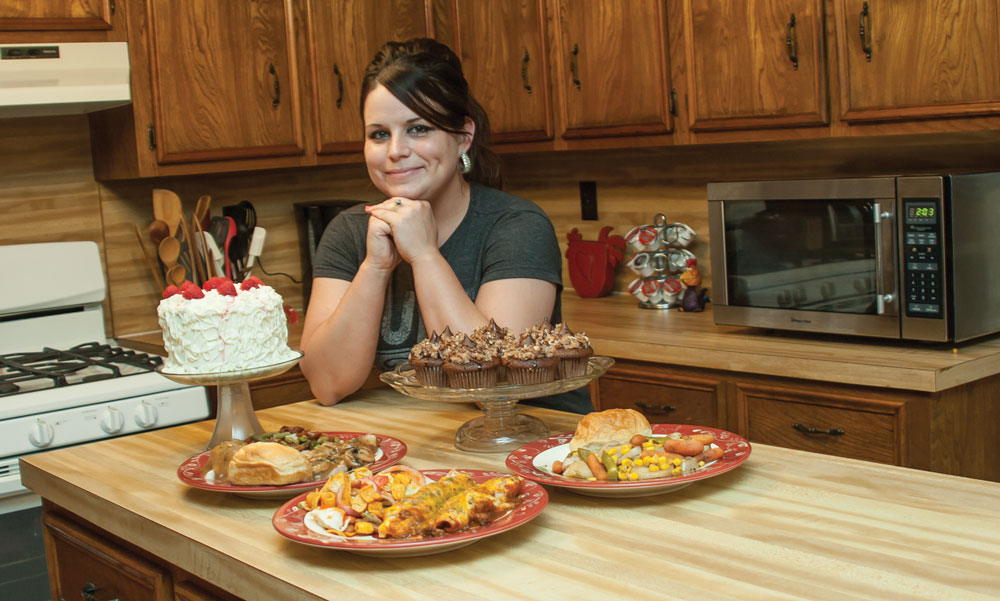 Hobo Dinners
2 lbs. hamburger meat
Aluminum foil
Salt and pepper, to taste (divided use)
Liquid smoke, to taste (divided use)
6 baking potatoes, peeled and sliced
2 bell peppers, thinly sliced
2 medium onions, sliced
1 lb. pkg. fresh baby carrots
1 15.25-oz. can sweet corn, drained
Sliced jalapeños, to taste (optional)
Preheat oven to 350 F.
Shape hamburger meat into thin patties; place each patty onto its own piece of aluminum foil.
Sprinkle salt, pepper and liquid smoke onto each patty and top with vegetables; close aluminum foil packets tightly.
Bake for 1 1/2 hours.
Easy Stuffed Chicken Breasts
1 tsp. dry basil
1 tsp. dry parsley
2 Tbsp. garlic and herb seasoning
2 Tbsp. McCormick Montreal Chicken Seasoning
5 lbs. thin-cut chicken breasts, boneless and skinless
1 12-oz. pkg. Stouffer's stuffing
Toothpicks
.87-oz. pkg. McCormick Chicken Gravy or homemade chicken gravy (optional)
Preheat oven to 350 F. Mix herbs and seasonings together; sprinkle over both sides of chicken breasts.
Prepare stuffing according to package directions; place stuffing on breasts.
Roll each chicken breast and secure it with a toothpick.
Bake 45 minutes. If desired, prepare and add chicken gravy.
Spicy Shrimp Over Rice
Medium onion, thinly sliced
1 Tbsp. olive oil
1 6-oz. can tomato paste
3-oz. water
1 Tbsp. dry mustard
1/2 tsp. cayenne pepper
Salt, to taste
1 16-oz. pkg. medium shrimp, peeled and deveined
1 14-oz. pkg. Minute White Rice
French bread
In a skillet, sauté onions in olive oil.
Add tomato paste, water, mustard, cayenne pepper, salt and shrimp; stir occasionally on simmer until shrimp is light pink.
Cook rice according to package directions. Pour shrimp mixture over rice.
Serve with French bread.
Jalapeño Popper Dip
2 8-oz. pkgs. cream cheese, softened
1 cup mayonnaise
1/ 2 cup shredded cheddar cheese
1 4-oz. can green chilies
1 4-oz. can diced jalapeños (use two cans if hotter taste is preferred)
1/2 cup shredded Parmesan cheese (divided use)
1/2 cup seasoned breadcrumbs
1 Tbsp. olive oil
Corn chips, tortilla chips or crackers
Preheat oven to 350 F. Mix cream cheese, mayonnaise, cheese, green chilies, jalapeños and 1/4 cup Parmesan cheese; place mixture in a baking dish.
Mix breadcrumbs, olive oil and remaining Parmesan cheese; sprinkle on top of cream cheese mixture.
Bake 30 minutes; let cool and chill.
Serve with corn chips, tortilla chips or a choice of crackers.
Piña Colada Icebox Pie
2 cups pecan shortbread cookie crumbs
1 cup sweetened, flaked coconut
1/4 cup butter, melted
1/3 cup sugar
2 Tbsp. corn starch
1 8-oz. can crushed pineapple in juice
1 8-oz. pkg. cream cheese, softened
1 1/2 cups cream of coconut (divided use)
2 large eggs
1 cup whipping cream
Shredded coconut
Preheat oven to 350 F. Mix first 3 ingredients and press mixture into the bottom and sides of a 9-inch round pie pan. Bake 20 minutes or until lightly browned.
In a saucepan, mix sugar, corn starch and pineapple with juice; stir on low heat until thickened and set aside. When pie filling has cooled, add to baked pie crust.
In a bowl, whip cream cheese, 1 cup cream of coconut and eggs until fluffy.
In a separate bowl, whip whipping cream, gradually adding remaining cream of coconut. Combine the mixtures from both bowls to make topping and add to the pie.
Bake 45 minutes; sprinkle shredded coconut on top.
Chill 8 hours in refrigerator before serving.