These recipes were contributed by Christina Mickens, a Burleson resident, and originally appeared in the BurlesonNOW September 2015 issue.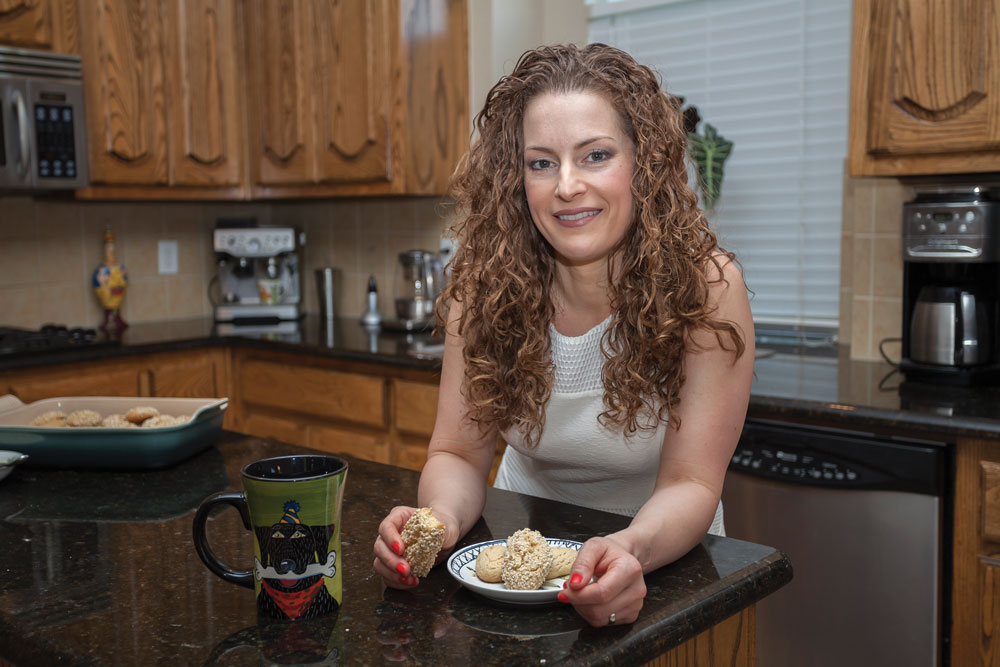 Regina Cookies
1 cup butter, melted
1 cup sugar
2 eggs
1/2 cup plus 2 Tbsp. milk (divided use)
1 tsp. vanilla
1 tsp. lemon zest
1/2 tsp. orange zest
3 tsp. baking powder
1/2 tsp. salt
3 1/2 cups all-purpose flour plus more for kneading
1 1/2 cups sesame seeds
Preheat oven to 375 F.
In a large bowl, cream butter with sugar. Beat in eggs, one at a time. Add 2 Tbsp. milk, vanilla, lemon and orange zests, baking powder and salt. Mix well.
Add 3 1/2 cups flour and mix until a soft and pliable dough forms. Add a little more flour if dough is too sticky.
Pile dough on counter and form into a ball. Be gentle with the dough. Cover and let rest for 5 minutes.
On the counter, place: 1/2 cup milk in a small bowl, with a fork; 1 bowl of sesame seeds, with 2 forks; and a cookie sheet lined with parchment or oiled.
Take tablespoon-size pieces of dough and roll each into a log shape.
Quickly dip one log at a time in the milk. Do not soak. Immediately remove with the fork into the sesame seed bowl.
Using the two forks, roll one log at a time around in the sesame seeds. Use the 2 forks to pick up and place on sheet. Leave a small amount of room in between each one. They will expand a little when baking.
Bake for 15-20 minutes, until they turn a light golden brown color.
Christina's Easy Marinated Steak
2 6-oz. steaks
1 Tbsp. olive oil
2 Tbsp. dried sweet basil
2 tsp. sea salt
4 cloves minced garlic
1/2 tsp. garlic powder
1/2 tsp. black pepper
1 tsp. paprika
Place steak in a shallow dish with a lid. (You may use a Ziploc bag instead.) Add all ingredients to the steak. Close lid or bag and shake until combined.
Place in the refrigerator for a minimum of 4 hours and up to 2 days.
Either grill, pan sear or bake steaks in the oven until done to your liking.
Balsamic-roasted Asparagus
1/2 Tbsp. olive oil
5 cloves garlic, minced
2 bunches asparagus
1/4 tsp. sea salt
1/4 tsp. black pepper
1/4 tsp. balsamic vinegar
Heat olive oil in a pan. Add garlic and sauté until slightly golden.
Add asparagus, salt, pepper and vinegar. Sauté on medium until asparagus is tender but still a little firm to the touch.
Magnificent Potato Salad
3 extra-large russet potatoes
4 cups water
1 1/4 cups mayonnaise
2 Tbsp. yellow mustard
4 Tbsp. sweet relish
1/4 cup raw sugar
1/4 cup diced white onion
Salt, to taste
Wash, peel and evenly cut potatoes into large pieces. Boil in water until they break apart, but do not crumble, when tested with a fork.
Drain potatoes and cut up in smaller pieces; place them in the refrigerator.
After potatoes have completely cooled, mix in remaining ingredients. Place back in the refrigerator to continue chilling for about an hour or more.
Deliciously Decadent Moist Coconut Cake
Syrup:
2 cups water
1 tsp. vanilla extract
2 cups raw sugar
Cake:
2 cups raw sugar
6 eggs
2 cups olive oil
1 1/2 cups whole milk
1 tsp. vanilla extract
1 1/2 tsp. lemon juice
2 cups all-purpose flour
2 Tbsp. baking powder
4 cups shredded, unsweetened coconut (divided use)
Preheat oven to 350 F.
For syrup: Boil water, vanilla and sugar for 8 minutes, until consistency is a little thinner than pancake syrup.
For cake: Combine sugar, eggs, olive oil, milk, vanilla and lemon juice.
Add flour and baking powder to the mixture and blend well. Stir 3 3/4 cups shredded coconut into batter. Pour into a greased and floured 9×11-inch pan. Bake for 30 minutes, or more, until a light, golden brown color.
While the cake is still hot and in the pan, pour the syrup all over the cake. Let the cake cool and then cut into squares. Top with a small amount of shredded coconut.