These recipes were contributed by Jason Bailey, a Corsicana resident, and originally appeared in the CorsicanaNOW May 2014 issue.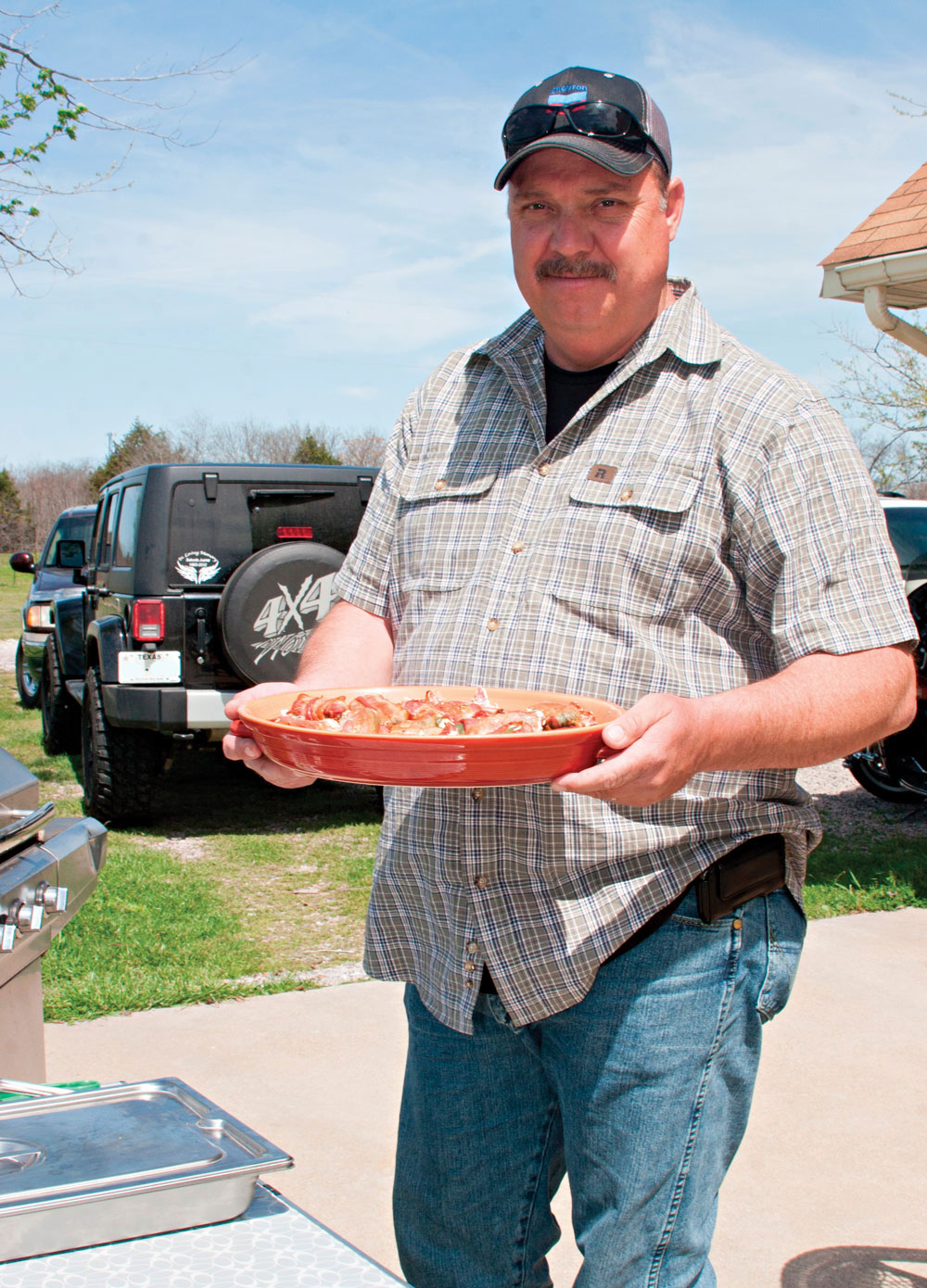 Stuffed Jalapeños
24 fresh jalapeños
1 8-oz. pkg. cream cheese
1 Tbsp. paprika
2 16-oz. pkgs. bacon
24 toothpicks
Preheat oven to 400 F.
Wash jalapeños well. Remove tops; use a jalapeño coring tool or a serrated knife to remove the core.
In a bowl, mix the cream cheese and paprika. Stuff each jalapeño with cream cheese mix.
Wrap each jalapeño with one slice of bacon, using a toothpick to hold it together.
Place jalapeños on cookie sheets; bake for 30 minutes to 1 hour depending on desired consistency — soft to crispy.
Remove from oven; let cool before serving.
Fried Chicken
2 cups vegetable oil
1 pkg. of 8 chicken thighs
1 pkg. of 8 chicken legs
2 cups flour
2 Tbsp. seasoned salt, or to taste
2 Tbsp. garlic salt, or to taste
1 Tbsp. black pepper, or to taste
1/2 cup corn meal
In a large pan, preheat oil to 350 F.
Wash chicken; remove unwanted fat.
Place flour, seasonings, corn meal and chicken into a Ziploc bag; shake.
Place chicken in oil for 15-20 minutes; remove, drain and let cool.
Beef or Chicken Fajitas
2 lbs. beef skirt or boneless chicken breast
2 red bell peppers
1 yellow bell pepper
1 green bell pepper
1 red onion
1 pkg. mushrooms

 

1/4 cup vegetable oil
2 Tbsp. chili powder
2 Tbsp. seasoned salt
1 Tbsp. black pepper
2 Tbsp. garlic powder
Cut beef or chicken into long, thin slices.
Cut bell peppers, onion and mushrooms into thin slices.
Heat vegetable oil in wok, on stove top or over outside gas burner.
Cook meat; add vegetables and spices, smothering the meat.
Stir constantly until vegetables caramelize and meat is done. Additional spices may be added, as desired.
Remove from heat; serve while sizzling hot.
Tilapia and Squash
1 stick butter (divided use)
4 tilapia fillets
1/2 tsp. garlic salt
1/2 tsp. lemon pepper
1/4 cup Italian dressing

 

4 yellow squash
Preheat oven to 350 F.
Spread butter onto baking dish. Place fillets in dish; put garlic salt, lemon pepper and Italian dressing onto fillets.
Spread butter over each whole yellow squash. Wrap each squash in foil.
Place wrapped squash around the fillets; cover and seal dish with foil.
Bake for 30 minutes. Additional time may be needed depending on desired texture of squash.
Remove from oven and serve.
Grilled Steak
4 chuck eye steaks
1 Tbsp. garlic salt (divided use)
1 Tbsp. seasoned salt (divided use)
1 tsp. black pepper (divided use)
Preheat gas or prepare charcoal grill.
Once grill has reached high heat, place meat on grill.
Add spices. (Other spices may be added or substituted as desired.)
Cook for 3-15 minutes. Cooking time depends on the thickness of the meat and how the meat is cooked — rare to well-done.

 

Turn meat over; add spices to second side.
Cook this side for the same number of minutes at the same temperature.
Serve sizzling hot with vegetables and other meats prepared on the grill.