In 2000, David Palmer's lifelong friend introduced him to the paving business. Leaving Ford Motor Company and a secure paycheck, David became the owner of North American Paving in Dallas. Before long, he found himself spending time in and around Weatherford. His father came with him and often stayed in the peaceful atmosphere instead of returning to the busy city. "You'll move to Weatherford," he told David.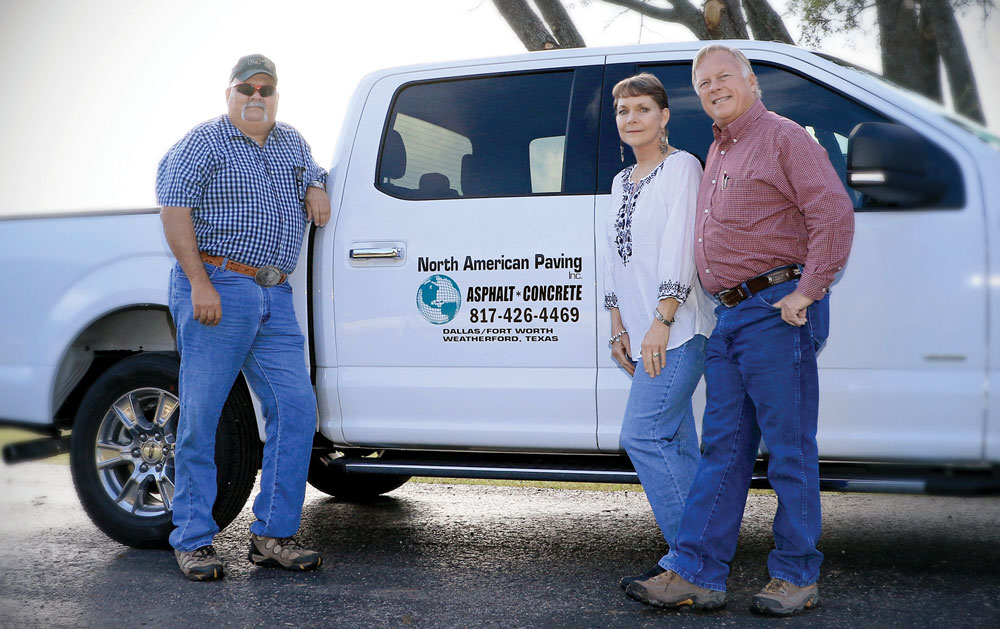 Five years into the business, his dad's statement came true. "The business dragged us here," David said. As they spent more time in the area working jobs lasting for multiple days, the eight-man crew frequently stayed overnight in Weatherford. Before long, they became part of the community.
North American Paving services individuals, large ranches, HOAs, churches and businesses. They cover Parker, Palo Pinto, Hood, Erath, Johnson and Tarrant counties — approximately a 100-mile radius from Weatherford. Working often in Granbury helps keep them busy. As a full-service paving company, they offer concrete, asphalt, chip and seal, road base and other options for creating and maintaining roads, driveways and parking lots.
David runs one crew, consisting of original workers who started with him. Bonnie runs the office and keeps the guys in line. She started helping David by answering phone calls, while living and working in Dallas. When he moved to Weatherford, the business grew. She took on overall office work, in addition to answering phones, and eventually moved to Weatherford and married David.
Jeff Carter lives in Santo but grew up in Brock. He joined the company as the outside sales rep. He enjoys reconnecting with old friends and building new relationships. "It's a very enjoyable job. You see all kinds of things and meet all kinds of people," he said.
For the company, relationship with their customers is critical. They meet with each customer in person, measure, discuss options and make sure everyone has the same vision in mind. Then, they go back to the office and create a bid with details on the overall cost for the job.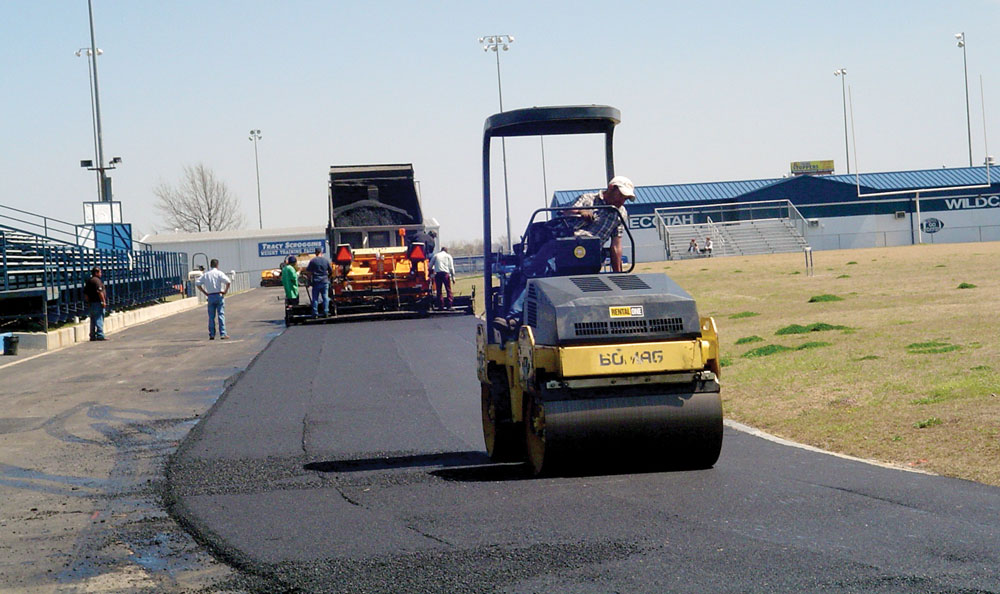 While some don't like the inability to get a quote over the phone, David understands the best way to determine the price comes from knowing exactly what the job entails. Their website acts as an educational tool to help determine the right choice. But Jeff has a background in paving and can answer questions and help potential customers reach the best decision. "Quality is No. 1," David said.
Jeff stated that he has not seen their quality matched anywhere. Many of their referrals come from businesses who pave roads and larger jobs but don't work with individual homeowners or smaller entities. As members of BBB, they score A+ rating. Having the same employees for 17 years gives North American Paving an edge. They work together as a team and feel like family, not just co-workers. The dynamics of the crew make a difference in getting the job done.
David, Bonnie and Jeff pride themselves in the integrity of the company. They don't add hidden charges or play games with customers. And they honor their warranty. Much of their business comes from return customers and referrals. In working with HOAs, they maintain the roads for some gated communities. 
 "When someone comes knocking on the door with leftover asphalt, beware," David said. "There are fly-by-night pavers who aren't reputable. Check the Better Business Bureau and work with a local established business."
North American Paving, Inc.
P.O. Box 966
Weatherford, TX 76086
(817) 426-4469
Cell: (817) 401-4923
[email protected]
Hours:
Monday-Friday: 8:00 a.m.-5:00 p.m.
Written by Lisa Bell.