Does this hot weather have you wishing for some new, lighter foods to try? Here are some fresh and light choices to enjoy during the dog days of summer.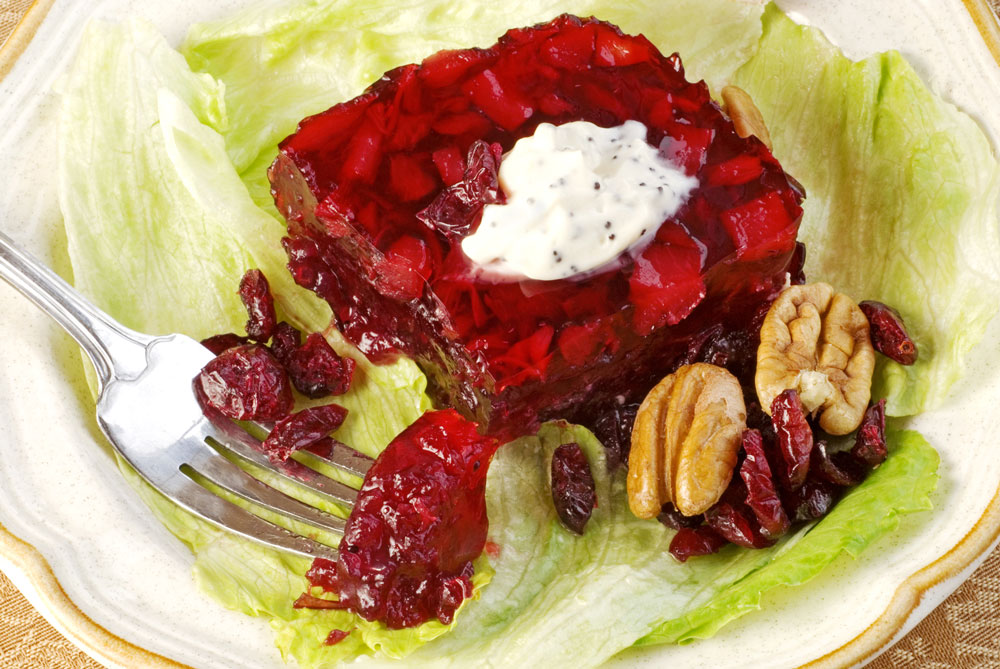 Cranberry Salad
Provided by Linda David for the August 2007 issue of the North Ellis Co.NOW Magazine.
1 3-oz. pkg. lemon Jell-O
1 3-oz. pkg. cherry Jell-O
2 cups boiling water
2 cups sugar
1 20-oz. can crushed pineapple, drained
2 apples, peeled and diced
1 12-oz. bag fresh or frozen cranberries, chopped
1 cup pecans, chopped
Dissolve gelatins in water. Add sugar; stir until dissolved.
Stir in pineapple; chill until thickened.
Add remaining ingredients; chill until firm.
Easy Summer Breakfast 
Provided by Vicki Asher for the May 2011 issue of MansfieldNOW Magazine.
2 fresh cantaloupes
1/2 pint strawberries
1 pint blueberries
Salt, to taste
4 sprigs fresh mint
Slice cantaloupes in half across the center (not from end to end). Scoop out the seeds and throw them out.

 

Wash and slice strawberries and divide evenly into all four cantaloupe halves.

 

Wash and sprinkle fresh blueberries on top of strawberries.

 

Lightly salt the colorful fruit bowls and sprinkle with a few mint leaves before serving.

 
Elegant Chicken Salad
Provided by Evonne Smith for the August 2012 issue of MidlothianNOW Magazine.
3 4.5-oz. cans chicken, drained
1 8-oz. can crushed pineapple
1/2 cup pecans, chopped
1/2 cup pineapple preserves
1 8-oz. pkg. cream cheese, softened
1 cup coconut

 
Combine ingredients and mix well. Serve on croissants.
Linguine Florentine
Provided by Adrienne Smith for the August 2008 issue of North Ellis Co.NOW Magazine.
2 lbs. fresh spinach
9 oz. fresh linguine
1 Tbsp. olive oil
1/2 cup Parmesan cheese, freshly grated
1/4 tsp. white pepper
3 Tbsp. roasted pecans, chopped
Remove stems from spinach; wash leaves thoroughly. Cook spinach, covered, in a large Dutch oven over medium-high heat about 4 minutes or until tender. (Do not add water; drain well.)
Chop spinach; set aside.
Cook linguine according to package directions, omitting the salt and fat; drain.

 

Combine linguine and olive oil in a large bowl; toss gently.
Add spinach, cheese and pepper; toss gently. Sprinkle with pecans.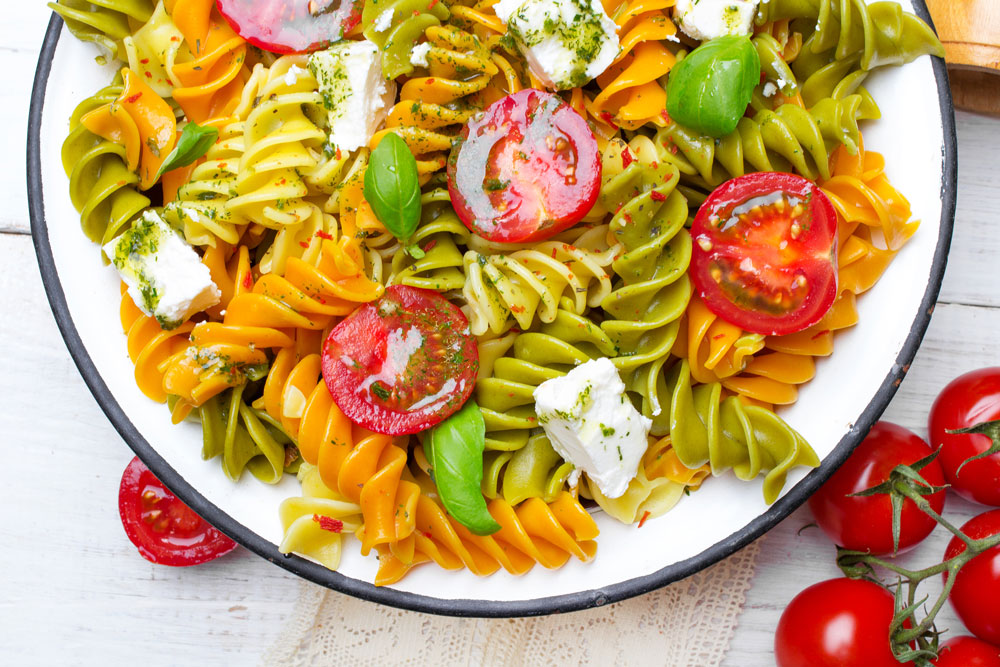 Pasta Salad
Provided by Melinda Bradley for the November 2014 issue of WeatherfordNOW Magazine.
12 oz. rainbow rotini pasta
1 14-oz. can artichoke hearts, drained and chopped
1 small purple onion, chopped
12 oz. cherry tomatoes
1 6-oz. jar green olives, drained
4 oz. feta cheese with tomato and basil
1 16-oz. bottle Kraft Greek Vinaigrette Dressing
Cook, drain and cool pasta.
Mix in remaining ingredients; serve.
Calico Vegetable Relish
Provided by Mellie Howard for the May 2013 issue of CorsicanaNOW Magazine.
3/4 cup white vinegar
1/2 cup salad oil
1 cup sugar
1/2 tsp. pepper
1 16-oz. can French-style green beans, drained
1 12-oz. can corn, drained
1 16-oz. can sweet peas, drained
1 cup celery, chopped
1 bunch green onions, chopped
1 2-oz. jar pimentos, drained and chopped
In a saucepan, combine vinegar, oil, sugar and pepper; bring to a boil until sugar is dissolved.
In a large bowl, combine vegetables; pour vinegar mixture over vegetables.
Cover and refrigerate overnight.
Cheese Roll
Provided by Lary Hawkins for the August 2011 issue of WeatherfordNOW Magazine.
Makes about 4 logs.
1 lb. Longhorn or Colby cheese, grated
1 8-oz. pkg. cream cheese
1 Tbsp. each: dried minced onion, water and garlic salt
Tabasco or cayenne pepper, to taste (optional)
1 cup pecans, finely chopped

 

1 cup chili powder
1 24-oz. box Ritz crackers
Work with cheeses at room temperature. Blend cheeses with mixer, adding minced onion and water, garlic salt and optional Tabasco or cayenne pepper. Stir in pecans.
Form cheese into logs, about the diameter of a Ritz cracker and about 5 to 6 inches long. Roll in chili powder, then wrap in aluminum foil and refrigerate until firm. Serve with Ritz crackers.

 
Honeyed Spice Cheese Spread
Provided by LuAnne Woods for the May 2011 issue of BurlesonNOW Magazine.
8 oz. cream cheese or "bag" cheese
2 Tbsp. honey
1 tsp. cinnamon
1/4 tsp. allspice
1/4 tsp. nutmeg
1/4 tsp. vanilla extract
Plain breakfast bagels
In a medium bowl, blend first six ingredients well.
Serve on toasted, plain breakfast bagels.
Lemonade Pie
Provided by Joyce Rhoades for the July 2008 issue of BurlesonNOW Magazine.
1 14-oz. can Eagle Brand Milk
1 6-oz. can frozen lemonade
8 oz. Cool Whip
1 graham cracker crust
Mix milk and lemonade with a spoon. Fold in Cool Whip with a spoon; do not beat.
Pour mixture into crust; place in freezer. Stays good until all is eaten.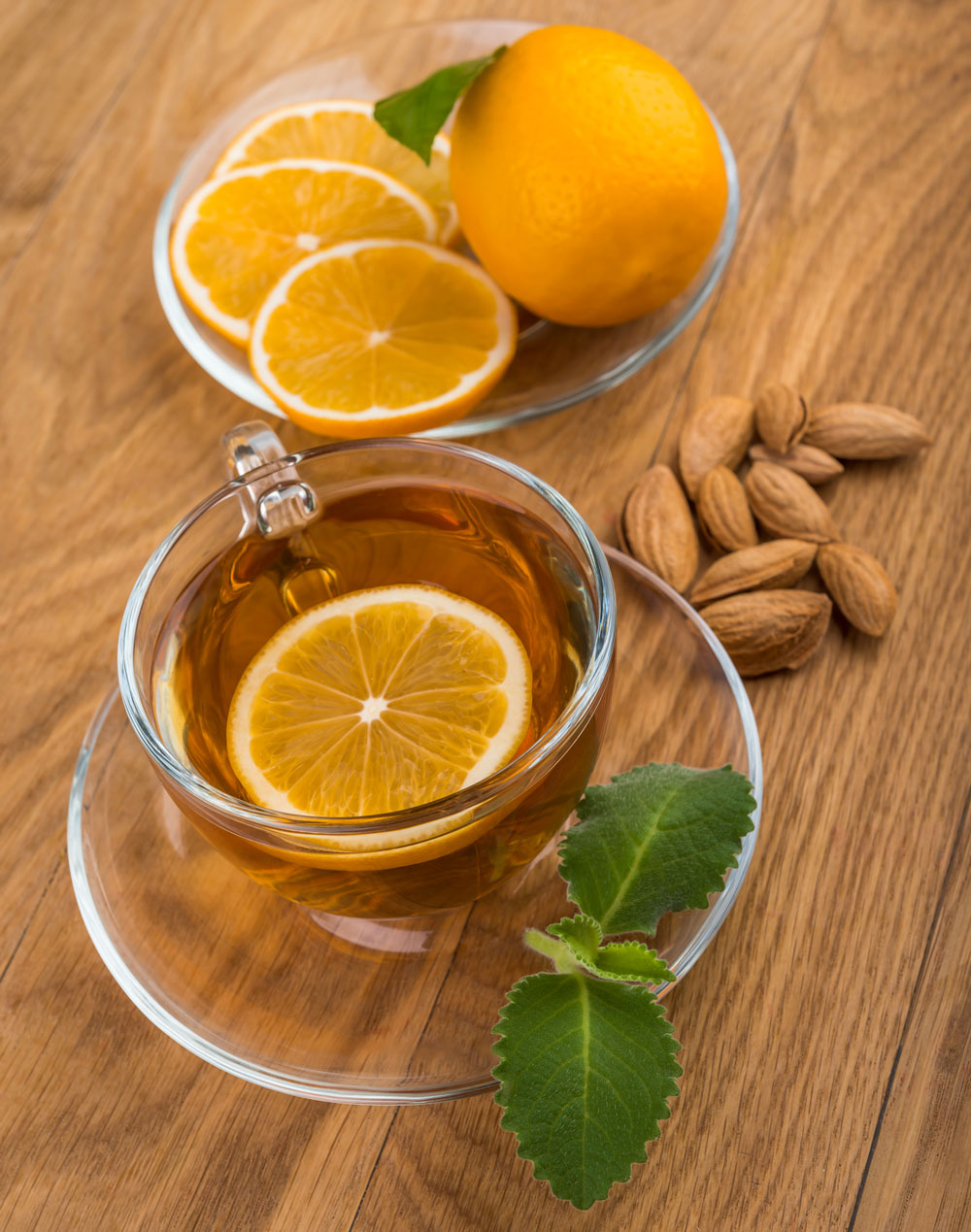 Almond Tea
Provided by Teresa Miller and Tammy Trebing for the August 2011 issue of BurlesonNOW Magazine.
6 cups water
3/4 cup sugar
3/4 cup limeade concentrate, thawed
4 1/2 tsp. unsweetened instant tea
1/2 tsp. almond extract
1/2 tsp. vanilla extract
Fresh orange, lemon and lime slices
In a 2-quart pitcher, combine water, sugar, limeade concentrate, instant tea and extracts.

 

Add fruit and serve over ice.