These recipes were contributed by Michelle Frank, a Weatherford resident, and originally appeared in the WeatherfordNOW April 2015 issue.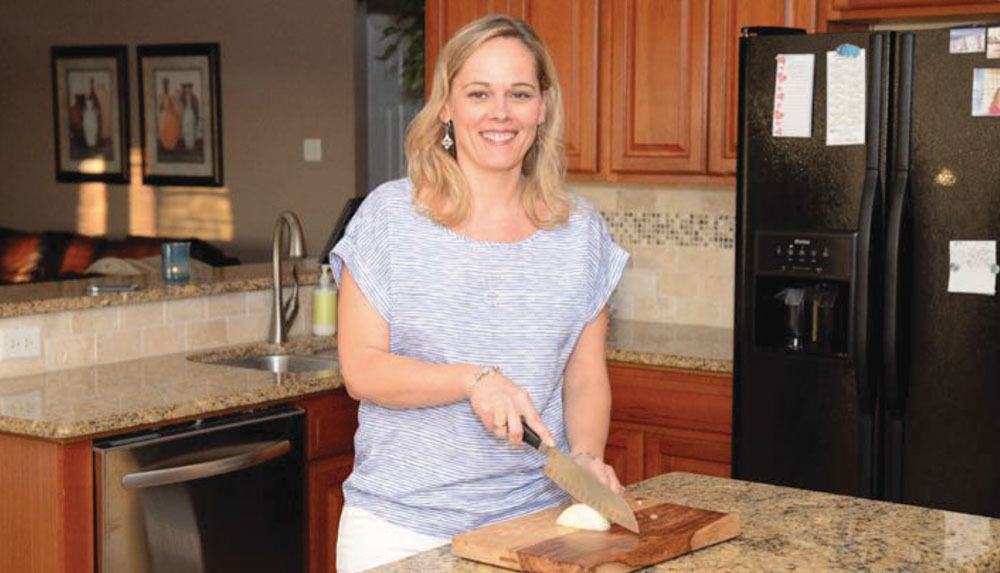 Lasagna
1 lb. Italian sausage, ground beef or ground turkey
1 36-oz. jar of spaghetti sauce
1 cup water
2 eggs
16-oz. ricotta cheese
16-oz. lasagna noodles
2 cups mozzarella cheese, shredded
1/2 cup Parmesan cheese, shredded
Italian seasoning (optional)
Brown and crumble meat; drain. In a bowl, mix spaghetti sauce with water. In separate bowl, beat eggs; mix in ricotta.
In a 9×13-inch pan, pour a layer of spaghetti sauce mixture; add layer of uncooked lasagna noodles. Spread ricotta mixture on noodles. Add layer of meat and cheeses; repeat, topping with layer of noodles, more sauce and cheese.
Sprinkle Italian seasoning on top. Cover tightly with foil; put pan on cookie sheet. Bake at 375 F for 1 hour; remove foil and bake for an additional 10-20 minutes or until cheese turns golden brown.
Chicken Parmesan
1 lb. chicken breast or tenders
1/3 cup Italian breadcrumbs
1/3 cup Parmesan cheese, shredded
1-2 Tbsp. olive oil
Salt and pepper, to taste
24-oz. spaghetti sauce
3/4 cup mozzarella cheese
Spaghetti noodles, cooked
Pound chicken breast to 1/2-inch thickness and cut into smaller pieces. In bowl, combine breadcrumbs and Parmesan cheese; coat chicken with mixture.
Heat olive oil in large skillet on medium-high. Lightly brown each side of chicken. Salt and pepper chicken while in pan; turn heat to low. When chicken is cooked thoroughly, spoon about 1/2 cup of spaghetti sauce on top of chicken; top with mozzarella cheese. Turn heat off and place lid tightly on skillet to melt cheese. Serve with spaghetti noodles and sauce.
Shrimp and Mushroom Pasta
1-2 Tbsp. olive oil
1 medium onion, chopped
2-3 cloves garlic, minced
8-oz. fresh mushrooms, rinsed and sliced
1/2 cup half-and-half
1 cup Parmesan cheese, grated
12-oz. shrimp, peeled, detailed and deveined
Salt and pepper, to taste
Garlic powder, to taste
10-12 oz. bowtie pasta
Heat oil in skillet on medium-high; add onions and reduce to low heat. When onions soften, add garlic and mushrooms. Cook until mushrooms and onions are tender.
Turn heat to medium-high; stir in half-and-half and bring to boil.
Turn heat to low; add Parmesan and stir until cheese is melted. Add shrimp and seasonings; cover and turn off heat.
Cook bowtie pasta according to directions. If sauce is too thick, add a little pasta water to achieve desired consistency. Add pasta to sauce and enjoy.
Spaghetti and Meatballs
1-2 Tbsp. olive oil
1 medium onion, chopped
2-3 cloves garlic, minced
1 lb. ground beef or turkey
2 Tbsp. Worcestershire sauce
1 14.5-oz. can diced tomatoes
1 14.5-oz. can tomato sauce
14.5-oz. water
Spaghetti noodles, cooked
Heat oil in a skillet on medium-high heat. Add onions; reduce heat to low. Soften onions; add garlic.
Roll ground beef or turkey into small meatballs; add to onions and garlic. Place lid on skillet and allow meat to cook about 5 minutes, turning once. Add next 4 ingredients. Bring to rolling boil. Place lid on skillet; simmer for 20-30 minutes, until sauce reaches desired consistency. Serve over noodles.