These recipes were contributed by Luanne Alcaraz, a Southwest resident, and originally appeared in the SouthwestNOW April 2012 issue.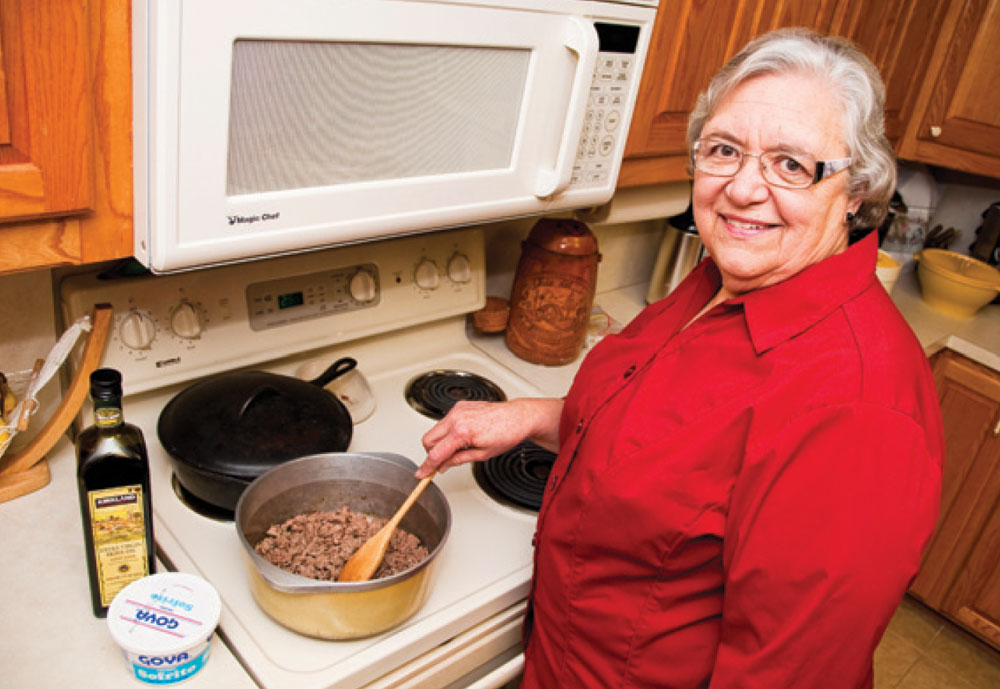 Paraguayan Corn Bread
2 medium onions, finely chopped
1/4 cup melted butter
1 cup corn meal
1/2 cup flour, sifted
1 tsp. salt
3 eggs, beaten
1 can creamed corn
8 oz. cream cheese, crumbled
1/2 cup cheddar cheese, grated
Brown chopped onions in butter until soft.
Mix cornmeal, flour and salt. Add lightly-beaten eggs.
Combine with onions and cheeses; stir well.
Pour into a greased baking pan and bake at 300 F for 1 hour, or until a golden brown crust forms.
Sojo (Paraguayan Hamburger Stew)
1 lb. hamburger (93/7)
2 1/2 qts. water
1 cup diced tomatoes
1/4 cup green peppers
1/2 tsp. black pepper
1/2 tsp. oregano
1/4 cup onions, diced
1 1/2 tsp. salt
1/2 tsp. garlic
2 Tbsp. olive oil
2 large beef bouillon cubes (2 Tbsp.)
1/2 cup rice
3 Tbsp. fresh cilantro, chopped
Submerge hamburger in water; pull apart with fingers until completely separated. Let stand.
Sauté next 7 ingredients in olive oil on medium heat, until tender. Add hamburger and water to sautéed vegetables; stir.
Add bouillon cubes and rice. Cook over medium heat for 10 minutes, stirring occasionally; add cilantro and cook another 5 minutes until rice is done.
Empanadas (Meat Pastries)
Makes 20.
Dough:
2 cups white flour
1 tsp. salt
1 egg, beaten
1/2 cup lard
Warm water, as needed
Meat Filling:
1 1/4 lbs. hamburger
3 Tbsp. canola oil
1 tsp. fresh garlic
1/4 cup onion, finely chopped
2 green onions, finely chopped
1/2 small green pepper, finely chopped
1/2 tsp. pepper
1/4 tsp. oregano (and/or cumin)
1 tsp. salt
1/4 cup tomato sauce
Canola oil
For dough: Combine flour and salt on pastry board; make well in center.
Work egg and lard together. Put into well; knead from the sides inward, adding warm water as needed to create soft dough. Cover with plastic wrap and set aside.
For filling: Fry hamburger in oil; add garlic, onions and green pepper. Stir; add seasonings and tomato sauce. Stir and set aside.
Pinch off small amounts of dough and form balls. Roll the balls into 6-inch circles. Put 1 large Tbsp. of meat in the middle; wet the edges with water and fold in half. Seal edges with a fork or a ravioli roller. Submerge in 2 inches of hot canola oil. Fry each side, until golden brown; remove from pan and drain on a paper towel.
Budin de Leche (Flan) 
2 cans condensed milk
2 cans milk (use condensed milk can)
8 eggs
2 tsp. vanilla
1 cup sugar
Put first 4 ingredients in a blender on medium speed for 1 minute.
In a heavy skillet (cast-iron, if possible) melt sugar over low heat, stirring continuously with a wooden spoon. It will get hard and lumpy, but as you continue to stir, it will turn a caramel color. Quickly pour into an angel food cake pan or Bundt pan. Try to get it up on the sides of the pan. Pour your blended ingredients into the pan over the burned sugar. Set this pan into a larger, heavy cookware with 1 inch of water in the bottom.
Bake at 300 F for 1 to 1 l/2 hours. Knife should come out clean when inserted in the middle. Allow to cool about 10 minutes before trying to remove from pan.