These recipes were contributed by Karen Scherer, a Weatherford resident, and originally appeared in the WeatherfordNOW June 2015 issue.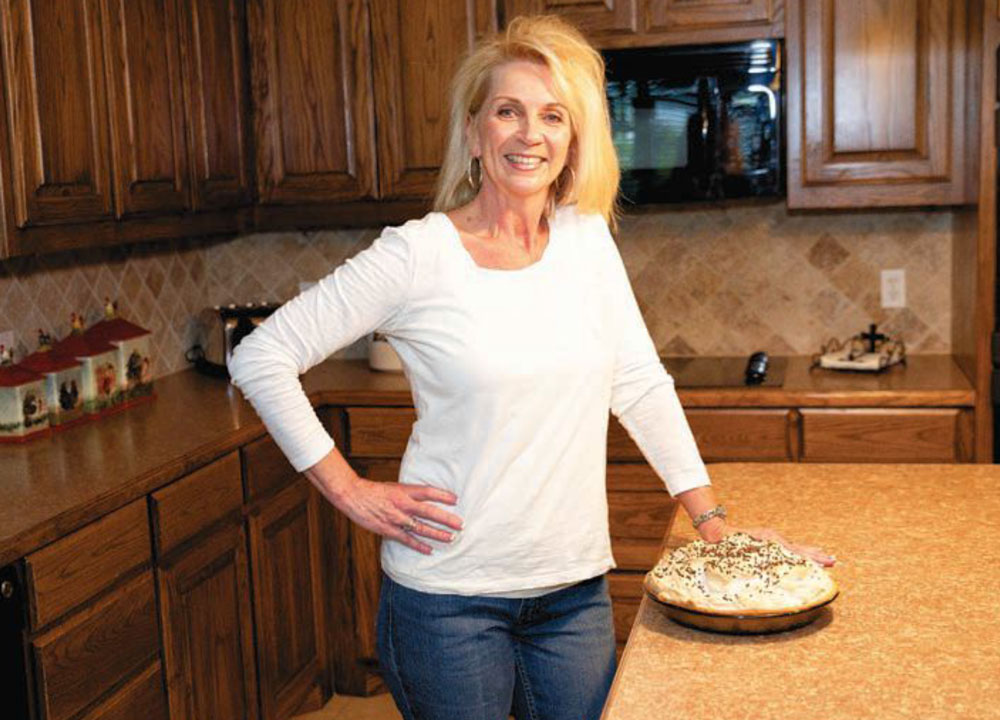 Karen's Chili Recipe
1 lb. hot sausage
2 lbs. ground chuck
3 large jalapeños, chopped
1 serrano pepper, chopped
2 tsp. garlic, chopped
2 large onions, chopped
4-5 Tbsp. chili powder
3 cups water
1 10-oz. can Ro-Tel tomatoes
3-4 tsp. salt
1 tsp. black pepper
23-oz. tomato juice
1/2 tsp. cumin
1-2 tsp. red pepper flakes
1/2 to 3/4 cup warm water
4 Tbsp. cornmeal
5 Tbsp. flour
Brown sausage and beef; drain. Mix together next 12 ingredients in a large Crock-Pot.
Mix together warm water and next 2 ingredients. Pour mixture into the Crock-Pot and stir. Cook for 6-8 hours on low heat.
Karen's Easy Lasagna
1 lb. ground beef
3 1/2 cups thick spaghetti sauce
1 1/2 cup water
1/2 cup Parmesan cheese, grated
2 eggs
1/4 cup parsley flakes
2 cups ricotta cheese
1 tsp. salt
3 cups mozzarella cheese, shredded
1/4 tsp. black pepper
8 oz. uncooked lasagna noodles
Brown beef in a saucepan; drain. Add spaghetti sauce and water; simmer for about 10 minutes.
Combine next 7 ingredients for filling. Cover bottom of a 13×9-inch baking dish with the sauce. Layer 3 pieces of uncooked noodles on top of the sauce. Cover noodles with more sauce; spread half of cheese filling on top. Repeat layers of noodles, sauce and cheese filling. Top with noodles and remaining sauce.
Cover with aluminum foil and bake at 350 F for 55-60 minutes. Remove foil and bake for another 10 minutes. Lasagna should sit for 10 minutes before cutting.
MeMe K's Meatloaf
Meatloaf:
2 lbs. ground beef
2 eggs
1 tsp. salt
1/2 tsp. pepper
1 large onion, chopped
1 green bell pepper, chopped
20 saltine crackers, crushed
1/4 cup ketchup
Topping:
1/2 cup ketchup
2 Tbsp. mustard
2 Tbsp. brown sugar
1 Tbsp. vinegar
For meatloaf: Mix together all ingredients. Spray a 13×9-inch baking dish with nonstick cooking spray. Place mixture into the baking dish and shape into a loaf.
For topping: Mix together all ingredients and pour over the loaf. Bake at 400 F for 45-60 minutes.
Chocolate Cream Pie
Pie:
1/3 cup flour
6 Tbsp. Hershey's Unsweetened Cocoa
1 cup sugar
4 eggs
2 cups milk
4 Tbsp. butter (divided use)
1 tsp. vanilla
1 baked pastry shell
Meringue Topping:
4 egg whites
1 tsp. cream of tartar
1 tsp. vanilla
6 Tbsp. sugar
Chocolate sprinkles
For pie: Mix first 3 ingredients in a saucepan.
Separate eggs. Beat egg yolks; set aside whites for meringue.
Heat milk and half of the butter in the microwave for 5-6 minutes. Pour mixture into the saucepan with dry ingredients; cook on medium-high heat, stirring continuously.
When filling thickens and bubbles, add 3-4 spoonfuls to egg yolks, stirring continuously. Pour egg yolk mixture into the saucepan; cook for 5 minutes. Remove from heat; add remaining butter and vanilla. Pour into pie shell.
For meringue topping: Allow egg whites to stand at room temperature for 20-30 minutes. Add next 2 ingredients to egg whites; beat with a mixer on medium until soft peaks form. Add sugar, 1 Tbsp. at a time, while beating on high until all sugar is used and stiff peaks form.
Top hot pie filling with meringue, spreading it to the edge of the pie shell. Use a spoon to swirl and twist the meringue. Sprinkle with chocolate sprinkles; bake at 300 F until meringue is golden brown.