These recipes were contributed by Joe Jenkins, a Waxahachie resident, and originally appeared in the WaxahachieNOW July 2016 issue.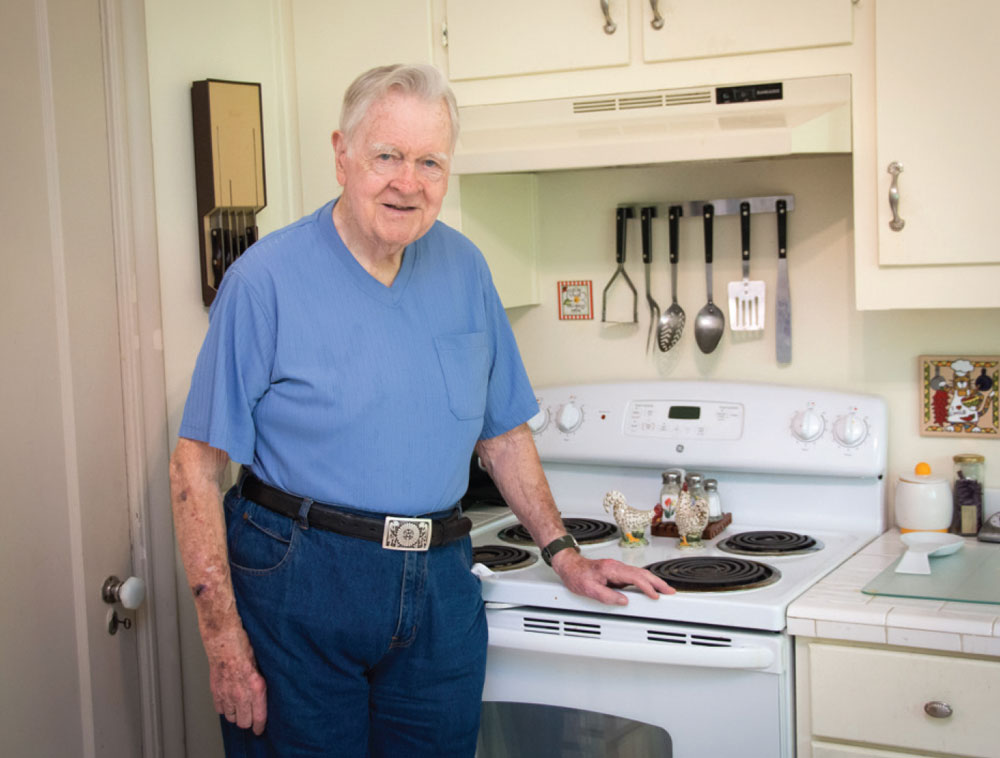 Key Lime Pie Cheesecake
1 8-oz. pkg. cream cheese, softened and cut into small pieces
1 14-oz. can sweetened condensed milk
1 12-oz. pkg. frozen dairy topping, thawed
1 cup fresh squeezed lime juice (Microwave 3-4 limes at a time for 45-50 seconds to make squeezing the juice much easier.)
2 graham cracker pie shells
Combine cream cheese, milk, topping and juice together. Blend with electric beaters until smooth.
Pour into pie shells. You can also decorate the top of the pie with a slice of lime or a mint leaf.
Taco Salad
1/2 head lettuce, shredded
1/2 red onion, chopped
2 tomatoes, cubed
1 avocado, cubed
9 oz. Colby Jack cheese, grated
1 cup kidney beans, drained
1 10-oz. bottle Kraft Thousand Island Dressing
1 lb. ground beef, browned and chilled
6-8 oz. plain Doritos, crushed (divided use)
Toss all ingredients together in a large serving bowl, making sure to reserve half of the chips. Add the reserved chips to the salad just before serving.
Mattie Lou's Cream Cheese Sandwiches
Makes approximately 30 finger sandwiches.
2 8-oz. pkgs. cream cheese
1 1-oz. pkg. Original Hidden Valley Seasoning Mix
1 4.25-oz. can black olives, chopped
Let cream cheese stand at room temperature until it reaches a consistency that allows for easy spreading. You may gently heat it to speed the process up if needed. Mix remaining ingredients into the softened cheese.
Spread mixture onto thin slices of white bread. Cut each sandwich into three rectangular sections.
Walk to School Cookies
2 cups butter or margarine
4 cups flour
1 cup sugar
1 tsp. vanilla
Mix all ingredients together well. Pat into several long rolls. Wrap each roll in waxed paper. Place rolls in refrigerator to chill.
Slice dough and place on a cookie sheet. Bake at 325 F for 10-12 minutes. If desired, sprinkle with sugar while cookies are still warm.
Carmel Corn
2 cups dark brown sugar, packed
1 cup butter
1/2 cup light corn syrup
1 tsp. salt
1 Tbsp. vanilla
1 tsp. baking soda
6 1/2 qts. popped corn
Mix sugar, butter, syrup and salt together in a heavy pan; heat to boiling. Boil for 4 minutes, stirring occasionally. Add vanilla and baking soda. Mix thoroughly.
Pour mixture over corn in a large bowl. Stir to coat all kernels well. Spoon mixture onto two 15x10x1-inch jelly roll pans or 1 large roasting pan.
Bake at 200 F for 1 to 1 1/2 hours, stirring every 15 minutes. Let cool before placing in covered containers.
Chicken Pot Pie
1 29-oz. can Veg-All Homestyle, drained
1 10.75-oz. can cream of chicken soup
1 10.75-oz. can cream of potato soup
2 1/2 to 3 cups cooked chicken breast, cubed
1 tsp. Italian seasoning or seasoning of your choice
1/4 to 1/2 cup milk
2 ready-made pie crusts
Mix all ingredients together well. Pour into one of the pie crusts. Cover with the remaining crust.
Bake at 350 F for 50-60 minutes or until crust is golden brown around the edges.