These recipes were contributed by Al Kuykendall, a Waxahachie resident, and originally appeared in the WaxahachieNOW June 2016 issue.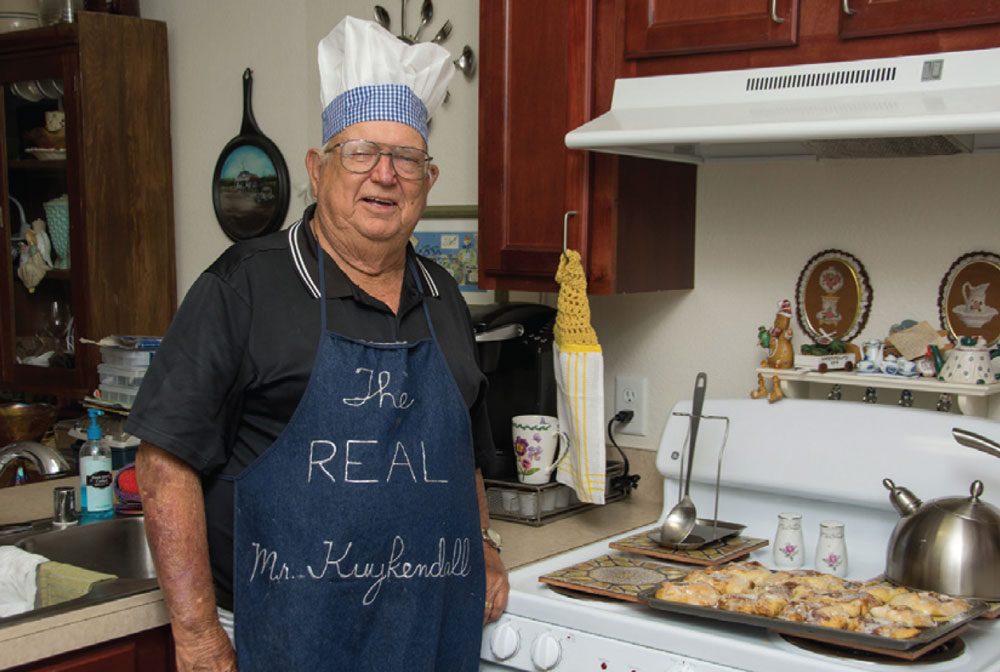 Al's Best Bread Pudding With Lemon Sauce
Pudding:
5 cups day-old bread
4 eggs
2 Tbsp. oleo, melted
1 cup sugar
1 tsp. vanilla
2 cups half-and-half
1/2 cup raisins
Lemon Sauce:
1/2 cup sugar
1 Tbsp. corn starch
1/4 tsp. salt
1 cup boiling water
1 tsp. lemon zest
2 Tbsp. lemon juice
1 Tbsp. butter
For pudding: Put all ingredients in a large bowl and allow to sit for 1/2 hour. Pour mixture into a greased 9×12-inch pan. Cook at 350 F for 45 minutes.
For lemon sauce: Mix sugar, corn starch, salt and water in a pan. Whisk while heating (about 2 minutes) until the mixture is thick and clear.
Stir in the remaining ingredients. Cook until thick (approximately 2-3 minutes).
Drizzle sauce over each serving of bread pudding.
Ranch Chicken
4 boneless chicken breasts
8-ct. pkg. corn tortillas
1 onion, chopped
1 10-oz. can cream of chicken soup
1 10-oz. can cream of mushroom soup
1/2 cup chicken broth
1 10-oz. can diced tomatoes with green chilies
1 6-oz. can green chilies
1 10-oz. pkg. cheddar cheese, grated
Arrange chicken in a 9×13-inch baking dish. Cut each tortilla into 6 pieces. Cover the chicken with the cut tortillas and onions.
In a separate bowl, mix the soups, broth, tomatoes and chilies. Pour mixture over the chicken. Top off with cheese.
Bake at 350 F for 1 hour.
Pork Chop Dinner
4-6 pork chops, bone-in
2 Tbsp. olive oil (divided use)
2 3/8-oz. envelopes of Regular Lipton Soup Mix
2 1/2 cups water
1 cup rice, white or brown
1 green pepper, chopped
Salt and pepper, to taste
Brown both sides of pork chops in 1 Tbsp. oil. Remove and add the remaining oil to the pan.
Add soup mix and water to pan. Bring to a boil.
Place rice and pepper in a 2-qt. casserole dish. Top with pork chops. Pour soup mixture over the chops.
Bake at 350 F for 1 hour. Salt and pepper to taste prior to serving.
Roasted New Potatoes
10 new red potatoes, halved, if small, quartered, if large
1 tsp. basil
1/2 tsp. salt
1 tsp. garlic, or 2 cloves, mashed
1 tsp. rosemary, crushed
1 Tbsp. olive oil
Smoked sausage (optional)
Onions (optional)
Place all ingredients into a gallon baggie. Turn bag over in 1 hour, allowing ingredients to marinate for a total of 2 hours.
Pour potatoes into a baking pan. Bake at 400 F for about 30 minutes. For an extra treat, you can add smoked sausage and onions.
Green Tomato Relish for End of Season
1 gal. green tomatoes, chopped
1 qt. onion, chopped
3 cups hot jalapeño peppers, chopped
2 green bell peppers, chopped
1 Tbsp. black pepper
4 cups sugar
1/4 cup salt
3 cups apple cider vinegar
Bring all ingredients to a rolling boil. Add to jars, seal and enjoy now and later. (Boil jars for safety. Seal on jars should be hot.)