For many, Christmas is a time solely for friends and family, but for Don and Brenda Pope, Christmas is about spreading joy to all. "Christmas is a time when everyone gets along, and that is really what Christianity is all about — serving each other and loving each other," Don humbly admitted.
During the holidays, the couple likes to dress up as Mr. and Mrs. Claus and visit the nursing homes around town passing out candy canes. Sometimes, Don will stand outside his home dressed like Santa, so he can spread the Gospel to others by passing out a candy cane with a short message about Jesus attached. Don and Brenda often open up their home to the neighborhood children and the community, so they can talk to, and have their pictures taken with, Santa. During the Christmas season, the Popes' home is decorated with thousands of unique Santas they have collected throughout their 49 years of marriage, but they don't decorate for themselves.
They decorate to spread joy to everyone who comes by their home. "God has blessed us so richly that we try to share it with other people," Don reiterated. Don and Brenda met at the Princess Theater in Tennessee while Don was home visiting his grandparents, and not too long after, they were engaged. Their courtship was short, but even at 18, they knew they wanted to be together. Through college, being drafted during Vietnam, raising two sons, moving 32 times due to his job as a store manager for Wal-Mart, and eventually, turning his hobby of investing into his job as a financial planner — the couple finally settled in Waxahachie. Throughout all the years, they collected Santas.
The Popes' holiday story started during their first Christmas as a married couple. Before they had any children, the only decoration they owned was a little Santa head. They wrapped it around the TV antenna with some pipe cleaners. Each year, they added something new. One year, they made Christmas ornaments because they couldn't afford to buy any. They poured hot paraffin wax over ice cubes with bobby pins stuck in the trays. As the ice melted, it made funny designs in the wax. "My parent's didn't really celebrate and go all out for Christmas that much when I was growing up, so I think I'm overzealous with Christmas," Brenda explained. "I love anything that has to do with Christmas. I love the happiness and spreading cheer. I love watching people be happy. It's such a special thing."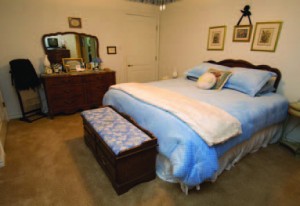 The Popes, however, celebrate Christmas more than just in the month of December. Throughout the year, there are special items that Don and Brenda keep on display. Most of these items are ones they have collected while traveling. The couple has been to every continent except Antarctica, but Russia is one of their favorite places to visit. Brenda especially loves the styling of Russian art, with their hand-crafted pieces and vivid painting style. Each one of their Santas from Russia is unique because they are crafted by hand. Brenda spends hours every holiday carefully placing their treasured decorations to transform their home into a winter wonderland. Most of the rooms in the house are host to the thousands of little Santas. There are a few exceptions, however, such as the guest bedroom.
Even their master bedroom and patio are decorated. One room, in particular, which Brenda lovingly calls the angel room, is decorated to depict Jesus' life story. A tall Christmas tree takes the focus in the living room, surrounded by Santas of various sizes and origins, from a Santa table holding Christmas books to tiny knickknacks lining their mantel and bookshelf. Each item is special to the Popes, especially the ornaments they both have from their childhood. Don's reindeer with a missing leg and no horns and Brenda's Santa that used to hold candy, both have a place of honor on their tree. "The most special Santa I own is the first one I got as a child," Brenda fondly recollected. "There's just something about that Santa that brings back warm childhood memories."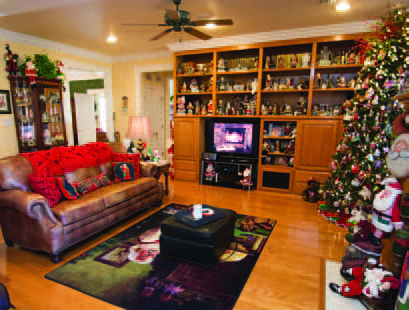 Another special ornament was a dime store snowball Brenda saved money for in the early years of their marriage when money was tight. In the dining room, another Christmas tree proudly stands in the corner next to a line of larger Santas in the old St. Nick style. The classic charm in this room stirs the excitement of Christmas past for all who visit during the holiday season. Don and Brenda receive quite a few visitors who want to see a mini winter wonderland. "I enjoy decorating for others. I want people to come and bring their children. We only have two boys and one grandson. They enjoy it, but I do it for others. I always make sure that someone is coming to see it," Brenda shared. "Why decorate if you're not going to share it? It brings joy to my heart when I watch people enjoying themselves." More modern-looking Santas are prominently displayed in the kitchen, alongside a few classic St. Nicks in every form of decoration, from the classic Coca-Cola Santa rug and colorfully painted Christmas plates to modern-styled Santas lining each shelf. Even the light fixture is adorned with holly and mistletoe.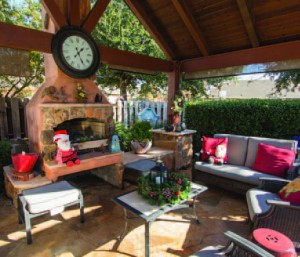 The Popes find great satisfaction in keeping the love of Christmas alive. Brenda, whose parents were much older when she was born and not physically able to decorate for Christmas, is still childlike when it comes to Christmas. "She is still celebrating her childhood, even now," Don explained. "Her family were poor, dirt farmers from Tennessee. Christmas was too much of a luxury." Don has his own special memories that keep the belief of Santa alive, even though he is now a grandfather. When he was 8, after their yearly trip to his grandmother's house where he received his first BB gun, his family returned home and he found all the accessories for his new gun under the tree. "I looked around before we left, and there was nothing under the tree. Santa came to my house," Don stated excitedly. The belief in joy and love that is so thoroughly shared during the holiday season is what drives this couple to decorate and open their home to the community each year, even though the task of decorating is becoming more and more difficult. "We love seeing children's faces light up when they see Santa," Brenda stated, as Don nodded his head in agreement. "God has truly blessed us."
Written by Donnielle Tyner.