The night before Christmas, all through many homes, there are in fact many creatures stirring. Whether the sounds are parents wrapping gifts, people singing and socializing or children's feet scampering about the halls with giddy excitement, Christmas is a bustling time full of fun and energy.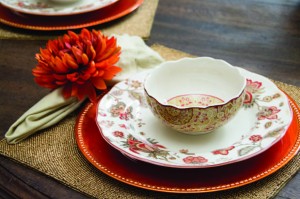 Once the young ones have moved away, some adults find their house is quiet, indeed. Michael (known as Mike to most) and Jann Cox, however, have replaced the sounds of their own children's feet with those of their grandkids, as they moved to Midlothian to be close to family. The night before Christmas, Mike and Jann know they will have a home full of holiday cheer. Mike and Jann grew up in Dallas and went to South Oak Cliff High School. "I graduated in 1968 and then went to El Centro and Mountain View," he detailed. "But I left school and started working pretty quickly." Jann transferred her senior year and graduated from Kimball High School in 1969 before going to work as a hair stylist. Mike and Jann were married in August 1969, so providing for the family took precedent over college. "When I was in junior high school, I started going to cosmetology school during the summers," Jann said. "I had to wait until I turned 15 to go take my state board exam. I worked in a salon for a while, but after Mike and I were married, I wanted to find something where our hours were the same."
She left her salon and went to work at a title company, a move that sent Mike on his new career path. "We worked with one surveyor often, and Mike was taught by him to be a draftsman," she said. After several years of employment, Mike decided to go back to school and prepare to take the state board exam to become a registered professional land surveyor. Mike opened his own survey company, and he and Jann have owned and operated Michael L. Cox Inc. for over 30 years. Mike and Jann moved to Cedar Hill in 1979, which is where they raised their family. Brian now lives in Plano with his wife, Ashleigh, and two daughters, and his twin brother, Brad, lives in North Dallas. Keisha, the oldest, lives even closer.
In the past year, she moved from living across Midlothian to living across the street with her three kids. "We mentioned to our neighbor that we wanted our kids to be close by, if he ever wanted to sell," Mike said. "We thought maybe one of the boys would move down here, but Keisha moved in instead, and her kids are over here all the time. It's great!" When they were ready to move to Midlothian a couple of years ago, Mike and Jann found the perfect spot close to family and their church. "We love Midlothian, and our family was here, but it was hard to find the right house. One day, I called Mike and told him I had found the perfect place. And it's nice because we are close to First Baptist Church, where we have been attending for about eight years." The house is beautifully landscaped with mature trees and well-manicured shrubbery, set far enough away from the street to provide for a wonderful front yard. During the Christmas season, they shroud the house with lights. "Since we do a lot of lights, we have Jeff Blackmon do the outside," Jann admitted. "And we have a lighted cross that we put out there during both Christmas and Easter."
Inside, a formal dining table that is perennially made up sits just steps past the front door. "I keep the table set all year, but I change out the themes," Jann said. In addition to tableware and seasonal decor, Jann puts some artificial food and drinks out to give the dining room, as well as the kitchen, a constantly welcoming feel. Across from the table, Mike and Jann have a large Nativity scene on display for the holidays. The bedrooms are all on one side of the house, branching off of a hallway that has what is left of the once abundant built-in shelving. "When we moved in, there were built-ins everywhere," Mike stated. "I didn't know we were buying the house to almost gut it, but we took out lots of cabinets and even ripped up the floors." While the built-ins are gone from most of the house, the hallway has several shelves that hold family photos during the year and offer another spot to decorate for Christmas. The master bedroom has a Roman theme, with drapes above the bed that borders on being a canopy-style frame, and statues and vases complete the motif. The kitchen and dining nook are accented in dark golds and blue-greens, with dark granite giving a cozy feel to the room.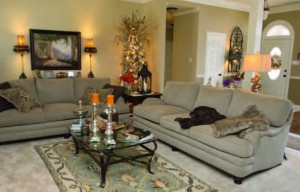 Instead of a traditional hood over the stove, a down draft vent allows for a stovetop and microwave that is ensconced with hundreds of bricks matching the exterior of the house. There is also access to a great back patio, which Mike and Jann have transformed since moving in. "The porch was laid, but we had someone build the covering," she recalled. "And I strung the lights a dozen ways before I figured out how I liked them." Past the kitchen, a super-sized laundry room also serves as their media room and hangout area. "They built the laundry room with all this space to be a craft room or something," Mike described. "But when we moved in, we special ordered a sofa to fit the space, and we spend lots of our time in here watching TV with our dogs." The center of the house, both in location and importance, is the wonderfully adorned living room. Comfortable couches are accented with an Old World-style decorating touch.
"My favorite piece is the antique French hunting cabinet," Jann shared. "I found it at an antique shop three decades ago, and it has features like a pullout that was an actual cutting board." The cabinet completes the room all year, and it accommodates some of her favorite Christmas pieces. "I have a wreath made of old Hymnal pages," she said. "We try to really focus the season and our decor on the birth of Jesus." The centerpiece of their central room, though, is a Christmas tree that someone else trimmed this year. "Jeff does lights, and his wife, Nicole, decorates trees.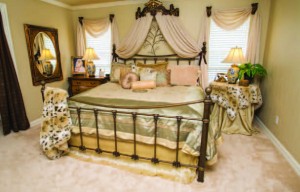 It was the first time in 46 years that I let someone else do some of the decorating," Jann acknowledged. The tree and its matching mantel garland are an elegant blend of pewter and gold. The ornamentation that stays up year-round is the perfect symbol of the life Mike and Jann lead. It may not always be Christmas in their home, but they are always ready to welcome family, guests and children to fill their house with the joy of Christmas or any other season.
Written by Zachary R. Urquhart.