Wendell and Billy Joe Cooke grew up on a farm between Ennis and Waxahachie at a time when families tended to be big and life was about churchgoing, farm chores, schoolwork and family. Their father, Benjamin Franklin Cooke, loved to play the fiddle. "He did it for fun," Wendell smiled. "We were five boys and seven girls, and music was always a part of our lives."
Music, particularly bluegrass music, became lifelong passions for Wendell and Billy Joe. Like their father, they played for fun, but to the delight of audiences, they have performed publicly for many years and show no signs of stopping. "We started playing old country music and some gospel," Wendell explained. By the time the brothers reached high school, though, they had found their "voice" in the relatively new music genre known as "bluegrass."
The year was 1946. Bill Monroe and his Blue Grass Boys had gained national popularity and were heard regularly on the radio. Back home in Waxahachie, a singer-comedian from the popular WFAA radio Early Bird Show came to Chautauqua Auditorium to do a live broadcast. "His name was Bob Shelton, and he invited us to play on the show," Wendell said. That performance led to an invitation to appear at school programs. "Bob would pick us up on the weekends, and we would play bluegrass music programs at small country schools."
Bluegrass music is played on traditional instruments like the mandolin, banjo, fiddle, bass and Dobro. Bluegrass can trace its roots to the English, Irish and Scottish tunes that migrated to America as early as the 1600s, as well as to American string band, old mountain and country music, gospel and blues. "Bluegrass music doesn't date back much further than the Cookes," explained Randall Dyess, band member and announcer. "Wendell and Billy Joe are the real deal. They are natural musicians who play for the sake of enjoyment and family."
Bluegrass musicians and historians tend to embrace this music as a pure art and among the most difficult to perform. With lightning-fast tempos, soulful waltzes, sweet earthy harmonies, pure acoustics and storytelling at its best, the musical depth and range is staggering. "Every song has a story, and they are usually sung in harmony," Randall said. "Everyone in our band sings, so we can mix it up, and people don't get tired. Mostly, we sing in three-part harmony and, sometimes, in four-part."
"This is a highly sophisticated form of 'mimicking music,'" youngest band member, Reggie Cook, explained. "That's how it's passed down. Musicians listen, as others play, and then they copy as best they can, while adding their own style."
Bluegrass music doesn't need a big stage. It can be shared in spaces as small as a living room or at major concert venues and, importantly, at bluegrass festivals. "There's no over-amplification," Randall said. In the '70s and early '80s, the Cooke Brothers Bluegrass Band traveled in a van to festivals in Texas, Oklahoma, Mississippi, Louisiana and Arkansas. "If ever a dollar was made from our music, we spent it on gas," Randall grinned. Often, though, they earned gas money by placing first in the festival band contest.
Beyond the fun and inspired entertainment, bluegrass festivals are like college campuses for musicians. "They come to listen to what others are doing," Reggie explained. "Jam sessions are like composition classes. Musicians hear a melody and are expected to play it back when it is their 'break,' and they're either able to do it or not. I've learned more attending festivals than in any classroom or private lesson, because bluegrass music must be learned by doing."
The Cooke Brothers have been instrumental in helping musicians start careers. One of those is fiddler George Giddens. "George is a symphony musician whose rendition of 'Orange Blossom Special' includes a few long-haired classical licks," Randall smiled. "We met him at a festival. He joined our band and went on to become a professional musician in Nashville."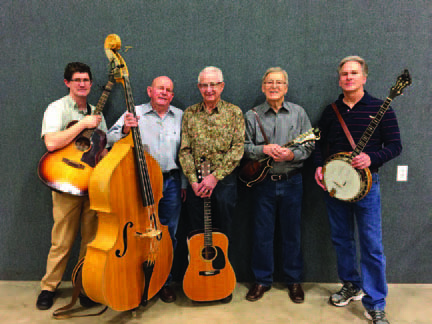 Through the years, the Cookes have performed with such greats as: Bill Monroe, Lester Flatt, Ricky Skaggs, Grandpa Jones, Marty Stuart, Vince Gill, Chubby Wise and Mac Wiseman. "We've also played political rallies," Wendell said. He recalls performing at an event with President Ronald Reagan, as the guest speaker.
Today, the Cooke Brothers Bluegrass Band features Wendell on guitar and lead vocal; Billy Joe on mandolin and high tenor vocal; Larry Cooke (Billy Joe's son) on banjo and vocal; Reggie Cook on banjo, guitar, occasionally on upright bass and baritone and lead vocal; and Randall Dyess (Wendell and Billy Joe's nephew) on upright bass and vocal. "We do six to eight programs a year and still practice a lot," Randall said. "We'll meet during the week and play for about 45 minutes to an hour."
The band clearly has a long history. "We did take a 15-year break while everyone was getting married, having families and building businesses or careers," Wendell said. Billy Joe and Randall each own companies in the refrigeration industry. Larry works with his father, Billy Joe. "Wendell has retired four times," Randall laughed. "He was a highway engineer for the Texas Department of Transportation for over 35 years, returned to design for another four years and later became a property manager."
The newest and youngest member is Reggie Cook, band director at Howard Junior High School. "His Cook is missing an e," Randall grinned. "As soon as he finds that e, he'll be kin."
Amazingly, the Cooke Brothers have been an endearing source of top-notch entertainment in Ellis County and surrounding areas for the past 65 years. They've played festivals, rallies, concerts and all types of family gatherings, including: Golden Agers at Nay Barn Party, Waxahachie's Optimist Carnival on the Square, back in 1948, and multiple radio appearances. They are devoted Christians and, in addition to bluegrass music, have captured hearts and offered praise with beautiful a cappella gospels.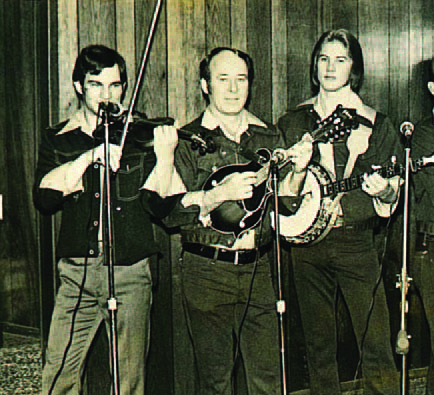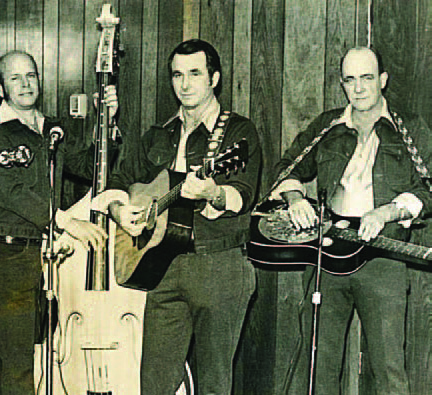 Last April 4, at the annual fundraiser for the Waxahachie Community Theatre, a special tribute was dedicated to Wendell and Billy Joe for their lifetime contributions in the world of bluegrass music and as lifelong residents of Waxahachie. "My daughter, Kelly Pieterse, organizes the annual fundraiser," Randall said. "It was the perfect time and place to honor these great men. It was also great fun. There were probably 50 kinfolks in the audience, and our good friend, George Giddens — one of the finest fiddle players alive — came in from North Carolina."
Bluegrass music reflects connection, family and fun. To love this music is to be part of a community, and to play in a band like the Cooke Brothers Bluegrass Band is to be part of a very special family. "We have fun," Wendell smiled.
Editor's Note: For more information, call Randall Dyess at (972) 467-5121.
Written by Carolyn Wills.