Jason Duvall was only 6 years old when he started playing soccer at the Waxahachie YMCA. When he was a student at Waxahachie High School in the 1980s, he played in the Arlington Premier Invitational League as a goalkeeper for the Waxahachie Arsenal. "I grew up playing this game. It's always been my sport. I enjoyed it as a kid and still have the greatest passion for it as an adult," Jason said. "True success in soccer is achieved when a cohesive team can effectively and efficiently combine their strengths, skills, tactical abilities and conditioning for the purpose of improving one another."
As a young adult, Jason missed being involved with soccer. When his daughter, Savanna, became old enough to play, he began coaching her team, the Waxahachie Dragons. "The passion all came back," Jason said. "This game created something special for me and Savanna to share."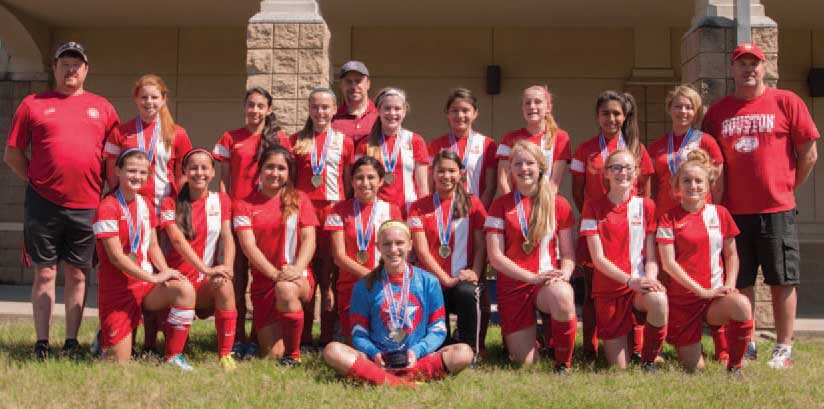 Jason didn't know how the girls would react to playing the game. "I decided if I could keep a team together for several seasons, they could potentially be as talented as any team in their league. The longer you keep them together, the better they'll be."
The girls were between 5 and 7 years old when the team formed, and they had a lot to learn about the game and playing together. "When they started playing, most of them didn't even know how to kick the ball," Jason remembered. "They looked like a pile of ants running across the field. The first three or four seasons were about finding their strengths and weaknesses." Eventually, in 2010, the team joined the Waxahachie Soccer Association. An important step to becoming a great team is finding the right players.
In 2011, Jason combined his team with another team led by one of his current assistant coaches, Herbie Aydelott. Seven of the current players have been with Jason since his first game as a coach. He refers to them as his "core seven" players: Savanna Duvall (his daughter), Sarah Bell, Victoria Falcon, Katlyn Winford, Eleigh Lopez Warren, Madelynn James and Sophie Melick. Herbie brought Courtney Aydelott (his daughter), Haylie Beard and Alex March to the team in 2011. In 2012, Grayce Davis, Amy Clements and Sabrina Cruz joined them, followed by another assistant coach, Daniel Ward, his daughter, Morgan Ward, and sisters Jazmin and Jayme Esparza in 2013.
Julia Forsythe joined the team in 2014 to complete the current roster. According to Jason, the team has been successful for three reasons. First, they have a long history. "They've been together long enough to know each other's strengths and weaknesses," Jason said. "They know how to read one another."
Second, the team trains rigorously and plays all year long. "They practice three to four times per week and compete weekly. They understand the importance of being dedicated," Jason said. Third, the team is a close-knit group. "They respect and love one another," Jason said. Through soccer, the girls, now 13 and 14, are learning virtues like teamwork, diligence and responsibility. "They have a good foundation and understanding of what they can do together," Jason said. "You can be the greatest player in the world, but if you can't work with your team, you won't succeed."
Since the current team formed in the fall of 2011, the Dragons have played a mixture of indoor and outdoor games. Their combined regular season and tournament outdoor record is 120 wins, 25 losses and 8 ties. This equates to an 84-percent record of success over eight seasons. "What's impressive about this is that we have never lost to an outdoor team that we didn't beat at least once," Jason said.
They play indoor soccer to help them condition during the off-season. "Playing indoor soccer has helped us stay ahead of our outdoor competition, because it allows the girls to improve their skills year-round with very few breaks," Jason said. "Most teams don't do this, but it's been part of our winning strategy." Their combined outdoor and indoor record is 200 wins, 47 losses and 18 ties, which equates to an 82-percent success record.
The Dragons compete in the Best Southwest region, which falls under North Texas Soccer Association and includes teams from all over southwest Dallas. "Our biggest and most fierce competitor for the past several years has been the DeSoto Elite," Jason said. They met DeSoto Elite again in the final game of the Tournament of Champions late last year. "Boy, was that a good rival," Jason said. "It may be the best competition I've ever seen in recreational soccer."
The Dragons defeated DeSoto in the championship game by a score of 1-0. In the Tournament of Champions, the Dragons beat out 130 Texas teams and didn't let anyone score against them the entire weekend. "That tournament defines the best recreational team in the state of Texas," Jason said. "It's the best recognition you can get." In April 2015, the team continued its streak of success by winning the 30th Waxahachie Invitational tournament, a first for them. Jason's role as a coach has allowed him to mentor his players in ways he never expected. "In the beginning, when they were little girls, the challenge of coaching was just about the game itself," Jason said. "As they grow older, I continually see new challenges and struggles associated with growing up."
The success of the Dragons goes far beyond drills and games. "Coaching is the easy part, but building a true team like the Dragons requires much more than teaching skills and tactics. Passion and a love for the kids and the game is what builds and keeps strong teams together." The team has formed a bond with their coach and with each other that surpasses friendship. "These girls are like my own kids in many ways," Jason said. "I've known them for the majority of their lives." Jason prefers the term soccer family over soccer team. "We are more than a team. We are a family," he said. "Our family is made up of loyal and supportive parents, grandparents, brothers, sisters, aunts, uncles, friends, dedicated coaches, a wonderful association of board members and referees, and an outstanding and amazing group of young ladies."
Jason's greatest hope is that he can leave a lasting impression on his players. He fosters a legacy of dedication. "I'm sure there are times they feel I'm not their friend, with the expectations I put in place," he said. "I just hope one day they will look back and say, 'You know, Coach Jason was tough on us, but he had our best interests in mind. He loved us and wanted us to be the best we could be.'" Jason wants his players to remember one thing: "You will never be able to experience your full capabilities if you fear and avoid what exists at the next level."
Written by Callie Revell.