In many ways, Kennedy Hutchins is a typical 17-year-old teenager. She's a high school student who enjoys shopping, movie nights, hanging out with friends, snap chatting and tweeting with her friends.
But Kennedy, super competitive as an athlete, is also full of enthusiasm and dedication for her sport and has the medals and honors to prove it. Kennedy has been involved in athletics for as long as she can remember, starting in competitive gymnastics when she was 5 years old. "I competed in all of the events, the vault, uneven bars, balance beam and floor exercise," she remembered. In 2006, her competitive skills were on display when she and her teammates traveled to Moscow, Russia.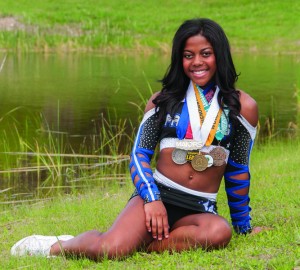 The team was hosted by the Dynamo Sports Club, the training facility where many world-class and Olympic athletes live and train. When Kennedy "retired" from gymnastics at the age of 10, she was competing as a level 8 gymnast, only three levels from the Elite division. In fifth grade, Kennedy was introduced to competitive cheerleading. "My sister, Laureen, was a competitive cheerleader with Cheer Athletics. My mom took me to tryouts, and I loved it," Kennedy admitted. "I was really drawn to cheerleading, because people involved in the program were really supportive," she shared. "Everyone there is always encouraging you."
For Kennedy, the transition from gymnastics to cheerleading was seamless. "When I first started Cheer Athletics, I was put on a level four team, so we were doing things like layouts, basic stunts and body position lifts," she explained. "The coaches concentrated on the basics, because they knew how important it was to have a strong foundation. The fundamentals of gymnastics helped with my cheerleading techniques, so my movements were technically precise and accurate."
When Kennedy started middle school, she decided to try out for cheerleading in seventh grade. "I made the squad, and I've been cheering ever since."
As a member of Cheer Athletics, Kennedy is part of a nationally competitive All-Star cheerleading organization. Located in Plano, it is one of the largest and most successful programs in the country. "It's a really well-known gym," Kennedy shared proudly. "We're known worldwide."
For the past two years, Kennedy has been a Panther, a nationally ranked cheerleading team. In 2014, the Panthers were National Cheerleading Association (NCA) champions, and they were bronze medalists at the World's Championship. So far this year, the Panthers have won both the NCA and the American Cheerleading Association (ACA) national competitions. The Panthers will also compete in the The MAJORS next year. "The MAJORS is an invitation-only competition held every January in Indianapolis, Indiana," Kennedy explained. "It's an event where only the best teams compete, and it's an honor just to be invited."
Social media has made it easy for the team to share their accomplishments — they have a Facebook page, and YouTube videos capture the Panthers athleticism and precision. And many of the major cheerleading competitions are broadcast on ESPN. "The Panthers are also part of the Champions League," Kennedy shared. "It's a selective event, and teams are invited from across the country." The Champions League is so nationally renowned and competitive that the 2014 national competition, held in Atlanta, Georgia, was filmed. The events were documented as 30 of the most successful teams in the country squared off to be named Grand Champion.
Last April, it was shown in select cities nationwide. Just as any other competitive athlete, Kennedy understands the importance of being healthy. "I try to eat healthy," Kennedy shared, "but there aren't any foods that I avoid, I just try to eat in moderation."
And the training schedule for competitive cheerleading is rigorous, which helps her maintain her athletic conditioning, especially when preparing for national competitions. "At the beginning of the season, practice starts in April, and practices are held twice a week," Kennedy explained. But as the season continues, practices become more frequent. "It's pretty much every day," she said, "and on Saturdays and Sundays, we practice twice a day."
Kennedy and her teammates will practice for three hours, break for lunch and then practice again for another three hours. Although Kennedy is extremely busy with her athletic schedule, she takes the student in student-athlete very seriously. "I travel a lot," Kennedy admitted, "but I take my homework and assignments with me." Her dedication to her education is evident. She is in the top 7 percent of her class, and she takes all AP and honors classes. "I also take dual credit classes," she shared. Kennedy, now a junior at Cedar Hill High School, also cheers for her school. "I'm currently co-captain of the varsity cheerleading squad, and next year I will be team captain."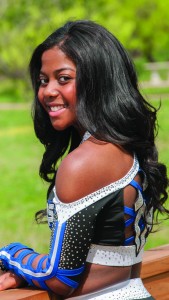 The Cedar Hill Longhorns have a tremendously successful varsity football team, and Kennedy is looking forward to cheering in another 6A Division II state championship game. A glimpse into Kennedy's near future reveals her professional ambitions. "I've narrowed down my top college choices — TCU is my first choice, then the University of Oklahoma, Baylor University, Texas Tech University and The University of Alabama. "I want to major in biology and minor in child development. I want to be a pediatric nurse and work in the neonatal intensive care unit." And with her impressive credentials, any of the schools on her list would be lucky to have her. For anyone who has considered becoming involved in competitive cheerleading, but hesitated to take on the commitment, Kennedy shared her insight. "I would tell anyone to do it," she shared enthusiastically. "It's so much fun! It changes you for the better, because you learn so much. It helps you grow, because you learn real-life skills like working together as a team."
Kennedy also learned a lot about setting goals. "Setting goals is a good lesson in determination," she shared, "because you learn how to push yourself past your limits." Kennedy credits her coaches with their approach to the sport. "They're always there to encourage you. They never ask you to do anything they don't believe you can do. And they always support you, and help you believe you can be better than you think you can be." Kennedy has a very mature outlook on the sport she loves. "Competitive cheerleading taught me how to not hold myself back, and to believe in myself. It helps you move beyond the mental limits that you set
for yourself."
Written by Dianne Reaux.