Modeling the fact that the family that works together stays together are, left to right: Terry and Beth Burgess, Brandi Burgess and Linda and Randy Pearce.
"I hope you'll never feel the weight of this gold star," Terry Burgess said, fingering his lapel pin with his left hand while, with his right, he shakes hands with a person just learning the story of his son. Staff Sergeant Bryan Burgess was born to Terry and his then-wife, Linda, on April 23, 33 years ago. He died on March 29, 2011, after eight years serving the U.S. Army. Bryan lost his life during military duty in Afghanistan with the 101st Airborne, 2nd Battalion, 327th Infantry Regiment, 1st Brigade Combat Team. He died along with five other men, and all had families who survived them. When the U.S. Army escorted those families to the memorial service in Kentucky, each family member was presented with a Gold Star pin.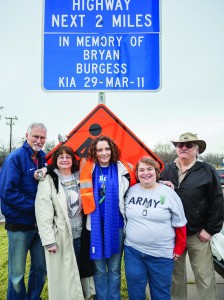 Bryan's mother, Linda Pearce, wears hers on a moveable green ribbon, along with a 1st Brigade Combat Team pin, bearing an eagle, and a shamrock-shaped pin bearing the slogan No Slack, representing Bryan's unit. Linda's husband, Randy, pinned his Gold Star on his fishing hat. Terry's wife, Beth, wears hers as a ring, as does Bryan's sister, Brandi. They all find comfort knowing they're not alone in their experience. "We did not know until we became a Gold Star family that there are 6,830 of us from Iraq and Afghanistan," Beth said. The drama of the final days of Bryan's unit is part of a documentary called The Hornet's Nest, produced by a videographer embedded with Bryan's unit.
Terry wrapped his FJ Cruiser with an image from the movie. Its flashy graphics invite questions all over town, giving Terry an opportunity to speak about his son. Each time the family conducts its quarterly highway cleanup of the two-mile stretch on FM 917, between Hwy. 174 and the Chisholm Parkway, the cruiser parked in front of Joshua's Dollar Store catches a lot of attention. When the Burgess family adopted that portion of a Texas highway in honor of Bryan, their plan was simply to set up a table at the busiest intersection in Joshua and teach people about the sacrifices U.S. soldiers have made. They were not aware how beautifully their project would bind their family. Although Bryan's parents are divorced, they and their spouses and Bryan's sister, Brandi, celebrate his memory with a unity that is causing a strong ripple effect. With the Hornet's Nest cruiser as base of operations, they each take turns leading volunteers in a daylong effort that would make Bryan proud. "Bryan would probably hunt them down if he saw somebody throw trash out their window," Terry said, with a grin. "A natural born leader with good morals, he was very conscientious, even serious."
Linda and Beth hand Starbucks coffee and H-E-B donuts to those who accept the duty of cleaning this section of highway. The 9:00 a.m. start time is necessary since friends come from far away. One year, Beth recalled, one of the guys from Bryan's unit who was stationed in San Antonio drove up to remove trash with the family. "People come and go throughout the day until 3:00 p.m., because it's two miles times two, and you wouldn't believe how much trash you find when you're actually walking down in the ditches," Brandi said. Wearing orange safety vests and carrying trash bags provided by the state for this official cleanup, not a ditch is left unexplored.
At the cruiser, Linda, Randy, Beth, Terry and Brandi take turns sharing their story and Bryan's with anyone who stops to ask. They tell about his purpose, his career, his family, his children, his squad and the day he was killed. His captain, Ty Reedy, told the family Bryan's death meant a great loss to his squad, because he was loved by the young men he led. "Doc Jacobs said Bryan was apologizing for dying, that he couldn't be there for his men," Beth recalled. "A bunch of the squad said they wouldn't have stayed as long as they did were it not for him." The Burgess family is now a united front educating people that soldiers who survived are coming home in need of support. "And their families need support," Brandi said. "You could be standing in line with us at the grocery store, and not even know we are Gold Star families or what we've gone through."
The story of this unit and Operation Strong Eagle Three, in which Bryan and five other men in his unit were killed, is told in The Hornet's Nest. The segment containing Bryan talking about his children, Makya and Zander, is at the end of the movie made by the father-son team, Mike and Carlos Boettcher. "Mike was embedded with Bryan's unit for a year, and he was there when the nine-day battle occurred," Randy said.
The Burgess family promotes the movie in one of many efforts to fill the gap Bryan can no longer stand in. Bryan once taught about the value of our military to the Burleson youth in the classroom of his mother, Linda, who is an award-winning paraprofessional in Hughes Middle School. "In every advisory class I cover, before we say the Pledge of Allegiance, I talk about respect," Linda said. "Bryan joined us during his R&R, and while wearing his uniform, he talked to the kids and told them about Afghanistan.
The children from that class are now juniors in high school, and they still email me!" Brandi continues to visit Linda's class with Bryan's medals, hoping to instill in the children an understanding of the true meaning behind the pledge. "He volunteered for this last tour. He was doing something positive over there, bustin' his hump. Why not do our part and keep it going?" Brandi asked. "Speaking of these things is a way to process the grief of this loss, to let the frustration out," said Randy, who married Linda when Bryan was 5. He also learned, in the aftermath of the Vietnam War, that people can get a negative impression of what the military does. "Bryan's unit was over there trying to better the world."
And so his family honors him, letting people know Bryan was a great man with a positive outlook on a negative situation. His death even gave the family a more positive outlook on their own situation and brought both sets of parents closer. When one of them is having a day overshadowed by grief and its resulting stress, they call each other. Just when Brandi's feeling stuck, someone in her family or her Gold Star network will send an encouraging word, and she braves up in a way that would make her superhero smile. Whether she's making jewelry, encouraging another grieving adult sibling in her Gold Star network or picking up trash along FM 917, Brandi's experience has made her a passionate go-getter — just like her brother.
Written by Melissa Rawlins.