A familiar face has been running and biking along the byways of Navarro County and swimming in the Corsicana YMCA pool for many years. That face belongs to Nathan Bugg, who not only trains locally but has also won and placed well in area races. His biggest accomplishment came when he earned the right to wear the Ironman tattoo after completing the specified time limits.
"I qualified in Houston on May 17, 2014, after 14 hours of nonstop physical activity. I can't describe the feeling when I crossed the finish line and the crowd shouted, 'You're an Ironman!'" Nathan revealed. The Ironman Triathlon is organized under the authority of the World Triathlon Corporation.
A sanctioned event consists of a 2.4 mile (3.86 km.) swim, a 112 mile (180.25 km.) bicycle ride and a 26.2 mile (42.2 km.) marathon run that are completed in that order without a break. The events usually have to be completed in 17 hours. Typically, a triathlon begins at 7:00 a.m. with each of the three events having maximum time limits. A competitor must complete the swim within 2 hours, 20 minutes; the bicycle ride within 8 hours, 10 minutes; and the marathon run within 6 hours, 30 minutes.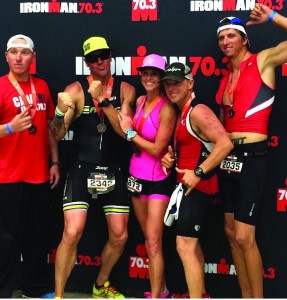 Any competitor who can accomplish the feat within the time limits can become an Ironman. The Ironman World Championship has been held in Kailua Kona, Hawaii, each year since 1978, and the event has gained popularity and has become a summer Olympic competition. Nathan began running with his dad, brother and cousins in the 1980s in Lamesa. This continued after his preacher dad changed church callings to Dawson, Corsicana and Blooming Grove. Nathan graduated high school from Blooming Grove. "The running boom hit in the '80s. The alpha males in my family are very competitive and love running, snow skiing and water skiing. I was the little brother and tag-a-long when I first started running," Nathan recalled. No longer is the tag-a-long in
that competitive family atmosphere at the back of the pack. Nathan is proud to have claimed the Bugg Trophy at family reunions every consecutive year since 1996! "I played just about every sport in school, but was better in track. I didn't really hit my growth spurt until I was 20 years old," Nathan explained.
A runner with the DFW Runners Club and president of the Corsicana Running Club, Nathan enjoys the companionship of fellow runners/walkers whether he is out for a training, fun run or competing in a race. He competes in area races, winning the Derrick Days Oil Town Mini-Thon in 2013 and placing first and second in the Jingle Bell Jog. But Nathan also promotes running just for health and fun. "We run these streets" is the motto of the Corsicana Runners Club.
Members are split into pace and age groups to complete the 3-mile loop around Northwood and Bowie streets in Corsicana. Some longer runs take in the county's scenic countryside. During most of the year, on weekdays, the group meets at 7:00 p.m. and on weekends at 7:00 a.m. "Only the faithful run during the winter," Nathan revealed. "We have all ages — members from all walks of life. We are good with any level of runner or walker. In the summer we get a lot of school/college kids and teachers. It's a social club for people who like to run or walk. There's a small group of ladies who walk, and then there is Coach Rodriguez who has left all of us behind!" One lady in Nathan's life doesn't just cheer from the sidelines or sidewalk. Whitney, his wife, has become a serious competitive runner.
A graduate of Corsicana High School, Whitney was a CHS cheerleader and played softball. "I hated to run in softball, but once I figured out how to breathe right, running is OK," she said. From 2006-2011, she participated in small 5K races. Since then Whitney has graduated to the Dallas Half-Marathon and completed the Austin Full-Marathon last February 14. "In the beginning you just have to start adding miles," she explained. The couple's training schedule is daunting and dedicated. Nathan trains about three hours every morning. Training for them during a typical week might include 60-plus miles of running, 50- to 100-mile bike rides and swims. Often running with them is their Boxer, Minka. "Raider, our other pet, doesn't run, but Minka is in as good a shape as we are," Nathan said.
Fortunately, since Nathan co•owns N8 Logistics, an oil-field equipment hauler, with his brother, and Whitney is a hair stylist at Tangles, they can schedule their training around work hours. Work is important, however, since a three-day event typically costs approximately $650 per entry plus travel, lodging and meals. Pretty well self-coached, Nathan was encouraged by a friend to compete in his first triathlon. Now he is helping three friends and Whitney to rise toward that level of competition, while he is working toward qualifying to run the Boston Marathon. "I remember my first triathlon at Lake Aquilla (Hillsboro). Running is my strength, not free-style swimming, and open water swimming is very different from swimming in a pool. I was challenged to learn to swim and be able to get out in open water. There were 110 competitors, so I had people kicking me, and I didn't have any equipment except my bike, but the cool part of competing in the triathlon is that it inspires other people. Getting to the finish line is the most awesome feeling," Nathan related. "I had seen the Ironman on TV as a child, and it just stuck in my head — that it was something I had to do." Injuries can occur.
Only 12 days before he was to compete in the Austin Triathlon, Nathan stepped in a puddle and broke bones in his foot. "I was a late bloomer, but now I push my body to new realms. There's a joy in the pain," he said. When asked what it takes to pursue Ironman status, Nathan advised, "Anything is possible if you put your mind to it. It's definitely a matter of mind over matter. Don't let your age or abilities dictate what you can or can't do, and don't let someone else dictate your story. It excites me to see other people get excited and enthusiastic about this sport."
Written by Virginia Riddle.