BURLESON, TX — Call Rick Eubanks a product of prayer, and he'll glow with gratitude. Now a 63-year-old youth minister at Oak Grove Baptist Church, Rick once was a 16-year-old rock-n-roll musician in Fort Worth, known in his community as "Sandra's wayward brother."
But a new fellowship in Burleson called Crestmont Baptist Church was praying for him. Little did he know 23 years later, as a staff member of that very church, he would participate in a youth-led prayer group influencing Burleson students and sparking what is now a global prayer movement known as See You At The Pole. See You At the Pole (SYATP) is itself supported by prayer. In Burleson this month, pastors in the Burleson Christian Ministerial Alliance (BCMA) will walk through the city the night before SYATP, praying as they go, and then convene at Venue 510 for more prayer with the public. "As parents and elders, for the sake of the children, we're interceding for God's presence to be in the schools, helping them grow," said David Miller, president of BCMA.
As it was in the beginning, whatever takes place on any school campus the fourth Wednesday of September will be youth-initiated. SYATP's prototype occurred during the 1989-1990 school year. Rick was 39 and pouring prayers into the Crestmont congregation, whom he served as minister of music and youth. The battle of Jericho inspired youth in an earlier Disciple Now retreat. "Our theme was Shout It Out!" Rick said, "and we constantly asked God to give us influence in our schools." As the school year began, Crestmont youth participated with 45 other Christian students in a lunchtime prayer group at Burleson High School, located in what is now Kerr Middle School. About 150 Hughes Middle School students were also meeting for prayer. Focusing their efforts on a number of students who had wandered away from the fold, Rick and other students especially prayed for Brian Jennings, an influential teen with great potential. In early April 1990, several ninth-graders gathered for a weekend Disciple Now retreat. After prayers for themselves, they decided to pray for others out in front of their schools. The youth went in the cool of the night to Crowley High, Hughes Middle, Burleson High plus the home of Pastor Don Lane, since his son was homeschooled.
Within days, the pattern set by the Burleson ninth-graders inspired a rallying cry to students near and far. At a mid-April meeting of men and women devoted to encouraging Texas youth, Chuck Flowers, director of Youth Evangelism with the State Baptist Convention, shared his vision that after Youth Evangelism summer camps, something would happen to strengthen the students. The evangelism team had borrowed Crestmont's theme for the summer and produced green megaphones with the logo, Shout it out across Texas! Rick suggested students sign the megaphones as a commitment to pray at their schools together. "Pastor Don Lane remarked, 'You can say anything you want under the American flag,'" Rick recalled. "Somebody else said, 'Yeah! Every school's got a flag pole!' Then Neal McLendon, who is now pastor of a church I worked with in Sugar Land, Texas, said, 'Yeah, see you at the pole.'"
Excited at the vision of 3,500 students praying at their schools, someone suggested the opportunity be also offered to students attending the Youth Evangelism Conference in Reunion Arena that coming June. Meanwhile, Brian had called Rick to say he wanted to return to Christian life. "That summer, Brian brought back to the Lord around 23 students, influenced the school football team and went on, eventually, to follow me as youth minister at Crestmont and other places in our area," said Rick, who preached at Brian's funeral in June 2013. Brian had been killed in a drunk-driving incident not far from Oak Grove Baptist Church, where Rick now directs youth ministries. Rick focused on the immense influence Brian exerted in the 23 years since that first See You At The Pole. That was the victory the evangelism team had in mind, in June 1990, when Neal got up in front of 20,000 students in Reunion Arena to explain the SYATP concept.
Word got out around to at least two other states. The kids told each other, "See ya at the pole!" Billy Beacham's Student Discipleship Ministries was already poised to give youth tools to creatively influence their community of faith then and for years to come, becoming the center for schools reporting in that first year. At 7:00 a.m., on September 12, 1990, 45,000 students prayed in front of schools in at least three states for their nation, their parents, their schools and each other.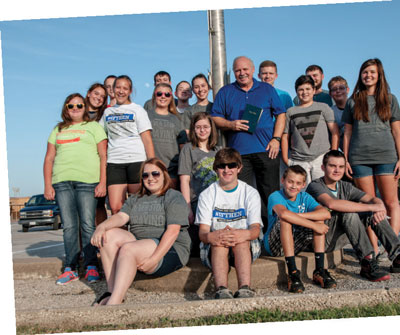 In Burleson, one young man mocked what was going on. "He circled us with a jam box, making fun of us. The next year," Rick said, "he came to faith in Jesus Christ and is now a faithful leader in Burleson." Billy can look out the windows of the second floor of Venue 510, where See You At The Pole is now headquartered, and see Kerr Middle School, the site of Burleson's first high school SYATP. Billy and Rick still work with some of the same people from that first meeting and have developed a larger support network nationwide, with groups like National Network of Youth Ministries (NNYM), and locally, BCMA. They learned early on the power of linking all the churches into a prayer chain supporting students' endeavors. By its second year, SYATP had gone global. Students had made an impact in their communities, and the adults could not stop talking about it. Billy, Chuck and Rick had shared the See You At The Pole concept at a NNYM conference, where pastors from Australia, England and Israel asked if they could participate. The answer was, "Yes. No cost. Just pray." "This is what God had in mind back in 1989 and 1990, when those ninth-graders boldly went out and stood at their schools. Giggling, nervous, not perfect, they wanted to make an impact.
They did it, and as a result, we got to be part of something way bigger: God making great changes in people's lives," Rick said. Last year, SYATP was the center of the first Global Week of Student Prayer. Held the last full week of September, with SYATP in the middle, it begins on Sunday and ends on Saturday, offering adults and students everywhere a full week to get creative about praying before, during and after the 45-minute SYATP. Like a wildfire that started 25 years ago in Burleson, Texas, the grassroots, student-led prayer movement has turned into some students' most anticipated moment at the beginning of every school year. And the evangelism team of student pastors, whose fires were lit well before 1989, still watches in amazement.
Written by Melissa Rawlins.