CORSICANA, TX — A new, permanent exhibit is opening at the Cook Center. It has been the dream of several people who have worked tirelessly for the last four years to make the Robert S. Reading Collection: The Hunters and Gatherers of the Blackland Prairie a reality. A unique feature of this exhibit is the use of the first person narrative.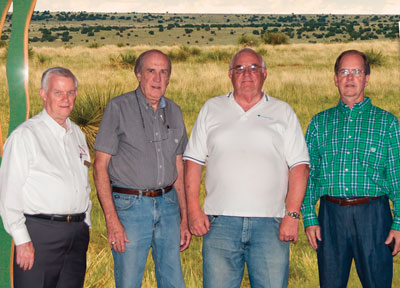 In this way, the ancient inhabitants of what is now Navarro County and the surrounding area tell their own story of living on this land during their time. "Bill Young, Forrest Green, Tom White and Oliver Albritton were really the catalysts, but they passed away before the project got underway," said Lloyd Huffman, chairman of the board of trustees at Navarro College and owner of Huffman Communications. Lloyd has served as technical resource adviser on this project along with Dr. Don  Wyckoff, resource consultant, Ross Edwards, designer and project manager and Dr. Tommy Stringer who helped raise the necessary funds.
Together they have taken what was once a dream and made the exhibit a reality. These individuals all had a vision that through Robert Reading's collection of artifacts, for many years exhibited in the Arrowhead Room of Navarro College, the story could be better presented. The collection's namesake, Robert Reading, served as mayor of Corsicana in the late 1950s and was a civic leader, writer and businessman. During the 1930s-1950s, he followed his interest in archaeology by searching for arrowheads in Navarro and neighboring counties, especially after rains or when farmers were plowing their fields. "It was a good era to do this since this was a farming region, and he knew all the farmers," Lloyd said.
The Blackland soil gave up its hidden treasures often to Oliver Albritton was passionate about Navarro College. Reading, thus producing a vast collection of points, some of which date back 6,000 years. With the Cook Center's recent expansion, more space was provided for events, but an odd-shaped 1,400 square feet had been set aside. "The expansion of the Cook Center would not have occurred without Oliver's efforts," Lloyd recalled. "Oliver told us, 'We have this area. We ought to do something with the arrowhead collection.' He started really researching, reading, visiting museums and educating himself. Oliver tried to educate us, and that was the fun part of the project. He just had an energy and knew how to make things happen. Oliver had been a banker and was used to working with so many people from all walks of life, and he had the contacts."
"Oliver was always so passionate about the college, just as his dad had been," Tommy added. "There was randomness and no logic to the Arrowhead Room display," admitted Don, an award-winning archaeologist and curator emeritus of the Sam Noble Museum of Natural History at the University of Oklahoma. Don had known about the arrowhead collection for about 20 years through his friendship with the late Bill Young. "Oliver came to Oklahoma to meet me and recommended to the board that I get invited down to work on this project," Don remembered. "He would start asking questions and could make us laugh."
Some of those questions will be answered for visitors through the scripts Don has written for the exhibit's videos. Now retired, working on this exhibit has been a labor of love that drew Don to cross the Red River to ensure the story was told accurately. As always, with a project like this, money had to be raised. Grants and private monetary and in-kind donations from local trusts, businesses and individuals have funded the creation of new cases, interactive exhibits and videos. When funds were still a little short, one more donation came from Arnold Coldiron of Ohio last fall, so the project could move ahead. "We have been graced by donations, such as deer skins and other artifacts, that enhance the exhibit," Don added.
Ross, owner of Creation Nest Visual Art and Display in Midlothian, was already a familiar face around the Pearce Museum due to previous work he had created there. He has again made a story come to life through his design and artistry. An experienced storyteller through art, Ross has worked not only at the Pearce but for other renowned museums, businesses and private collectors. With a background in the studies of philosophy and psychology, Ross came to the team fascinated with the challenge of combining facts in such a way that would be entertaining and interesting to all ages but would also enable the serious researcher to access information easily. As an artist, Ross specializes in interpretive realism focusing on people, places, and happenings that can be appreciated and understood. His favorite medium is airbrushed acrylic. The exhibit features Ross' talent as a designer of interactive displays and the cases and layouts of articles within the cases. "The story is rich," Ross revealed. "It's been fun learning about these people through working with Don. He has been the silver lining. We have gotten together periodically to make sure all the content is accurate, and Oliver was our inspiration," Ross acknowledged. "I remember when I got the call that he had died. The last thing Oliver told me was that he was looking forward to finishing the project. I think he would be very pleased now, since the exhibit shows how maybe as many as 200 generations of people lived on this land."
Many other local individuals have volunteered much time and expertise in making the Hunters and Gatherers exhibit a reality. That community volunteerism will continue with docents' training and volunteer staffing, but as Helen Albritton, Oliver's widow, pointed out as she viewed the almost completed display, "This was Oliver's brain child, but it also just shows what can happen when fertile brains get together. This exhibit is exciting." While generations come and go, the land remains through time. "We want people to realize there was someone living on this same land long before them," Tommy explained. "It has been said we often stand on the shoulders of giants. Oliver was that kind of person — a gentle, self-effacing giant. His support was thoughtful and constant with never a hint of self-promotion or desire for reward," Lloyd concluded. Thanks to the Reading Collection, and these individuals who kept nurturing its creation, the story of those who came many years ago to this land will be faithfully preserved in the Cook Center for the enjoyment and education of future generations.
Written by Virginia Riddle.