ENNIS, TX — When Darryl and Terri Willis moved to Ennis 17 years ago, Darryl had just accepted a position as senior minister of the local Church of Christ. He never imagined life would lead him to Eastern European Mission, a Dallas-based agency committed to the distribution of Bibles.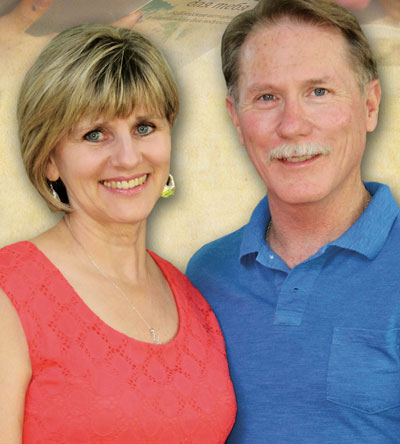 Now, he serves as vice president, directing the Youth Camp Program in the embattled country of Ukraine. Recently, Terri began working for EEM as an administrative assistant. Together, they help the group positively impact lives on the other side of the world. "Eastern European Mission was, perhaps, one of the original Bible smuggling organizations," Darryl explained. "We started in 1961 sneaking Bibles into countries behind the Iron Curtain. Then in the '90s, when the wall came down, all of that changed. We then became a Bible distribution organization, still trying to get God's Word to as many people as possible in their own language free of charge. We do not sell our product. We raise the funds for it here in the United States. Some say we are the Bible bookstore of Eastern Europe — we just don't send the bill." In 2013, EEM distributed over 483,000 Bibles and other Christian books in 15 Eastern and Central European languages, including Czech.
Darryl was approached by EEM in 2008 to write curriculum for teams to use in secular youth camps in Ukraine. His course covers ages 6 to 17. After Darryl completed the project for the summer of 2009, EEM decided to send him to Ukraine on a team to get firsthand experience. Since then, his promotion to director of the youth camp program has strengthened his connection to the youth of Ukraine. "Before he preached, he did 18 years of youth ministry and loved it," Terri said. "I could tell going on that trip brought that passion out in him again. He loves what he does. It's very obvious. He has gotten very attached to some of the people there. I think he's found his niche again."
Now, Darryl and Terri share an attachment to Ukraine, and the work EEM has accomplished there is important to them. "In six regions, we've put Bibles in every single public school at their request — at the request of the Ministers of Education — and we have three more opening up this year for the express purpose of textbooks to teach character and values," Darryl said. "This is a huge thing. We believe that within a decade, we can blanket the entire nation of Ukraine." About the size of Texas, Ukraine is a large country currently in political turmoil, struggling in a hotly debated conflict with Russia. "Even in the middle of all the fighting, they're saying, 'Yes, please, we want the Bibles,'" Darryl recounted. "Last year, I had five teams. We distributed 12,000 Bibles and other pieces of Christian literature to 2,000 children and adults." Yet EEM reaches Ukrainians primarily through government-sponsored youth summer camps.
According to Darryl, the camps are similar to Boy Scout troops and involve three-week sessions filled with character and morale-building activities. "Five hundred thousand to a million children go through these camps every summer," Darryl pointed out. "They range in size from 150 to 600 kids. They call them Children's Health Resort Establishments." During the communist regime, all children attended the camps which were also used to indoctrinate them. Since the fall of communism, the camps have changed focus. In addition to outdoor activities, they feature talent shows, pageants and competitions. One question Darryl and Terri are often asked is if traveling to Ukraine is safe. Darryl recalled a recent flight that had to be canceled because the airport in Donetsk had been under fire, resulting in dozens of casualties.
However, Darryl insists that, although eastern Ukraine is dangerous, the western half of the nation is still very safe. Terri often answers concerned phone calls in the office. "People will call and say, 'Is it safe? Are people still going? Are they still going to let you send the Bibles?'" Terri related. "I tell them, 'We smuggled Bibles over there in the '60s. If we have to start again, we'll do what we have to do to get God's Word over there." When fighting began in Ukraine last spring, EEM began a 31 Days of Prayer Campaign. "Each day, we would have a different prompt to pray for Russia, Ukraine or the United States," Darryl outlined. "We did the 30 days in April and the first day of May, which is the National Day of Prayer in the United States." Darryl added that the campaign was not a promotion for EEM. "We're not about politics," he said. "But we need to be focusing on this very volatile situation and pray that peace will happen — and not at the barrel of a gun."
Darryl and Terri are aware that many Americans wouldn't recognize Ukraine on a map, and there are many misconceptions about the country they try to erase. Darryl notes that Ukraine is not a communist government but rather a parliamentary republic. "Most people don't realize this, but Ukraine is a developing nation, much like Zimbabwe," Darryl said. "As far as people's salary, I've seen anywhere from $200 to $400 a month, and Bibles are very expensive." However, Darryl is careful to point out that not all developing nations have uneducated citizens. "The literacy rate in Ukraine is 99.7 percent," he shared. "That's higher than in the United States. These people are as sharp and sophisticated as anybody." Although many think of Ukraine as isolated and closed-minded, Darryl and Terri have found that isn't the case. "They're very interested in what we have to say," Darryl confirmed. "They understand what it's like not to have the Bible, to live in an atheistic society. That's why they're open. It was taken away from them, and now they want it back."
Darryl and Terri encourage fellow Ennisites interested in supporting the efforts of Eastern European Mission to get involved. "Ennis has Czech roots," Darryl said. "There is a connection here with Eastern European heritage." EEM always needs financial assistance and volunteers to travel to Ukraine. "For anybody who goes over there, the kids are going to remember you and connect with you," Darryl said. "That's the beauty of it. We're dealing with children. I think everyone knows that children are our hope for the future." Editor's Note: For more information about Eastern European Mission, visit www.eem.org. For information on Bibles in public schools, visit www.milliondollarsunday.org.
Written by Callie Revell.