CORSICANA, TX — As a mother, grandmother and a 20-year veteran of the United States Air Force, Marge Oslick has good reason to look forward to the month of May each year when Mother's Day and Memorial Day are both celebrated. "As a nation, we need to remember and appreciate what all the service people have given up for their country," Marge said.
Following high school graduation in her native Tulsa, Marge attended that city's St. John Hospital School of Nursing, and eventually earned her B.S. from Central State University (now the University of Central Oklahoma). While most women attending college then became either a nurse or a teacher, Marge became both by earning her B.S. in general education, allowing her to be certified to teach grades K-12. "I went to school for a lot of years for someone who only intended to attend a three-year
program in nursing," Marge quipped. Following graduation, Marge longed to move to Arizona.
There was just one problem. "I was br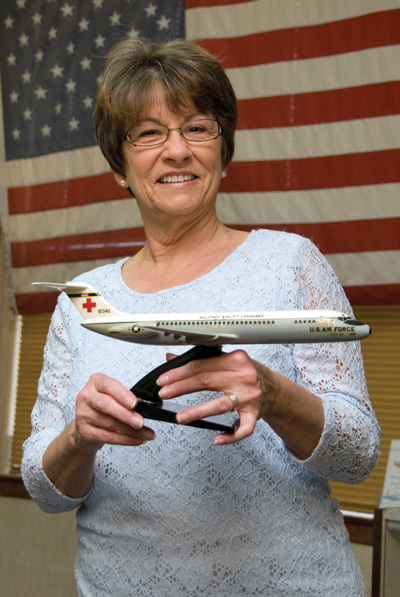 oke," she revealed. Always in need of nurses, the Air Force provided the adventure Marge wanted. "It looked interesting," she admitted, "and I was young and single. But I picked Florida instead, which turned out to be lots of fun. It was the right place at the right time for me."
While at Eglin Air Force Base (AFB) in the Sunshine State, Marge received flight school training that enabled her to serve as an air evac nurse certified to fly on three aircraft at Scott AFB Illinois. Her Air Force career allowed her to see a few other regions of the U.S. She served variously at Carswell AFB Texas, Elmendorf AFB Alaska, Tinker AFB Oklahoma and, finally, back to Scott AFB. "I was also a nurse recruiter and worked in obstetrics as well as in clinic and out-patient departments," Marge remembered. "At Tinker, I was in charge of the OB department. I either loved or hated my job — sometimes feeling both emotions in the same day." But the tough road paid off as she earned the right to be addressed as Lt. Col. Oslick before she retired in 1994.
It was at Scott AFB that she met her husband, Jim, who was serving in the U.S. Air Force as an air evac pilot. Jim, an Aggie from San Gabriel, Texas, proposed, as he tells it, because Marge "could make a good cup of coffee."
They were married at the base chapel with an outdoor reception planned at a nearby farm. There was only one glitch — it was a cold day in August. "We had a beer wagon, but we needed hot coffee," Marge reminisced. "My dad bought instant coffee at a convenience store."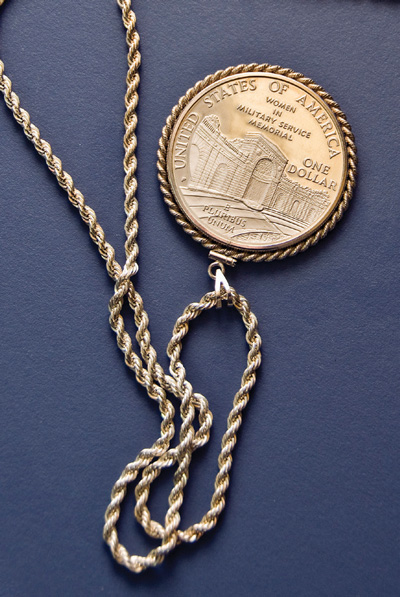 Once children started arriving — son, Matt, and daughter, Laura — life in the military took on new challenges for Jim and Marge. While it's not unusual today for both dad and mom to be in the service, they were pioneering the concept. "Back then, if you were pregnant, you had to leave the service, but everything was beginning to change," Marge said. "The Air Force made sure I wore my wedding band, and my maternity uniform attracted a lot of attention."
Marge reflected on the challenges of being a wife, mother and military nurse. "I prayed a lot, especially when Jim served in Desert Storm," she admitted. "The military is like a family. We had lots of stand-by babysitters, and my parents and in-laws came to babysit. Our kids would always have suitcases, backpacks and sleeping bags packed, whether for a sleepover or another move." Marge recalled transitions being pretty organized. With every move, she was always unpacked in two or three days.
Jim and Marge put their military experience to use once they resumed civilian life and moved to the Dallas Metroplex. Jim flew for American Airlines while Marge was on staff at The University of Texas at Arlington College of Nursing. She was also a part-time tax preparer and substitute school nurse. "Much to the kids' dismay, mom wasn't going to get called out at night anymore," Marge joked. "I volunteered at their high school in Ft. Worth so much that most people thought I was on the faculty."
As empty nesters, Jim and Marge moved to their present Corsicana home, and Marge is often seen around town as a volunteer. She's the driving force behind Corsicana Newcomers Club's annual fundraising, is a board member of the Hope Center and is active in her church, Immaculate Conception Catholic Church.
Through visits to her mother who lived in a nursing home, Marge befriended another senior woman who now lives in a nursing home in Tarrant County. Finding out her new friend had no family nearby, Marge volunteered to become her guardian in 2008. "I visit her once a week and decorate her room for holidays," Marge said. "The staff always says she has the nicest room. She's 97 now, and I have as much fun at our visits as she does."
Fully retired now, Jim and Marge enjoy visiting their son, daughter-in-law and grandson in Arkansas and being entertained by their daughter in Dallas. They also relax by reading, boating and sailing around the globe on cruises. Their next destination is a voyage to France for the 70th anniversary commemoration of the WWII Normandy invasion. The couple will follow this event with a side trip to Prague in the Czech Republic, the home of Jim's grandparents.
And Marge finally made it to Arizona. The couple attended a reunion of air evac military personnel held in the so-called "Bone Yard," a repository for retired military aircraft near Tucson. "We spent the day on our former air evac planes. I treasure that experience and the old friendships.
Marge has spent the days prior to Memorial Day each year taking her mother "on the cemetery run" to decorate family graves in Oklahoma. Her mother passed away last year, but Marge will still make the annual pilgrimage. Mother's Day and Memorial Day are always celebrated by Marge with family.
She also respects today's military personnel. "Nurses are now in combat," she observed. "Our military is out there maintaining our position in the world and our freedom. Groups like the Angels of Corsicana Troop Support are remarkable, because they do so much to help our military know that someone back home remembers they're there. We always need to take time on Memorial Day to remember."
Written by Virginia Riddle.