CORSICANA, TX — A mother/daughter relationship goes through many changes, with the mother being — at one time or another — a rule maker, teacher, friend, manager, her mom, Annett Chapple, as a role model and teacher has reaped Corsicana Independent School facilitator at Fannin Elementary and Annett is a physical education paraprofessional at Drane Intermediate. What makes this story remarkable is that both were nominated, by their respective principals, as paraprofessional of the year within the school district.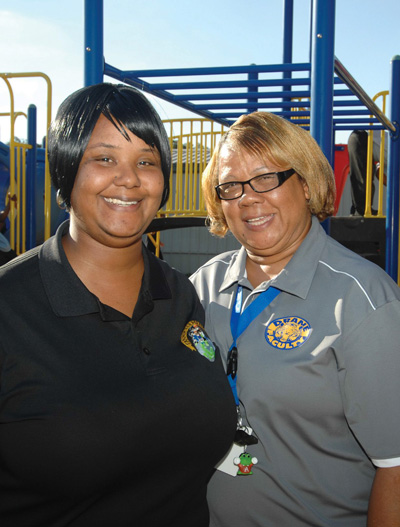 Paraprofessional is a term that describes a teacher's aide. According to the website, ehow.com, "Paraprofessionals are the principal." Paraprofessionals play an integral part in the called the Paraprofessional's Assessment of Competencies Test, before becoming a Texas paraprofessional, and all school Karmon, who was born and reared in Corsicana, said there from librarian aide to librarian facilitator."
Annett is also a Corsicana native, who recently celebrated her 19th anniversary at Drane Intermediate. "I work with the kids and help teach them how to play volleyball, basketball — all kinds of sports," she said. "I'm in the gym all day long!"
The principal at Fannin, Diane Acock, called Karmon in June to let her know she had been nominated as Paraprofessional of the Year for Fannin Elementary. Karmon was amazed when she won the prestigious award. The plaque she received from the district is engraved: Superintendents Award for Outstanding Paraprofessional Service, Presented by Dr. Diane Frost Superintendent 2012-2013.
Annett, who was nominated for the award by Drane Intermediate Principal Adan Casas, was thrilled her daughter came out as the winner. She felt like she had won, too. "I was so proud of Karmon when her name was called out," Annett said. "She's worked hard and deserves the honor, that's for sure."
Annett explained that every year, each Corsicana campus nominates one individual for Paraprofessional of the Year. These campuses include: Carroll, Fannin, Bowie, Sam Houston and Navarro elementaries; Drane Intermediate; Collins Middle School;
and CHS. The number of paraprofessionals at each school varies by campus. "There are approximately 12 paraprofessionals at Fannin and eight at Drane," Annett said.
In addition to her paraprofessional work at Fannin, Karmon also works at the YMCA during the summer while school is in recess. "This past year, we started summer day camp in early she said. "Along with eight staff members, two junior counselors and two counselors in training, I worked with kids there who ranged in age from 5 to 12 years of age, Monday through Friday from 7:30 a.m. to 5:30 p.m."
The program hosted between 38 and 54 kids in YMCA summer day camp this past year, and one of their most popular outings was going to Camp Wanica. "We boarded the bus at the YMCA around 9:30 a.m. and got to the camp around 9:50 a.m. The activities included swimming, arts and crafts and board games, and everyone, including the counselors, had a really good time," Karmon said.
Each week of summer day camp is a different theme, with Fridays usually and the Cook Center," Karmon said. this year."
With childhood obesity at an all-time high in the country, Annett believes the secret to creating an all-around successful physical education program is listening to the students. "When you listen, really listen, you learn about each of the children," she said. "You learn really quickly how to deal with the challenges and problems the kids may be experiencing. You learn how to build relationships, and soon they begin to trust you."
Annett's seven physical education classes, often range in size from 52 to 90 students, ages 10 to 12. She motivates the kids to participate in sports by making sure she's a part of the team. "I get out there and do it with them," she said. "It shows them that if I can do it, they can do it, too. Once I do that, everything eventually falls into place."
Both Karmon and Annett agree that having "the patience of Job" goes a long way in creating a successful learning environment for students of any age. Karmon is very thankful for the help and assistance she's received from all
the teachers at Fannin, whom she calls her "Fannin family," and Annett feels the same way about her Drane Intermediate family.
Mother and daughter believe they have found their own secret to staying involved with students for a long time, and they are happy to share that advice with others who work with children in the school system. "Just make sure you are prayed up," Annett said. "I love what I do, and I know Karmon does, too. If you have a passion for children, it shows, and they feel it."
Written by Rick Herron.