BURLESON, TX — Serving up love wherever she goes, Marzie Bartee cooks a mean King Ranch Chicken. And everybody just loves to help her. She coordinates several groups?of people who cook week after week, all year long, out of the kitchen at her church, First United Methodist meals include participants with the Burleson Area Chamber of Commerce, the Burleson Lions Club, Burleson Area Retired School Employees Association Marzie herself. Since moving here in 1972, she reared her children, taught school and volunteered throughout Burleson. She was publicly recognized for her efforts when she was named Citizen of the Year in 2008. Since then, the Chamber has given an annual Marzie Bartee Award to other outstanding citizen volunteers.
Marzie's rewards for helping others are constant and personal. "Doing this, you meet new people," said Marzie. Recently, Community Bank honored six charities, including Burleson
Heritage Foundation. They were having a pie contest, so Marzie baked six sugar- free pecan pies, and hers won. "I've had more calls for that recipe. But it was given to me, so I don't want to share the recipe." Instead, Marzie tells her friends she will make one of her pies for them.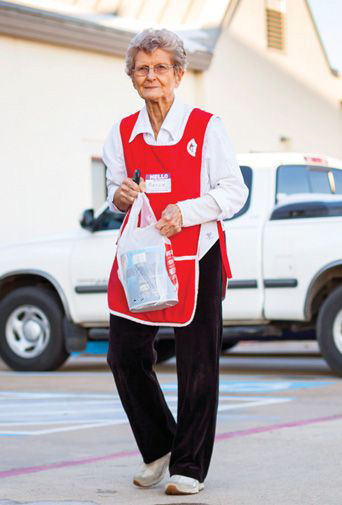 An extraordinary time manager, Marzie developed a dedication to responsibilities while growing up on a farm in Coryell County. "I knew what I had to do in order to accomplish certain things," said Marzie, who played basketball for her rural high school. "That's where I personalities and having fun. That's also where I learned I had to meet certain requirements before I went to either practice or play the game."
While she helped her team go to state twice, Marzie began to consciously prioritize her tasks. "I have 24 hours each day, just like everybody else. But if I know I've got something to do tomorrow, I don't wait until tomorrow to prepare. I work on it today. It's disciplining your time that allows you to be efficient," she said.
These days, Marzie looks at her to-do list every morning to remind herself?of commitments made, then gauges how much time will be involved in accomplishing what she must do. In order to miss the crowds in the grocery store, Marzie usually shops at 6:30 a.m. A respect for mornings was developed during childhood. "My mind is clearer," she said. "I go get my stuff, and maybe go to the church and get going — whatever I need to do. I'm through by 9:00 a.m. I discipline my time."
Approximately 15 hours of Marzie's weeks are spent researching the best deals, purchasing groceries, planning menus and coordinating all the meals prepared out of the FUMC kitchen — whether for church functions or community meetings. Easy to work?with, Marzie encourages her crews to menu she has laid out on the counter. This volunteer job is a calling for Marzie, who always wanted to be a missionary, but did not want to go overseas.
Ironically, she married a man whose passion was travel — often to hard- to-reach places like Big Bend National Park, Nepal or Papua New Guinea. J.T. "Sandy" Bartee was a redheaded CPA, who planned every trip their family made school class. "When we traveled, I never packed his bag. He thought I had enough to do to take care of his 98-year-old mom and our children. We each had our responsibilities. He wondered why I wanted to do all this stuff, but he stood behind me," said Marzie, who thought of Sandy as her backbone.
Although they shared in common?the ability to plan, they did not expect?to have two children of their own after adopting Mitchell. Sandy and Marzie reared their children on four acres in Briar Oaks, where they could have horses high school, Sandy moved the family into town. Mitchell stays with Marzie, now that Sandy's gone, and helps her at the church. "Mitchell's such a good man, always smiling."
Marzie smiles, too, especially while remembering her mother, for teaching her to serve, and her father, for teaching her to be responsible and for building her self-reliance. They worked hard on the 300-acre farm near Turnersville. Marzie Nolene Weaver hoed and picked cotton, milked cows, did all the rugged work that needed to be done. "We didn't have much money, but we had plenty of farm food — vegetables, beef, pork and chicken. We had plenty to eat, but it was the Depression years. Everybody was alike," Marzie said. "Of course, my mom cooked our meals, but she was also in the community serving. If a family was down, she took them meals."
Yet growing up, cooking did not interest Marzie. "I enjoyed outside chores and was my dad's handyman," Marzie said. "The tractors I drove never had tires, only lugs. When I was 10, I was driving the tractor. Mom would say, 'Are you gonna let her go over into that far could do anything I set my mind to."
Taking that self-assurance off to McMurry College (now McMurry University) in Abilene, Marzie paid for her education by cooking daily breakfasts for the 24 girls in her dorm and
on a typewriter. She studied business administration, and minored in English. Her husband-to-be had just returned from service in WWII, and was attending McMurry on the GI Bill while working in the bookstore, where Marzie met Sandy, while they were freshmen.
They dated for four years before getting married. Marzie directed her girlhood dreams of being a missionary toward building their family. "While the kids were in school, I was a substitute teacher in the middle school under Mr. Nash. That way I kept involved with the kids and the community," Marzie said. She helped cook meals even then for the Chamber and the Lions, but not in the role of coordinator.
Before long, Marzie ran out of days?to play in the women's golf tournaments at Mountain Valley Golf Course. "Everybody was asking me to do this, serve here. I always said, 'Yeah, I can do that.' My kids always asked, 'Can't you say no, mom?' Well, I told them, 'You know me, it's a new opportunity!'"
Burleson has continued asking Marzie to say, "Yes!" And people have come opportunity allows her to be a missionary — in her very own community.
Written by Melissa Rawlins.