ENNIS, TX — In the 2009 movie The Blind Side, for which Sandra Bullock won the Academy Award for best actress, a young man in need of direction is taken in by a caring family, and with their support achieves academic and athletic victory. A local, real life version of the Hollywood hit took place recently in Ennis ISD when teacher Joy McDonald extended a shepherding arm to 17-year-old Jeanette Avila. "I was in need of guidance," admitted Jeanette, now 19 and attending Abilene Christian University. "Joy believed in me and helped me believe in myself." Unlike in the film, Jeanette wasn't homeless, but she required a steadying hand to lead her. Joy stepped in to provide the Ennis High School junior with encouragement, discipline and a place to stay.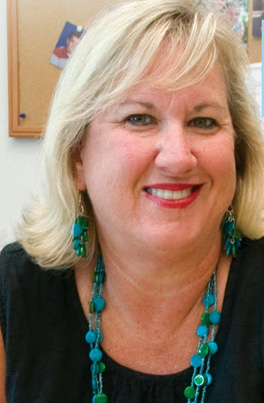 "I knew she had it in her to succeed," Joy maintained. "She was already class president and captain of her cross country team. But she was going through some teenage growing pains, was hanging out with friends more than studying, and her family was concerned." Joy already knew two of Jeanette's older sisters, Blanca and Vanessa, having taught them Texas history at Ennis Junior High, and that made the transition smoother. "I had a lot going on at home and was fussing with my mom," Jeanette recalled. "So moving in with Joy kept me out of trouble. It also surprised me, because I couldn't believe she cared."
She soon discovered how much Joy did care. Originally from Missouri, Joy came with her parents to Texas when she was a girl, settling in Ovilla. An educator now for 15 years, she has taught reading, language arts and computer science. Although she lives in Waxahachie with her husband, Scott, Joy has been with Ennis ISD for 10 years and is in her fifth year teaching junior high Texas history. "I love the history of our state," Joy said. "Learning about all the battles, military and social, that have happened here is inspiring. It shows how tough Texans are, and the fighting spirit we have to not give up."
Yet it wasn't history class that brought Joy and Jeanette together. It was through Advancement Via Individual Determination, an elective college prep course known as AVID, where the two met and bonded. "We have had AVID in Ennis for about six years now," explained Joy, who exits the group's planning committee this year, "and it's been a great experience and will continue to be." The course, open for enrollment as early as the junior high level, grooms students for college, honing their study skills and familiarizing them with grade point average calculations. "By the time students are in high school," Joy enthused, "they are used to the rigor of the work required and are in advanced placement classes. They receive hands-on attention, take field trips to colleges and universities and meet with college tutors who visit our campus weekly."
Joy nominated Jeanette for the class, and she was accepted in the eighth grade. Jeanette blossomed immediately in the AVID peer system, going from a ranking of 18 to an impressive 12. "The program really does work," the new college student declared. "You just have to believe in yourself." And she always has. With her mother, Adriana, and five sisters, Jeanette moved to Ennis from Mexico when she was in kindergarten. Jeanette's first potential hurdle was learning to speak English, but she accomplished it with little trouble. Still, there were those who felt her future was limited. "I had people doubt whether I could accomplish things because I'm a girl, or because I'm Hispanic," she smiled with requisite confidence. "But you can't let that get to you. You just have to prove people wrong."
She did that with flying Ennis colors. But when problems arose in 11th grade to distract Jeanette from her goals, Joy intervened to get the popular, talented youth back on academic track. With her mom's consent, Jeanette moved in with Joy and her family in Waxahachie, making the morning and afternoon commute together to Ennis that brought them closer than either expected. "It wasn't like The Blind Side in that Jeanette came from a bad home," Joy clarified. "She has a very loving mother and supportive sisters. They just agreed she needed a little more direction and, luckily, so did Jeanette!" The experiment turned into a life-altering, positive journey, although Joy confessed she sprang the decision on her husband. "I just brought Jeanette home with me one day and said, 'Oh, honey, by the way …'"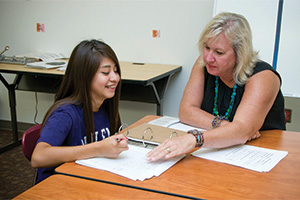 But Scott welcomed his wife's protégé with open arms, as did the couple's son and daughter, and they all regard her now as one of their own. Jeanette has felt embraced from the start. Not only did her grades improve, but her outlook on life soared. With the McDonald family, Jeanette has become involved in church activities, including joining a mission trip to California, learning to ski on Colorado vacations and enjoying an all-girl road trip. "I've had so many exciting opportunities," Jeanette said. "I never expected to be exposed to church work, travel and having a second family." For Joy, it's also been a rewarding odyssey. "I have taken so much away from this experience," Joy shared. "We have been able to change the course of Jeanette's life, but she has changed our lives, too."
Ultimate proof of Jeanette's abilities and Joy's faith came earlier this year when the former wayward kid graduated with honors from Ennis High School and won a scholarship to Abilene Christian University. In another instance of life imitating art, ACU happens to be Joy's alma mater. "It's The Blind Side all over again!" Joy laughed. "And just like in the movie, we did not influence Jeanette's decision to attend my old school. We explored other possibilities, like Sam Houston State University, but she chose Abilene."
At this time of the year, as families everywhere assemble to share a meal and make memories, Joy and Jeanette give special thanks for one another. "I'm grateful to God for Joy and her family," said Jeanette, now in her first semester of college, studying biology with a view to becoming a nurse practitioner. "I would never have gone into the AVID program if it weren't for Joy, or be going to college. She was my mentor. Knowing she believed in me kept me going. And I'm thankful to my own family for letting me have this experience." Joy is equally grateful. "I'm so thankful for my supportive, unselfish family," she said, "and for the gift in our lives Jeanette has been to us. It's been one blessing after another."
Written by Randy Bigham.