BURLESON, TX — A little boy approached the school bus, head down with a deep frown on his face. It can't be that bad, Cynthia Hall thought. As he stepped onto the bus, her smile broadened. "Good morning. Rise and shine," she said. A tiny smirk crossed his lips.
For weeks, they continued the morning ritual. Each day, the child's smile grew. Before long, he stepped onto the bus and broke into a wide grin before Cynthia spoke. She beamed, feeling she helped make his days brighter. "When other people are happy, it makes me happy," she said. Students Lane Copeland and Patrick Dent are pictured with Cynthia Hall and her children — JP Morris, Allyssa Morris and Stephanie Cantrell. In spite of a less-than-perfect life, bad marriages and being a single parent to four children, Cynthia chose happiness.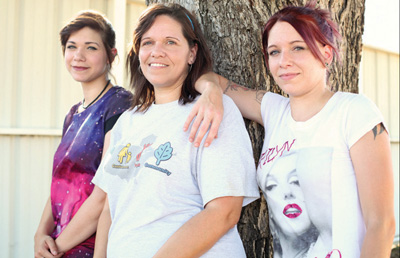 No matter what life threw her way, she looked for the positive from negative circumstances. "You can let the bad stuff drag you down for the rest of your life, or get back up and keep going," she said. "For the sake of my children, I have to keep going." She set an example for them of how to produce a positive attitude. As a single mother, staying positive wasn't always easy, but she remained upbeat. "Even though bad things happen in life, we make the choice of whether it's gonna affect us or not," she said. "It's not what your parents did or didn't do, or what anyone has done to you. Your choice — you choose which way to go." Cynthia grew up in Lewisville, Texas, but has lived in the Burleson area since 1992.
She spent many years being a substitute teacher. However, when her oldest daughter got pregnant, she moved to Arkansas to be with her. With no substitute teaching jobs available, she opted for a position as a veterinarian assistant. After several years, she decided it was time to move back home to Burleson, where another veterinarian assistant job waited. She liked working with animals, but missed being with children. During that same time, her youngest son struggled with emotional and behavioral issues. Cynthia knew more than missing a male role model hid beneath the surface. After many misdiagnoses and medications that didn't help, doctors finally pointed to Asperger's Syndrome, a type of high-functioning autism, as the true issue. A job opening for a bus driver with Durham in the Burleson ISD gave her the perfect solution. At first, she said, "It's so big. I could never drive one of those."
But she learned. A split schedule allowed her to take her son to doctor's appointments and provided the opportunity to eat lunch with her daughter, who loved seeing her mom appear at Centennial High School with a pizza. Cynthia chooses to leave the past behind, not bringing it up or dwelling on it. She has decided instead to focus on the good things in life. She greets the day determined to practice happiness and spread it to others. She pushes toward a personal goal of making at least five people smile each day, whether it is her children, co-workers, bus kids, their parents or a stranger at the store. The simplest things place the biggest smile on Cynthia's face. Cynthia doesn't take for granted the amount of trust parents give her. Bus rules center first on safety.
She also demands respect for herself and other students, and insists on keeping the bus clean, allowing no food or drinks. "A clean bus impacts their attitudes," she said. "If a bus is dirty, they show less respect for it." While she is strict with rules, she also makes riding to and from school fun. She decorates for each season, often considering and adding elements of activities important to the children. When they arrive at school early, she'll ask them an age-appropriate trivia question. She looks for opportunities to have fun. "Life's too short to be a grumpy, negative person," she laughed.
During the summer, Cynthia drove for Fort Worth Recreational Center trips. One of her memorable moments came during such a trip. While visiting Ripley's Believe It or Not, a little boy became frightened going through the tornado exhibit. She told him it wasn't real. "I won't let anything happen to you," she assured him. "OK, but you have to hold my hand, because I'm really scared," he said. Clinging to her hand, they made it through the area. With a sigh, he gave her a big hug and said, "Yep. You're my best friend." One of her most enjoyable activities comes from volunteering for Special Olympics. She gives her time not only through Durham, but personally as well. She first volunteered because of her son, hoping he might get involved.
However, she quickly became a part of this special community of people. "The athletes are amazing," she said. "They don't judge or discriminate, they just have fun. I think our society could learn a lot about being positive from them. And they are the happiest people, despite whatever disability they have." One boy touched her personally during a 2012 event. A child with severe Down's syndrome started to exit the bus and stopped. "You're so pretty. You're my best friend," he said. Then he gave her a big hug and handed her a little football. She kept it as a reminder of the extraordinary little boy who brought tears to her eyes. As a volunteer, she admits the children affect her life in a very positive way.
She is seeking new ways to grow more involved in community volunteer work. Cynthia holds an associate degree in business administration and communications. She plans someday to complete her bachelor's and perhaps become a teacher. For now, she focuses on getting her two youngest children finished with high school and encourages them to fulfill their dreams. When people ask how she can be so happy after all she's been through in life, she smiles. "I have beautiful children, a roof over my head, a good job and good friends. What's not to be happy about? Things could be so much worse. I've been there, and now I'm not. I have good reasons to be happy," she said. She encourages other single moms to choose happiness no matter what they face. "For the sake of your kids, don't give up," she said. "You can still be happy — it's your choice."
Written by Lisa Bell.