WAXAHACHIE, TX — Dog owners often wonder what their dogs would say, if in fact their dogs could talk. Would they share their innermost thoughts? Would they tell their owners what they had been up to while they were home alone all day? If Bella the Labrador could talk, the story she would tell would be nothing less than a saga.
The first time Jill Smith saw Bella, she didn't give much thought to the skinny, little stray wandering the lawn at the bank near Whatabuger. "We didn't even know if she was a girl or a boy," Jill recalled. "I'd see her wandering in the Whataburger parking lot or sometimes at the bank, the movie theater and even around the sports complex."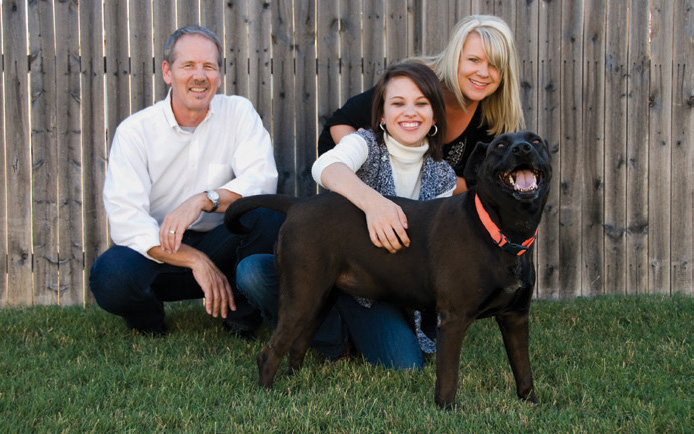 At the time, Bella was wandering the streets much like many dogs people see and quickly forget as they go about their lives. But if Bella didn't have a family or a home to call her own, she definitely wasn't lacking in friends. She was living a hand-to-mouth existence, welcoming whatever scraps were given to her by employees and patrons of the businesses in the area. No one knew where she was living, but everyone knew her by sight. Even though Bella didn't have a place to call home, she quickly became part of the scenery in that particular area off Broadhead Road. "I saw her often and sometimes wondered how she survived from dayto-day," Jill explained. "That was until the day we made eye contact as I was approaching the stop sign near the sports complex, and I knew then I had to do something for this dog."
The Smith family had dogs before and had recently planned on getting another. "I thought it might be time for another dog," Jill said. "But I had always thought I'd get a little lap dog. I never dreamed of getting a dog as big as a Lab." After talking it over with her husband, Daryl, who was the first to say, "Can we get the dog?" and talking with their daughter, Ashley, Jill agreed it was time to attempt to rescue the dog they had seen many times. That evening, they unanimously agreed to welcome her into their home. But, sometimes the ones in life with the greatest need are the same ones who are the most difficult to help. Seemingly, Bella's saga was just beginning, and she hadn't even made it to her new home yet. "It was Thanksgiving Day. Daryl had to work, so Ashley and I had gone to the movies. There she was in the parking lot, "Jill recounted. "I called Daryl and asked him to stop by after work and try to get her." That was the first time Jill was able to get close enough to see the dog she had been bonding with from a distance was a female. "For two hours, I had been sitting in the theater listening to the Twilight story and thinking about this lost dog, so when I saw she was a girl she was instantly named Bella."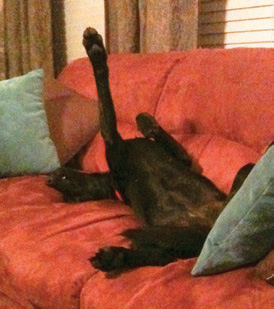 While the street-smart dog certainly wasn't a vampire, she was just as aloof and seemingly immortal as her namesake from the movie. Her time on the street had made Bella understandably skittish of people. "We bought a cheeseburger to try to lure her to us, but it just wasn't meant to happen that day," Jill explained. "She ran off." The Smiths weren't the only ones who had taken notice of Bella. Employees and patrons at the neighboring businesses were accustomed to seeing her as they came and went. For them, it was normal to leave food and water for her. One young boy went so far as to make a special trip every day to bring Bella food. Once she was even darted by the city in an attempt to take her in and hopefully give her a better life. Bella just wasn't ready to give up her wandering ways and slipped away each time, avoiding capture. In the process, Bella was becoming something of a celebrity. Jill's desire to help her was just as well-known. "I had connected with an employee of the bank and gave her my phone number in case anything ever happened to her," Jill explained. "She wasn't our dog, but I felt responsible for her because we had bonded." Jill called local veterinarians to see if there was anything she could do to help rescue her. But Bella still wasn't ready for help. Finally, on a cold, December day in a dramatic rescue captured for YouTube, animal control officers, along with locals trying to help her, succeeded in rescuing Bella. "One of the ladies at the bank called and told me Bella was at the shelter," Jill recalled. Jill wasn't the only person who called the shelter in reference to her fate.
After a flood of calls to the animal shelter, it was determined that Bella's new home would be with the Smith family. Bella was taken to Brookside Animal Clinic where she was diagnosed with heartworms. After word spread of her circumstances, the same community of supporters who had come to love her from afar banded together, donating over $500 to help cover her medical expenses. She was featured in newspaper articles and photo shoots. Bella's saga even inspired the young man who had lovingly brought her food daily to start an outreach program for homeless animals. Doctors estimated Bella was about 3 years old, but it's much harder to estimate the life she led in those 36 months.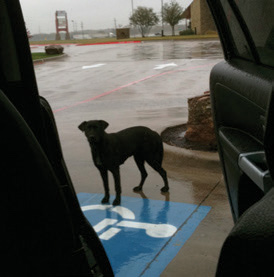 Bella still has a scar on her left hip where it is believed she was hit by a car, and she is missing a toe. But even the heartworms that many times are fatal in canines weren't enough to slow Bella down. Bella looks nothing like the thin, street-wise dog of her youth when she sits on her bed in front of the fireplace. "She really is the perfect dog," Jill said with a smile. "We really weren't sure how it was going to all work out. We didn't know if she would make a mess of the house or what her habits would be. But the first day she came right in and took a nap on the couch as though she had been here forever. We were amazed at how smart and well-behaved she was. My mother calls her my angel dog."
The story of Bella is nothing less than a multi-faceted story. She was on the streets for no fewer than 39 days, and that's just counting the days when people began to notice her in the area. But, those days of wandering are long behind Bella now. Her life as part of the Smith family is a much happier one — one that befits Bella perfectly.
Written by Jon Peeler.