GRANBURY, TX — With the start of the new school year, Acton Middle School embraced the old ways, which work well. Under the leadership of Principal Jimmy Dawson, they are also preparing for life-altering changes. "The face of education is changing," he said. Before the 2012-2013 year ended, he and his staff began looking at changes Superintendent Dr. James Largent is implementing to better prepare students for the future. Five years ago, a campus site based team worked during the summer to develop mission and belief statements.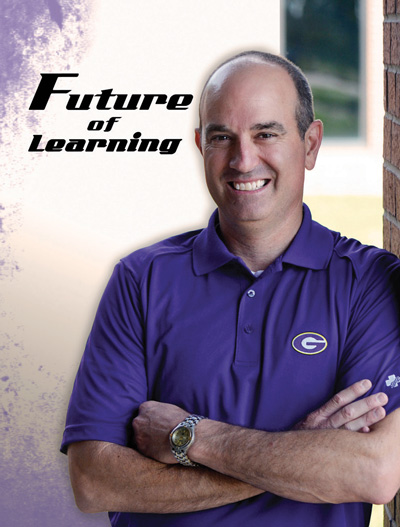 A permanent sign decorates the exterior wall: "The mission of Acton Middle School is to offer all students the opportunity to be successful at school and become self-motivated, resourceful learners who can make informed decisions." The belief statements, however, became the life and breath of Acton Middle School (AMS). Four bullet points, posted throughout the school, remind staff and students of these principles. Students also recite them during announcements each morning. AMS believes in positive contributions, relationship building, a safe and caring environment and quality education for all students. These beliefs coupled with leadership development promote an environment where students thrive in preparation for life beyond middle school. Jimmy grew up with a background of strong education. His mother taught school, and his dad was a coach. As a young boy, he left school and headed straight for the field house.
He loved being around the team at West Texas State University (now West Texas A&M University) where his dad coached, looking up to the older students and playing ball with them. His dad's decision to move into business devastated him as an 8 year old, although he recovered and was able to experience the successful business world. Nevertheless, during high school and college years, he enjoyed being around kids, working at summer camps as a counselor. When he left college, he wanted to coach and teach — the perfect job to continue playing sports as a career. Later, a friend asked him to take night classes working toward administrator certification. He quickly moved into an assistant principal position where he was coaching at the time. In 2000, Jimmy received superintendent certification. His plan was to become a superintendent by his 40th birthday.
When he accepted a job as principal at Granbury Middle School, his goal changed. "We fell in love with Granbury and wanted to continue raising our kids here," he said. "I stopped chasing my dreams, content to raise our children in Granbury." After four years at Granbury Middle School, Jimmy pursued a career as an insurance and financial services agent, but he missed education and missed the kids and relationships with them. After a year in the business world, he returned as principal of Acton Middle School six years ago. He prefers middle school. "They still have an element of innocence, especially in responsibility and expect God's great reward. He looks for these same qualities in his faculty, searching for those who will take initiative and boldly step forward with new ideas. Teachers and staff must be relational and system thinkers. Successful teachers and administrators must be able to organize, develop and implement plans. When a student walks through the door, the system must be sixth grade," he said. "They come in wide-eyed and excited. You can make a difference as they transition from elementary into the secondary world."
While middle school often presents many difficult and trying times for students, Jimmy understands students are searching for their identity. He enjoys influencing and building relationships in a safe environment with an age he terms fun. Most people have no desire to grow up and be a middle school principal. in place. Watching a masterful teacher operate this way challenges any negative statements about education. Jimmy encourages teachers to develop in these areas, using monthly CARA (Collect, Analyze, Reflect, Act) meetings. They collect data about how the students are doing, analyze it, reflect on the findings and finally create an action plan for improvement. He brings teachers together for collaboration opportunities to share what they have found that works well. He encourages strong leaders to pursue higher goals and influence more people. As a staff, they provide opportunities for students to develop leadership skills through clubs, National Junior Honor Society and Student Council. Staff members also take on the role of mentor for some students. "You have to have a burning desire, a passion or mission, to serve these kids and their families," he remarked.
Embracing the school's belief statement helps the staff find that passion. In his role as a leader, Jimmy strives to lead courageously, reject passivity, accept came to AMS lacking basic skills, laden with discipline referrals, poor social interaction and not much at home. The librarian became his mentor, giving him extra attention and encouragement. The student began working in the library, helping teachers and made the A-B honor role for the first time. His family celebrated with him as the relationship spurred him to become a model student instead of a discipline problem. Another student came forward with a project request. The school embraced Rachel's Challenge and developed a FOR (Friends of Rachel) Club. Rachel Joy Scott, the first student killed at Columbine, left a legacy — the desire to show compassion to others through random acts of kindness. This particular AMS student had a little sister with cancer, and she wanted to collect Coke tabs for the Ronald McDonald house. Her desire stemmed from help the organization provided for her family, but included benefits for other families like hers. She addressed the entire student body, and they joined efforts to save a literal bathtub full of the tabs, which they donated to fund the charity. This attitude paves the way for the 2013-2014 school year. Now as the district implements project-based teaching, classes are looking different.
In the real world, teams of workers join efforts to complete projects, often learning in the process. Colleges use this same mindset. To prepare students for the future, AMS is embracing this teaching philosophy where kids collaborate, working together and using technology to reach a common goal. Far beyond sending unimportant text messages or playing on an iPad, this year teachers will focus on guiding students to take advantage of technology for research, learning and communicating effectively when necessary.
Launching the nontraditional method of learning brings with it a greater need for community involvement. While Granbury ISD already uses community volunteers through their speakers' bureau, the need for business people to share real-life experiences becomes even greater. Jimmy appreciates the many volunteers. "We always need more," he said. Changes excite this principal, who sees great value in the new approach. It won't detract from continued improvement in practicing the belief statement and developing leadership.
Written by Lisa Bell.
Editor's Note: For more information on volunteering, visit www.granburyisd.org and www.rachelschallenge.org.