CORSICANA, TX — The Navarro College Leo Club, aided by its sponsor, the Corsicana Sunset Lions Club, provides many services to the citizens of Navarro County. However, Lions Club International stretches its services around the world, and so does the Leo Club. Meeting the needs of Navarro County area military personnel who are stationed far away from home during the holidays is a focus of the members of both clubs, who purchase, sign and send Christmas cards to troops.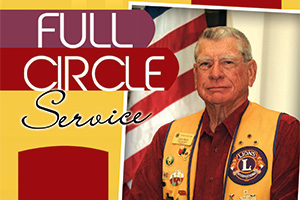 Leo Club members also work with the Angels of Corsicana to provide care packages for troops stationed overseas. These practices honor active and reserve military personnel, and www.nowmagazines.com 30 CorsicanaNOW November 2013 veterans are honored during the November Veterans Day celebration. "The students have a real desire to do community service, as well as support the troops," Rita Marie O'Brian, Navarro College math instructor and Leo Club sponsor, said. The value of those cards and care packages from strangers back home is well-known to one Lions Club member, retired Col. Larry Byrd. The Leo and Lions Clubs' joint project is dear to him. He recalled his days away from family and What we were doing is old technology now.
But one thing remains the same — knowing that people back home care remains important to overseas military personnel. home while in service to his country in the Air Force. "I never got any cards or letters from strangers, but my mother and my wife wrote regularly to me. A friendly word from a stranger is appreciated just like from family," Larry said.
Born and reared in Mart, Texas, Larry headed south, following his high school graduation, to Texas A&M University in College Station, where he served in the campus Air Force ROTC. Upon his Aggie graduation, Larry began his military career by training as a pilot. Joining him at military postings in many corners of the United States was his wife of now 54 years, Vida. "We stayed mostly in the U.S., which was nice," Larry said. The couple was assigned to Georgia, Michigan, California (twice), Nebraska, Washington state and, finally, they returned full circle when Larry was assigned to the ROTC at A&M. Moving often to places not of one's choice is just part of military life. From the warm South, Larry and Vida and their growing family endured five extremely cold winters in Michigan. "On the Fourth of July one year, we were scraping ice off the windshield! The lakes and streams would get totally frozen over, and some years we got over 200 inches of snow," Larry said of his years in Michigan and Nebraska.
However, there were trade-offs. "In the fall, the land was orange on the upper peninsula," Larry said of the annual fall foliage. Larry served one year in Southeast Asia during the Vietnam War, and he served with the Strategic Air Command, commonly called SAC during the Cold War Era. Created in 1947 and decommissioned in 1992, SAC personnel were charged with being combat-ready on a moment's notice anywhere in the world in order to deter a nuclear attack. Headquartered at Offutt Air Force Base in Nebraska, its motto was: Peace is our Profession.
While his family was living stateside, Larry was flying long-range missions to Morocco and Spain and other locations around the globe. "You didn't see most of the world, however, flying," he said. He flew the B-52 Stratofortress, a bomber that could be used over battlefields delivering precision direct fire munitions, and the B-47 Stratojet. During his Southeast Asia duty, Larry flew EC-47s. "We were the chauffeurs," he said. "Only the navigators knew where we were, and it wasn't anything you could talk about." There were the highs and lows. His crew qualified as a Blue Ribbon Crew when all members flew the mission with no faults. "I made a lot of good friends and had a lot of fun. Those were the good ol' days," Larry remembered.
However, the lows included losing a navigator in a plane crash as well as other friends. Separations were numerous and full of worry for Larry and his family members, with the worry extended in both directions. While at their final posting at A&M, Vida's father needed help on his Navarro County ranch. "Cows brought me back to the farm," Larry said. "I like the country here — the farms, ranches, cattle, small towns. I can do everything I want here and find most of what I need." He enjoys hunting, shooting targets and skeet shooting. Larry and Vida have two grown children, a son who served during the Gulf War and flew aircraft in Saudi Arabia and a daughter and granddaughter who live in Johannesburg, South Africa. "What we were doing is old technology now," Larry said. "But one thing remains the same — knowing that people back home care remains important to overseas military personnel." The care exhibited by Leo Club students is obvious.
A dinner is held each year to raise money to fund the card project. The dinner gives students cooking experience and allows them to interact with area military families. This month, Christmas cards will be sent, loaded with messages of gratitude for the soldiers' service and signed by Leo Club members. November is also the month when they help the Angels of Corsicana stuff Christmas stockings to send to the overseas troops. Leo Club members provide supplies that they have collected for a semester as stuffing for the Christmas stockings. Last year, over 300 stockings were sent to the troops. Such dedication by the college students has impressed many of the Lions Club members and volunteers serving the Angels of Corsicana's mission.
Donations will be taken throughout November. Food items, such as snack crackers, popcorn, chewing gum and jerky; drink items, such as drink mixes for water, coffee and hot chocolate packs; personal items, such as soaps, socks, ChapStick, toothpaste and washcloths; and reading materials, such as magazines and paperback books, are all appreciated items for the care packages. Leo Club membership numbered 32 last year. With the leadership of the Corsicana Lions Club members; inspiration from knowing veterans, like Larry Byrd, and their stories; the rapport built through interaction with active military families; and the development of coalitions with the Angels of Corsicana and other community service groups, these young leaders of tomorrow have found that the difference they make can be felt around the world and at home.
Editor's Note: For more information, contact Ms. O'Brian at (903) 875-7510.
Written by Virginia Riddle.