MANSFIELD, TX — Kay Ray and Susanne Engelbert have been friends for a little over seven years. They first met when Susanne moved in two houses down from Kay. As the ladies got to know one another better, they soon realized they had much more in common than a neighborhood street. Both women have overcome difficulties in their lives. From these difficulties, the inspiration to reach out and help others flourished. They wanted to help people with their health and spiritual needs, but most importantly they wanted to provide hope.
"We approach what we do from the whole person standpoint," Susanne said. "It's all about the mind, body and soul together."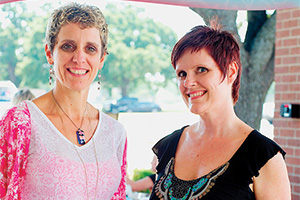 In her past, Kay experienced many hardships. She grew up in a less-than ideal home. Her family did not have much money, so they had to do without basic necessities at times. Stress and suffering was something they dealt with on a daily basis. "My family had some really rough times while I was growing up," Kay admitted. As a young adult, she found herself homeless. Had it not been for the kindness of two Denton police officers, a single mother who gave her a place to sleep and $20 a week and Alvin Mac, Kay may have never been the woman she is today. "They and others gave me some great advice and helped lift me out of one the darkest times I have ever had," Kay said. "No one comes into your life by accident." Susanne has also seen her fair share of struggle. After an abusive marriage, she found herself facing many overwhelming hurdles and hardships as a single mother.
Susanne not only faced financial difficulties, but emotional ones as well. "Pieces of our lives were just thrown up in the air," Susanne said. "We had to pick them up from all over and piece them back together." Struggle is just one of the many commonalities this duo share. To tell the truth, their difficult pasts are what helped the women form such a strong friendship. "I have been to the shelters, and we have both had our own traumas Family is another cohesive dynamic for this friendship. Both women agree their children changed their lives and are a huge inspiration for the charity work they do. Both women have been married for about 10 years, Kay to Roger Ray and Susanne to Peter Engelbert. "Strength, freedom and growth in order to heal — they gave us that," Kay said. "Learning to love again is huge."
So, it was really no surprise when Kay and Susanne became fast friends. Their shared connections fostered a strong relationship, which eventually led to a business venture. Kay and Susanne opened Eterna Health Food Store in Mansfield, which was just the catalyst the women needed to reach their community. Kay covers the emotional and mental aspects whereas Susanne takes care of the physical and nutritional side. Together, they are able to address every area of need a person may have. "It's the heart, mind, body and soul all working together," Susanne said.
The ladies offer free seminars and education classes to the public. Kay, a life coach, holds various sessions throughout the year that focus on transformation work in the emotional and mental areas of well-being. "Seeing the light go on in their eyes, the renewed hope, the freedom they find in shedding what was holding them back," Kay shared, "fills me with a joy I can't begin to explain."
Susanne leads health classes where she shares her knowledge and expertise on becoming and maintaining a healthy body. "I'm real passionate about nutrition and health and getting your body where it needs to be, giving it what it needs so it can heal and get stronger," Susanne explained. "People can't do that if they don't have the education. Education is key." Additionally, Kay and Susanne act as liaisons by providing information about doctors, meetings, classes and a variety of other helpful alternatives. The intent is to spread awareness so people know they have health and wellness options. "It's about feeling better and helping others to be better people, which all begins with the individual," Susanne explained. "If we can help one person, they can help someone else, and then we have essentially changed generations of people."
But their charity extends beyond counseling and education. The Texas Baptist Home for Children is an organization near and dear to their hearts. The nonprofit is a foster and adoption agency that operates completely on donations. The women became involved when a customer shared a story about some children who were taken from their home by Child Protective Services around Christmas time. The women felt compelled to help. "Kids are close to our heart," Kay said. "I know what it's like to have a Christmas with no gifts."
The ladies now hold an annual free benefit concert to assist the organization. They accept gifts, food and cash donations. Last year's event brought in a 13-foot Christmas tree with all the trimmings, over 100 gifts and just over $700. Kay and Susanne organize an annual Children's Health Fair the week before school resumes each year. The fair promotes health and wellness education, as well as providing resources such as clothing and school supplies for those in need. The fair is also free to the public and everyone is welcome to attend. The friends are also involved in another organization called The East Broad Outreach. The clothes closet for this particular outreach provides business wear and professional clothing for people reentering the workforce. Common Ground Network is a group of churches and food pantries in the Mansfield area and surrounding communities for the purpose of providing school supplies, food and clothing to those in need.
Kay and Susanne regularly provide donations to both nonprofits. "It's about networking and working together from a common place for the greater good," Kay stated. "We hate to see people suffer. "We've had our own struggles throughout our journey, which put the fire to our passion," Kay said, as Susanne nodded in agreement. "That's why we do what we do. We know what it takes to come through to the other side because we have been through it. If we can give them a hand up, and we are all able to, we want to inspire others to do the same. Because honestly, it's about making a world that works for everyone, with no one left out."
Written by Sara Edgell.