GRANBURY, TX — Retired Army Colonel V.B. Corn has lived in Pecan Plantation since 2001. As an avid golfer, V.B. plays four days a week as the weather permits. This year, he joined forces with Bobby White, the golf pro at Pecan Plantation Country Club, to organize and conduct the first annual golf tournament hosted by the Greater Granbury Chapter of the Military Officers Association of America. The tournament is being conducted to raise funds to support the Marine Corps Junior ROTC program at Granbury High School. V.B. and his fellow officers in MOAA are focused on encouraging our nation's youth to believe in themselves, their nation and their future.
"The military is a great way of breaking molds and exceeding personal goals," V.B. said. Local MOAA veterans and active duty officers from the seven military uniformed services, who are members of the Greater Granbury Chapter of Military Officers of Association of America (MOAA), feel extremely honored to share the military lifestyle, camaraderie and fellowship they still enjoy with aspiring young ROTC men and women. After conducting next month's golf tournament, MOAA plans to have available funds to give scholarships to graduating seniors who are going on to college.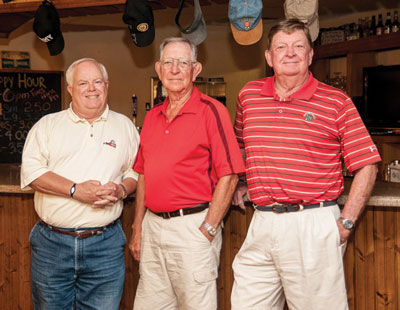 They also plan to help fund JROTC's four-day leadership course, held in San Antonio every February. "There are always additional costs involved for the cadets and their parents for these events, a major one being the cost of transportation, and we want to be in a position to help defray these costs for cadets attending these very important events," V.B. said. MOAA may also help with other JROTC programs, such as updating the rifle team's equipment, depending on funds available. During the four-person scramble tournament next month, cadets will be very active in helping MOAA conduct the  event. "There will be American flags on the eighth and 14th holes, which are par threes and a closest-to-the-pin contest will be held on each hole. Cadets in uniform will be running these holes," V.B. said. "If our players wish to compete, they donate $5 to a cadet. At the end of the day, the player who came closest to the pin gets half the pot while the other half will go to the cadet support fund."
MOAA's JROTC support fund has been building for the past year during the organization's monthly social. Tickets are sold for $1 each, and then four tickets are drawn from the pot. Those with a drawn ticket get to draw from a deck of cards, and whoever draws the ace of spades gets half the pot.
To date, no one has won. V.B. never interacted with JROTC until the Greater Granbury Chapter of MOAA was established in August, 2012. He grew up on a small farm outside of Asheville, North Carolina, set his sights on college and was lucky enough to earn a scholarship to the University of North Carolina at Chapel Hill. Several people served as early mentors in his development — his Boy Scout leader, his high school English teacher, a graduate of UNC, and his father. He attended the university for two years, dropped out for a year and got drafted. V.B. was offered an opportunity to attend Officer's Candidate School at Ft. Sill, Oklahoma, and was commissioned a second lieutenant in the artillery in July, 1966.
He volunteered to fight in Vietnam, which cemented his desire to serve his country in the Army's Officer Corps. The Army sent him back to UNC to complete his degree, and he subsequently achieved his master's in public administration from Central Michigan University. His final command was as division artillery commander of the 1st Armored Division in Desert Storm. His final assignment was director of the Command and Leadership Department, Army War College in Carlisle, Pennsylvania. Upon retirement, V.B. worked for Ross Perot's organization, United We Stand for America. Later, he served as a consultant for a government contractor, Military Personal Resources, Inc. Traveling to countries as varied as Bosnia, Afghanistan, Korea and Japan, V.B. had grand adventures while serving his country.
Yet another opportunity for leadership came when MOAA started their Granbury chapter last summer. V.B. is currently the MOAA liaison to the JROTC program at Granbury High School. MOAA's mission is to support both veterans and retired military families by being a powerful force speaking for a strong national defense and representing military officers at every stage of their careers. This mission dovetails perfectly with the mission of JROTC, which is to develop informed and responsible citizens, develop future military leaders, strengthen character and form excellent habits of self-discipline. "I volunteered to be Junior ROTC liaison because one tenth of one percent of American population puts on an officer's uniform. Those of us who have served need to do our dead level best to support those desiring to serve our nation," V.B. said.
Every month, Commander Scott Casey brings five cadets to MOAA's gathering. "They enjoy socializing with the officers from all the different branches and listening to our guest speakers. Letting those in JROTC associate with and rub arms with us, hopefully will assist them in developing a better understanding of what military life is like and will inspire some of these young men and women to become a commissioned officer in one of our services," said V.B. The JROTC commander seeks guest speakers and mentors from MOAA to work with his cadets. Nationwide, MOAA represents seven of the uniformed services: Air Force, Army, Navy, Marine Corps, Coast Guard, Public Health Service and the National Oceanic and Atmosphere Administration. In Granbury, the majority of MOAA men and women are Air Force. V.B. is using the skills he honed in his 28-year career to lead a sharp group of retired military officers. Together, they are coordinating this first annual golf tournament V.B. to assist Granbury High School's JROTC cadets in achieving their goals. Of course, V.B. will take a break on July 4th for a quiet family barbecue to celebrate the freedom our forefathers gave us.
"Having been in 40 different countries around the world either while stationed, visiting or fighting," V. B. said, "the one true hallmark of America is the personal freedom we have that many people do not. Obviously, these freedoms are a direct result of our War of Independence, which all Americans should remember on the Fourth of July." An amateur guitar player, V.B. may even play a song he wrote while driving back and forth to his deer lease in San Saba County: Freedom has Never Been Free.
Written by Melissa Rawlins.