MANSFIELD, TX — If you were to ask Gary Maddux the most memorable time of his life, he might tell you about the very first of many times the wheels of his helicopter grazed presidential ground as he landed the former President of the United States, George W. Bush. Or as a family man, he might choose when his four children were born. Or, perhaps after retiring as a Lieutenant Colonel from the Marine Corps, he could choose the fact he is still being paid to fly helicopters. Whatever moment he would choose, one thing would be for certain: Gary Maddux has lived, and continues to live, an exciting life. Being in the military was never on Gary's radar. Although his father was a Vietnam veteran, he never intended to join the Marines. He did, however, always want to fly. "Ever since I was about 6 years old, I just knew that I wanted to fly," Gary shared. To help pay for college and flight training, he joined the Corps of Cadets at Texas A&M University and eventually, the Marines. "I didn't have money for any training myself so it just seemed logical to just go to school, get a degree and go into the military and let them pay for it," Gary explained.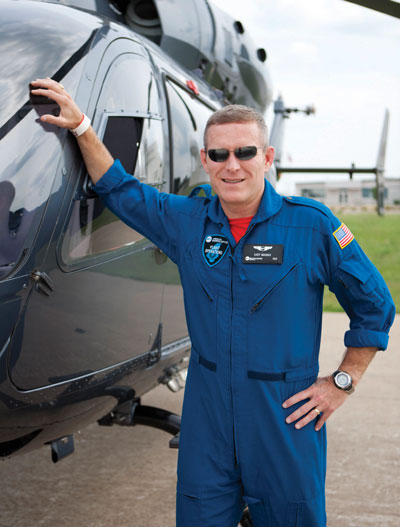 After college, Gary married Nancy, a fellow Aggie, and they began their 20-year long career in the Marines. Although the Maddux family moved a great deal throughout this time, they consider themselves lucky. "We stayed each place five years," Nancy explained. "We were lucky. That's unheard of in the Marines." Several years into his service, Gary contemplated applying to fly with the Marine Helicopter Squadron One, or HMX1, which transports the President to and from Air Force One. Members of HMX-1 always travel with the President should there be an emergency or if he is in need of quick transportation by helicopter instead of with the Air Force One's 747 plane.
The commitment, however, was great and would www.nowmagazines.com 9 MansfieldNOW July 2013 require him to be on call 24 hours a day, seven days a week for four years straight. With young children, Gary and Nancy decided this was not the best for their family. "It just didn't seem like the right time," Gary said. After the children were older, however, the opportunity to fly for HMX-1 came up again. But, Gary's chances of being accepted had dropped over the years. "Normally, HMX-1 likes to have the younger guys, like captains and majors, even though they need higher ranked Gary received a disheartening letter after the application process informing him he had not been chosen. "I really hadn't thought much about what I was going to do if I didn't get it," Gary remembered. "And then I got the letter saying that I wasn't selected, so for about two weeks there, I just kept saying, 'God, I know You're in this and something good is going to come out of this.' And, then He made it come together."
Two weeks after Gary received the letter, he got a call asking him to be a part of the memorable experiences with the President was flying up to Camp David, located in Frederick County, Maryland, over Christmas one year. The whole Bush family would have Christmas dinner at the camp and allowed other families to join them. "Every year, they have Christmas dinner, and they let your families come up and eat Christmas dinner with you," Gary explained. "Then afterwards, the Bush family goes in front of a little dining hall in front of a little tree, and they stand there for an hour and a half [to take pictures]."
A family picture with the President and First Lady hangs in their hallway to this day. Living close to Washington, D.C. and with Gary's job, the Maddux family had several opportunities to visit the White House. To many people, visiting the White House was an exciting trip. But if you're a small child, the experience is far from thrilling. "Oh, we hated going to the White House," laughed Kaylee, the second oldest daughter in the Maddux family. Between all the uncomfortable fancy dresses and walking around, the Maddux girls don't remember enjoying their visits to the White House. "I would love to do that now," Kaylee added. "But when I was little, I did not want to go." Another perk for Gary in flying for HMX-1 was traveling to President Bush's ranch in Waco, Texas, many times.
As native Texans, Gary and Nancy craved opportunities to visit their beloved state. One year for Christmas, Gary was chosen to fly with the President to the ranch. When Nancy heard this, she was www.nowmagazines.com 13 MansfieldNOW July 2013 determined to join him. "I said, 'There's no way that you're going to be in Texas at Christmas, and I'm not there," Nancy laughed. "So, I mean, I literally threw the kids in the car and drove 24 hours straight with the kids to be there." Gary had a few days off while in Waco, so the whole family explored San Antonio and even attended the Alamo Bowl where their alma mater, Texas A&M, was playing. Nancy and Gary's determination to create a unified family, despite military commitments, has spurred their children to follow. Kaylee currently marches in the Texas A&M band and plays the piccolo. "It was because of my dad that I went to the Corps of Cadets, actually," Kaylee smiled. "I wanted to experience all the stories he was always talking about." Their third child, Madison, echoed Kaylee's sentiments. "I want to be an Army doctor, and I guess I pretty much got that idea from my dad," she explained. "When you grow up in a military family, you get that sense of pride. You see what your dad's done and see how good of a man that he turned out to be."
Gary's time with HMX-1 and the President was his favorite time in the Marine Corps. Although travelling around the world and meeting the President were all memorable, his first time to pick up the President will always be one of his most favorite moments. "You have to undergo a year of training to fly the President," Gary remembered. "So you want to do everything right because you're picking up the President from the White House — it is just the most amazing thing in the world."
Written by Mikaela Matthews.