ENNIS, TX — When it comes to school pride, the Ludwig family has it in spades. From the late Herbert Ludwig and his daughter, Pat, to his granddaughter, Joanna, three generations have cheered for the Ennis Lions. Herbert, who passed away last year, left behind many grieving hearts that cherish his legacy as a devoted husband, family man and friend. Herbert is best remembered locally as a witty, fun-loving yard clerk for the Southern Pacific Railroad, which he served for over 40 years. He's also known for his long, happy marriage to the former Mary Comiskey, with whom he and a circle of friends regularly vied in games of dominoes, particularly "42" and "Amtrak." Shortly before Herbert passed away at age 91, he and Mary celebrated their 65th anniversary.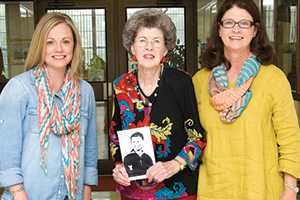 What many may not know about the funny, high-spirited railroad veteran is that he was a cheerleader for Ennis High School (EHS) during his senior year in 1939. That stint paved the way for a tradition in his family. His daughter, Pat Ludwig Webster, followed in his cheerleading footsteps her junior and senior years in the mid-1960s. And Herbert's granddaughter, Joanna Webster Cunningham, picked up the pompoms and shook them for all four years of her time at EHS, in the 1990s. "Herbert was very proud of his time in school," Mary recalled. "He loved cheerleading at the football games, and was so proud his daughter and granddaughter carried that on." Pat, a registered nurse, also remembered the interest her father took in her education and cheerleading. "He was a great role model," she said. "He was the kind of daddy who was always there. You would call him, and there he was. He was our security." Joanna, a counselor, shared a memory that illustrates how much love her grandfather felt for his family — and how much pride he still invested in the Ennis Lions. "I brought him some old furniture once that had been discarded when an elementary school was being refurbished," she said. "Well, he very lovingly took it and sanded it down for me, repainted it and made it look brand new."
For Herbert the old furniture must have rekindled memories of the days he cheered for his hometown, joining the girls and one other boy who comprised the cheerleading squad at Ennis High in 1939. When he wasn't supporting the Lions at games, Herbert was making the most of his education. After he moved with his family to Ennis from Corsicana, the credits for a course he had completed didn't transfer to EHS, delaying his graduation. But Herbert took it in his stride and dedicated himself to finishing his senior year, enrolling in trigonometry, calculus and other difficult courses. He was also active in the Spanish Club and the Glee Club. Following graduation, Herbert joined Southern Pacific as a clerk, but after the Japanese attack on Pearl Harbor in 1941, he and a friend signed up with the Navy. He was in the service for the duration of World War II, returning home to Ennis and his railroad job in 1945. He didn't meet Mary until the following year. Several years younger, Mary was a telephone operator for Southern Pacific, working the night shift, and while putting calls through to and from Herbert, the pair became friends. "My office was where the Railroad Museum is now," Mary reflected. "So Herbert and I got to know each other over the phone, but we didn't start going together until later."
It was at a company party that their romance was born. Herbert asked her to dance, and she accepted. They fell in love and were married in February 1947. Over the next decade the couple reared five children: Michael, Rosemary, Jo Ellen, Sylvia and Pat. Mary still lives in the same house she moved into as a young wife 65 years ago, and where her 14 grandchildren now visit her. Pat was the one who first took a page from her dad's life by becoming an EHS cheerleader in 1966-1967. "It was fun," she remembered. "We had just six cheerleaders, made up of two sophomores, two juniors and two seniors. That's how it was done then. And we painted all our own victory and booster signs." She also has fond memories of camp where the squad learned new cheers for the coming year. "It wasn't nearly as sophisticated as it is now," Pat observed. "It was pretty toned-down, and we just had two or three cheers. But it's a fun time to look back on." Along with cheering for the Lions, Pat was active in basketball, a member of the student council and served on the yearbook staff. Her daughter, Joanna, took on the family mantle next, although at first she was unaware the tradition hailed from Herbert. "I didn't know until later my grandfather had been a cheerleader too," she laughed. "I thought that was so cool!" Joanna cheered for the Lions from 1994 to 1997 and enjoyed it as much as her mom and grandfather had before her.
But Joanna's athleticism sometimes frightened her doting grandmother. "I used to watch her," Mary said. "Joanna was so little she was often chosen to be on top when the girls did their pyramid routine. Well, I was always afraid she would fall!" In addition to cheerleading, Joanna was on the student council, worked on the yearbook and was a member of the National Honor Society. Pat and Joanna are glad they shared the experience of cheerleading with Herbert. Joanna has even kept some of her uniforms, which Mary's great-granddaughters all like to play dress up in now. "Cheerleading wasn't a major thing for me personally," Joanna clarified. "But it's a way to remember my grandfather. He was proud of us, and we are proud of him." When Mary, Pat and Joanna look through EHS memorabilia, it's not their own achievements they discuss.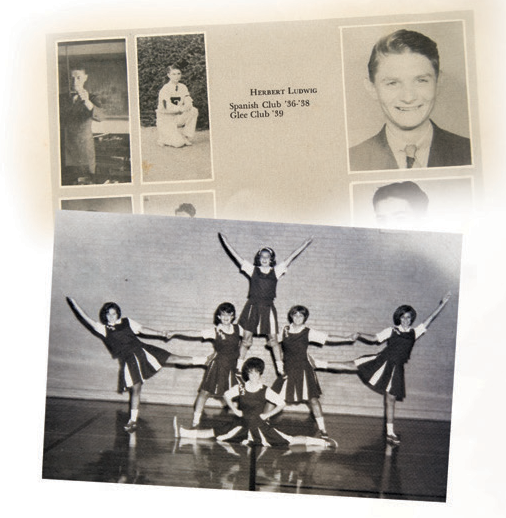 It's their memories of Herbert and what he meant to them. "He was a good daddy," his wife pointed out, adding with a laugh: "And a good fisherman!" Joanna agreed. "Some of my fondest memories as a kid are of PaPa teaching me how to fish," she admitted. "Those were some of the best times — being with Nonna and PaPa on vacation in their 5th wheel trailer." Pat and Joanna remembered trips with Herbert and Mary to Lake Whitney, as well as to state parks all over Texas. "Dad's mind was very sharp, and he was happy until the end," Pat said. "And we are happy to pay tribute to him by remembering his pride in Ennis High and in us."
Written by Randy Bigham.