ENNIS, TX — A community leader combines the grace of religion and the might of the law in her dual role as a private practice attorney in Dallas and pastor of Ennis' First Christian Church.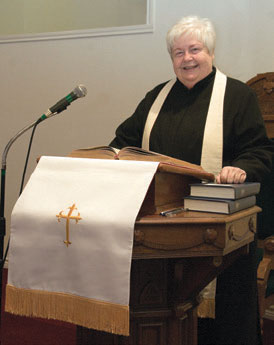 Reverend Rosemary Redmond, a doctor of jurisprudence, has spent 43 years in the legal profession, 30 of them devoted to elder law, defending the rights of senior citizens. Her dedication to aiding the elderly is unabated. "Senior adults are taken advantage of in medical situations and in many other ways," Rosemary explained, "but they deserve respect and compassion wherever they are." As important as her advocacy for the elderly is, Rosemary has lately extended her scope of caring to the pulpit. Assuming the pastorate of First Christian while completing her Master of Divinity degree at Texas Christian University, she admits to being a late bloomer in this second calling. "I did my best serving others over the years," Rosemary reflected, "but more and more I had the desire to be of service as a minister."
A 1970 graduate of St. Mary's University School of Law in San Antonio, Rosemary always felt a spiritual tie to the work she undertook. But it wasn't until after she moved to Ennis in 2000 to help care for her ailing parents, the late Dr. Harold and Velma Redmond, that the lawyer became a preacher. "God constantly invites us to a closer relationship of love and service no matter our circumstances or our age," Rosemary observed. Neither has gender prevented her from pursuing her quest to touch lives as a minister. Not least among her supporters were her parents, who backed her all the way. "There's a long line of independent women in my family," she said with pride. "My mother was a businesswoman, working for years as a Realtor, and my grandmother and great-grandmother also worked. So my family believed in me from the start."
Rosemary also received encouragement from members of First Christian, who initially asked her to worship with them about five years ago. Up to that time, the future pastor had delivered sermons at a small country church in the area and led the Sunday lesson at the IOOF Nursing Center. One day, while having lunch at a local cafe, a member of First Christian stopped by her table and invited her to attend its services. "My life changed when, after several weeks, I walked into the First Christian Church," Rosemary enthused. "I was met with so much love and acceptance and was invited back to deliver the sermon the following week. That sermon was God's ticket to enhance my life by calling me to be of even greater service to others." It was only up from there. When her gentle personality and gentler words impressed the following week's guest minister, Dr. Steve Sprinkle of TCU's Brite Divinity School, he asked for a copy of her sermon. Knowing Rosemary's hopes, Dr. Sprinkle sent it to the seminary's director of admissions, with the result that in January 2010 Rosemary began her education there.
Now entering her fourth year at TCU, she will graduate with her Master of Divinity degree in spring 2014. Rosemary sees the recent journey she's embarked on as confirmation of God's purpose for her. The congregants of First Christian agree. Originally concerned their pastor might be assigned another church by Brite's professors, members were happy she was permitted to remain at First Christian. And Brite is more than proud of Rosemary too, presenting her with 2011 Ministry Award for Service. Rosemary so proficiently melds her work as pastor with that of lawyer that she doesn't stop to notice how busy she is: "God makes the time available for all of it!" Periodically roles overlap, such as when an ailing elderly member of First Christian required Rosemary's spiritual counsel and legal heft. "As her pastor," Rosemary shared, "I was of course there for her, but also — although she wasn't a client — I was going to make sure she received the care she needed." In return, church members stand by their minister, Reverend Rosemary, as she's familiarly known. They respond to her quiet dignity, serene presence and sincere interest in each of their lives. "The members of First Christian have embraced me, and I'm grateful for that," she said. Gratitude is an integral lesson in Rosemary's view of people and how their lives can interlace more productively. "We are called to see life with a grateful heart," she insisted. "No matter what has happened to us in our lives, and no matter how bad things seem, it could always be worse!"
For Rosemary, biblical teachings combine with the self-help philosophy of the late Debbie Ford, a prominent motivational speaker under whom she trained. Dr. Ford was the author of Dark Side of the Light Chasers, a New York Times bestseller, and founder of the Collective Heart Foundation, an international children's outreach that has helped build schools in Uganda. Rosemary was invited to Ford's memorial service in California in February, joining the likes of Dr. Deepak Chopra and other famous friends of the beloved life coach. "Oprah Winfrey was a close friend of Debbie's," Rosemary mentioned. "Debbie appeared on her show many times. Oprah wasn't able to attend but she kindly sent a DVD of episodes featuring Debbie for all of us to have." Rosemary imparts to members of First Christian the calming, inclusive attitude she has learned at Brite and through Debbie Ford. "I'm no fire and brimstone preacher," she confessed. "I just want people to know they are loved by God and that they matter in the world."
Her church family is dear to Rosemary because in them she sees the spirit of community giving. "God uses us to gift one another," she pointed out, adding that no program supported by First Christian underscores that fact more than its Treats for Troops campaign. Started in 2004, the drive to supply care packages to U.S. soldiers serving overseas is a year-round activity spearheaded by church member Harriett Adams. "Our Treats for Troops initiative is one we're very proud of," Rosemary maintained, "and it brings us closer as a church and as a community." Another successful charitable enterprise at First Christian is its Beans and Rice ministry. When evaluating what's important in life, Rosemary believes it always comes back to gratitude. "Fear, anger and hatred cannot live in the presence of gratitude," she said. "Our natural stance before God is love and gratitude. Our faith is a gift. Our very breath of life is a gift. What if we begin each day by taking a few moments to remember our blessings and our gifts from God?"
Written by Randy Bigham.