CORSICANA, TX —  This month, Daniel Hux, a graduate of Navarro College, will go to Washington, D.C., to be presented the Gold Congressional Award, which is given by the U.S. Congress to about 250 youth, ages 14-23 years old, annually. This award, while prestigious, will join other awards this local young man has received for outstanding service to his community.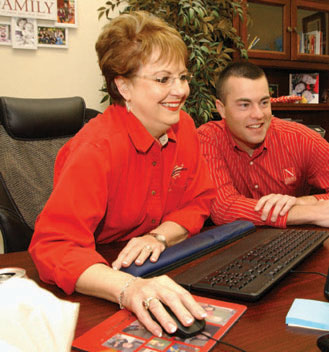 Growing up in the country near Mabank, Daniel participated in Boy Scouts of America, earning the top award of Eagle Scout. The head of his Eagle Scout Board, Janie King, encouraged Daniel to look at the requirements of the Congressional Award online at www.congressionalaward.org. The award can be earned at bronze, silver and gold medal levels. After careful investigation and consideration, Daniel decided to go for the gold. The journey toward gold began when Daniel was 18 years old and culminated five years later. During those years, Daniel's life took many turns. He enlisted in the Marine Corps after his 2007 high school graduation. Knee injuries, however, cut short this segment of his military career. He came home on a medical discharge and began rehabilitation of his knees and his course of study at Navarro College.
At college and throughout other segments of the community, Daniel found opportunities of service and growth, which worked well toward the obtainment of the Gold Congressional Award. Earning the award involves setting goals in four program areas: volunteer public service, personal development, physical fitness and expedition/exploration. Hours spent and activities performed were carefully documented and supervised by his mentor, Ms. King, as well as other adults. As a scholarship student in the honors program at the college, Daniel had to be careful to balance his academic life with the requirements of the award. "I did well, but I had a good time at Navarro College," Daniel said. "I wanted a well-rounded education, so I majored in general studies." As a volunteer in public service, Daniel was a Navarro College Ambassador, president of the Leo Club, treasurer of the Phi Theta Kappa Honor Society, a member of the student senate and served as a RA (residential advisor) in his dorm.
He performed over 700 volunteer hours at the Cook Center, working with his mentor, Carole Davenport, the director of the center. Carole remembered Daniel walking into her office, volunteering to help at the many community events held at the Cook Center. "I actually thought an angel had just walked in! He explained that he was working on his Congressional Award and needed volunteer hours, and he had chosen the Cook Center. From that day on, Daniel was at everything and did anything I needed. He was a dream of a volunteer and worker. I told him one day, 'If I had a son, I would want him to be you.'" Daniel has continued to volunteer at the center even though the award requirements have been completed. Lifetime service to the community is a primary goal of the Congressional Award program. The program focuses on the young person intensively working at only one or two volunteer jobs during the six-year period it can take to earn the award.
"The idea is to make an impact on the community," Daniel stated. Development of self was a large part of what Daniel learned. "I was exposed to a wide variety of people and many different situations," he said. Now a senior with two majors, economics and distribution management technology at Baylor University, Daniel finds his personal development gained through the award advantageous. "Business people are going to expect me to work well with people and be a problem solver," Daniel said. "Daniel presented himself so well with the public," Carole added. "He was a quick thinker, self-motivated, loyal and always respectful." The physical fitness requirement was met through running, weight lifting and performing crunches and push-ups.
A country boy at heart, Daniel said, "I enjoy getting out on the lake, shooting and camping. While he is in Air Force ROTC at Baylor, the physical fitness component could not be satisfied through military training. "You can't merge activities; you have to keep voluntary and required activities separate and organized." Friends joined Daniel for the expedition/exploration component. The group drove, staying often with friends along the way, to Washington, D.C., and onward to New York City for New Year's Eve 2010. Daniel remembered, "We nearly froze at the Lincoln Memorial. We walked on frozen water at the Mall, and it snowed on our way to Times Square. We met people from all over the world during the six hours of countdown and the rest of the trip. I was just a small-town kid making a trip to the Big Apple." This son of Danny Hux, who lives "right by the Trinity River," and nephew of Jimmy and Rita Hux of Gun Barrel City, has carried his sense of volunteerism forward in his life. Not only does Daniel still make it home to volunteer at the Cook Center on busy weekends, but he has worked with the Steppin' Out Program at Baylor where students volunteer days of service to the Waco community. All this plus carrying 18-19 college hours each semester as well as ROTC, which is eight or more clock hours per week, keeps Daniel focused on what is important in life.
"I enjoy the leadership aspect of ROTC," he said. He plans to continue his service to the Air Force upon graduation. "I want to finish my duty to my country that I started in the Marines," he added. Daniel has earned a high GPA at Baylor. "I had no problems transferring to Baylor from Navarro since the college had given me a really good education and prepared me well for university studies," he said. Daniel's advice to young people who might wish to follow his lead and pursue the Congressional Award applies to living a well-served life. "You really must love the joy you receive from volunteering. You can't be worried about receiving a paycheck. You have to really, thoroughly, enjoy giving to your community." As his Baylor graduation approaches, Daniel does not know where his Air Force career will take him, but he does know that he will be serving the communities in which he will reside and will return home often to do the same, living by President Kennedy's words, "Ask not what your country can do for you — ask what you can do for your country."
Written by Virginia Riddle.