BURLESON, TX — Tapping into hearts of veterans in Burleson, Joshua and Crowley, Bill Taylor stepped into his new role as commander of American Legion Post 235 with a vision to strengthen our community.
Anyone who has served during specified Department of Defense operations is eligible to serve through the American Legion, and Commander Taylor is networking his way through our area, looking for good men and women. "I'm impressed with how friendly people are here. They have knowledge and dedication to Burleson and the surrounding area, and not to tap that resource is a shame," Bill said. His leadership style is the same he used in his classroom, when Retired Colonel William L. Taylor (U.S.A.F.) led Burleson High School's JROTC program from 2003-11. "As senior aerospace science instructor, I involved them in the classroom process," said Bill, who brought his school-teacher habits to the American Legion last year.
His fellow Legionnaires admired his precision and punctuality. While he was out of town visiting his son, they nominated him to take commandership once Jim Bailey stepped down. "Taylor got drafted," American Legion Chaplain Chuck Snay said. The 36-strong membership works together to benefit Burleson and the surrounding areas. They were established three years ago, and produced Burleson's Flag Day last June. The post was overwhelmed with the number of unserviceable American flags brought by the public for retirement, and Adjutant Sandy Mason reconfigured their propane-fired incinerator to accommodate the expected numbers of flags at this year's ceremony.
Under Bill Taylor's leadership, the number of Legionnaires is growing thus multiplying the manpower. "What we are capable of accomplishing for our community is ambitious," Bill said. Post 235 is aligned in mission with the other 526 posts across Texas and 2.4 million members across the nation. Chartered and incorporated by Congress in 1919, the American Legion is committed to mentoring youth and sponsorship of wholesome programs, advocating patriotism and honor, promoting strong national security and devotedly honoring their fellow service members and veterans. You have seen members of Post 235 doing things like setting flags on graves for Memorial Day. They have helped maintain the bricks in Old Town's Veteran's Memorial Park. This month, they host a solemn Flag Ceremony to retire colors that have become unserviceable. "For God and country," Bill said, "we do this according to Title 36, the United States Code, in the Preamble of the Constitution of the American Legion. This, we hold near and dear in our hearts and extend our hands in friendship with our fellow citizens and patriots."
Anyone with flags that have flown at residences, businesses, churches, schools, municipal and even military facilities are welcome to bring the flags to Warren Park on the evening of June 14. While gathered, each individual's heart will be making its own statement. Some, like Chaplain Snay, may be praying something along the lines of his very own poem, "A Vietnam Veteran's Dream," in which he states: I was pulled into a war in Vietnam My country called, and I did my best, All I ask for myself now is Lord, "Please" let me rest. "A very poignant aspect of this ceremony is when fellow citizens line up to commit their flags for proper disposal," said Bill, who determines whether the flag is unserviceable. "The criteria includes: whether it is fading, withering from wind, soiled in appearance or in any other condition that would detract from what it is intended to represent for our country: our Constitution, our freedoms and our government at all levels." Bill invited local mayors, city council members and school board trustees, as well as city hall staff and members of business and fraternal organizations. Boy Scouts, Girl Scouts and churches will be represented, and Burleson High School is providing a bugler to play "Taps."
Although the community dresses comfortably for summertime, the American Legion will wear stiff white shirts and their uniform caps for the ceremony. "As citizens, we gather for patriotic recognition of the visible symbol of our country in its final glory," Bill said, "and renew our allegiance to our flag, our Constitution and our country for what it represents." Allegiance runs deep in Bill's family. "I have an unofficial record, that came out of the archives at Texas A&M University-Commerce, which delineates my military heritage all the way back to the Battle of Saratoga, New York, Freeman's Farm and Bemis Heights, a turning point in our American Revolution. According to this, my son and I are direct descendents of a regimental commander for Benedict Arnold," Bill said. Joining the military in 1957, Bill rose through the ranks of the United States Air Force while rearing his son, Will, to follow in his footsteps.
Will was in ninth grade in 1997, when Bill finished his final year of active duty. Bill became senior instructor of a high school JROTC program 15 miles south of Joplin, Missouri, and Will joined JROTC, where his leadership characteristics were refined. His home life had already made an impact. "I wore Air Force uniforms, my dad was Air Force reserves, a retired colonel, and we lived on air bases," Bill explained. "You accept the culture because you know it and observe its positive aspects." Since graduating through the ROTC program at the University of Missouri-Columbia in 2005, Will went on to serve as company commander of the 82nd Airborne in Fort Bragg, North Carolina. "It took me months to understand why he switched to the Army," Bill said. "He said the Air Force would not give him an opportunity to command, and that he preferred to be the commander on the ground calling in the air support.
As it stands, Capt. Will Taylor may well be a part of the last deploying force from Ft. Bragg to close out Afghanistan."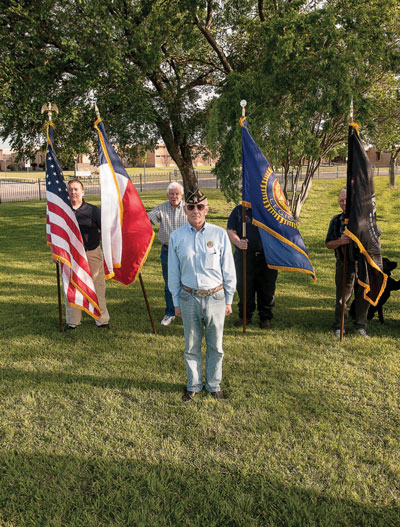 — both during active duty and through his nearly 14 years teaching high school JROTC. "ROTC is somewhat of a culture that cuts across the spectrum of scholastic abilities, family life situations and any sort of social differences," Bill said. "We know whether or not our students are disciplinary problems, special education or honor students, and we tune their education to this whole spectrum." Certainly, it is a challenge for a teacher to tune in to so many needs. But taking risks was all in a day's work for Bill, and still is. "When I commanded Burleson's JROTC, with a cadet corps of almost 105, we did an annual 2,000 hours of community service with one cadet simply making two to three hours of service per month," Bill said.
"That's my vision for the American Legion. Just think what we could do with 100 members or more!"
Written by Melissa Rawlins.