WEATHERFORD, TX — In May 2012, Selma Johnson puttered onto stage at the Ms. Senior Parker County pageant.
An oversized coat, old hat and bark cane, inferring a state of old age. "They say you want to hear my story. I'm not sure why," she said. "Where's my husband, Chop Johnson? He's my starter and keeper. His real name is Walter, but it doesn't fit him." She peered over the audience. "Guess he stayed home tonight. I'm supposed to tell you what it's like to grow old. What do you mean I'm growing old?" With that, she tossed the cane aside, throwing off the hat and coat. "I'm not growing old. I am old." Selma continued with a monologue she rewrote based on a poem called "Warning," by Jenny Joseph. Naming all she could still do, she acted out each one of the things she has done her in life, such as skydiving and dancing, with pictures displayed on a screen behind her. She ended by saying, "And I can just be me." Later, the contestants sat on stage waiting for the judges' decision. Suddenly her 16-year-old grandson, acting as an escort, punched her back. She turned, giving him that grandmother look — the one clearly asking, "What are you doing?" He'd behaved so well up until then. "Nana, you won. Get up," he exclaimed.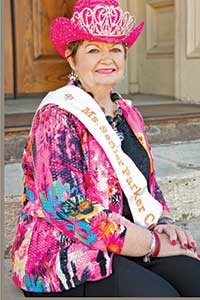 She already picked out the winner, and it wasn't Selma Johnson. "It was a nice surprise," she said. "What an honor for Carmen Ashby, the 2011 Ms. Senior Parker County, to crown me." She admired the 98-year-old, who was the epitome of aging without growing old. Carmen passed away this past January. "She was quite a lady. A lady of charm," Selma said. Selma entered the pageant, which benefits Meals On Wheels, as a dare of sorts. Why not? It would be fun and support one of her favorite charities. She never dreamed of winning. Fifty years earlier, Selma had been crowned Miss Flame of River Oaks. So it wasn't her first time to win a pageant. Selma was born October 24, 1944, in Fort Worth. When her mother saw extreme shyness in her daughter, she entered her in beauty pageants and speech classes to overcome it. "I hated them," Selma said. "Looking back, the pageants weren't about beauty. They helped me talk to people and not be afraid." As she looks forward to competing in the Ms. Texas Sr. Classic in August, she doesn't look at outer beauty. She sees only what lies inside.
"The Lord gave me some gifts, and I'm using them," said the vivacious woman, who is quickly approaching her 70th birthday. Selma spent most of her life as an uncrowned beauty queen, aimed on one thing — encouraging women. She began her ministry career at North Richland Hills Baptist Church. In a repeated pattern, she accepted positions, organized and started ministries for women, children and adults, and then moved on to a new place. She soon accepted this as normal — not expecting — long-term positions. That wasn't her calling. Her ministry took her to other countries, educating women who hungered to learn.
Her first overseas trip took her to Korea for two weeks. Selma spent time in Sri Lanka, and once she spent two weeks in Peru, living on a boat in the Amazon River with 37 women and one bathroom. They taught in a Shipilo Village. Another trip took her to an orphanage in Tenali, India, for about three weeks, where guards escorted her everywhere, locking the hotel room from outside at night for safety. After 45 years on staff at some of the largest churches in the United States, she founded Kaleidoscope Paths, a speaking/ consulting ministry, and retired from a position at a large nondenominational church near Las Vegas, Nevada. Her husband, Chop, managed the church-owned restaurant. They worked together for the first time, yet with differing schedules, they seldom saw each other. The Johnsons decided to pack up and move home to Texas to be closer to family. Retirement didn't slow her down. Operating in personal ministry, she traveled, spoke and wrote. "For some reason my family didn't think I had enough to do. They'd ask when I was gonna get a job," she said. She spotted an advertisement for a position at Freedom House as a sexual assault coordinator.
She'd never worked an eight-to-five job, but the idea appealed to her, www.nowmagazines.com 9 WeatherfordNOW May 2013 and she met the requirements. Somewhat uncertain about the job, she applied. The offer call came the day her brother-in-law passed away. She told them they'd have to wait, but accepted with an understanding she had obligations with her ministry. Her first assignment — to create a prevention program as part of a proposal for a grant needed to pay her salary. Selma wrote curriculum for children and adults focused on education about sexual assault and prevention. Her crowning achievement arrived when she went to Austin, stood before the state House and Senate and read a thank-you letter from a 14-year-old girl.
She volunteers for many organizations in Parker County, including Zonta, the Careity Foundation and as chaplain with the Guardians of Children. She also serves on the board of Freedom Horses. Chop is her biggest supporter, but no one gets away with addressing him as Selma's husband. They respect each other's need for independence. They met in 1964 on a blind date, when her sister said, "You have to meet Chop." "Yeah right," Selma said nonchalantly. "I need to meet some man named Chop?" He had tickets to see South Pacific at Casa Mañana in Fort Worth, and when his date got sick, she agreed to go. He took her to dinner, the play and then out for coffee, where they talked until the staff made them leave. On their second date, he took her to The Palace Theater in Fort Worth for the premier of The Sound of Music. They met in June and married in September. People said it would never last. Forty-eight years later, they still spend hours on Saturday mornings sipping coffee and talking.
Through ups and downs in marriage, they haven't quit. Selma recently asked if he regretted it. "You've had the opportunity to have a career," Chop answered. "Why should I squash it down and squash you down? I had different things I could have pursued, but the Lord didn't open those doors." Perhaps his attitude gave her the encouragement she needed to teach women all over the world to live in freedom. For now, she continues making memories. Perhaps one day, she'll write them all down. Until then, look for Selma, dressed in purple with a hat, perhaps complete with a crown.
Written by Lisa Bell.