GRANBURY, TX — At 81 years old, Hank Stewart enjoys riding one of his many bicycles for miles along scenic routes in the local area.
While living in Minnesota, he started biking in his late 40s when his oldest son, Bob, a teenager at the time, urged him to give it a try. Bob wanted to work at a grocery store in town, but he needed a way to get there from the Stewarts' 700-acre farm. Bob bought a bike and encouraged his father to come check out the local bike shop as well. "I bought a bike. And, I started riding. I really did enjoy it," Hank explained. Hank has been riding off and on ever since then. "When you start back, it's so painful at first because you're not in that condition. But, you remember how you were, and you want to ride like you did several years before," Hank remarked. "You really have to be determined when you do start back."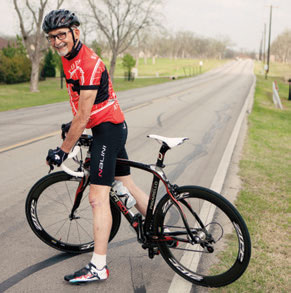 What they say is true. You never forget how to ride a bike. And, Hank has been riding regularly again since he was 74. "I like it mainly because it keeps me in pretty good shape. It makes me feel good, especially after I finish a ride," he said. "It's not really strenuous. It's an endurance exercise. I like to stay in good shape, but I don't want real big muscles." He also enjoys tinkering with the bikes. He has all the new electronic gadgets, including the Garmin, which has maps with all of the biking back roads. "You can download rides that your buddy did. You can put your rides in there." Hank meets with other Fort Worth Bicycle Association members twice a week for rides in the local area. "I ride with what we call the Rusty Chain Gang," which is a splinter group within the club. "We've got a lot of bikers in our club who started out running."
When it comes to bones, knees and joints, Hank believes cycling is a better choice than running. "I think runners have more problems with that after a certain age." The Rusty Chain Gang has 80 members, ranging from beginner to expert. They meet once a month for dinner with their wives or girlfriends. Hank considers his fellow bikers his friends. Several members are involved with Bikes for Tikes. They go to area bicycle shops for spare scrap parts and assemble them into bikes for underprivileged children in the local community. During their weekly rides, the Rusty Chain Gang often leaves from Benbrook. "We all leave at the same time, but we split up and go a shorter route than others. The faster riders usually take the longer routes." They also take trips every year. "We ride all over," Hank explained. The group travels to West Texas, South Texas and the Hill Country each year. "Bikers like hills. "That's the challenge and the fun part of biking. I enjoy riding on city streets where they have bike lanes or even signs. At least it makes motorists somewhat aware that a biker might be there." Each year, one or two bikers are hit from behind and killed in the local area. "It's just one of those unavoidable accidents. It's really been bad over the past six or seven years since texting and smart phones have come out."
A Ride of Silence is held in Weatherford annually to honor cyclists who have been killed while biking. Hank was involved in a minor crash on his bike. A motorist bumped him from behind. He wasn't injured and didn't fall off his bike, but he was pushed about 20 feet. He urges motorists to keep an eye out for cyclists, but bikers must also follow the rules of the road. "We have a right to be there, but it is irritating to motorists," he said. "Most of us try to give the cars everything that we can possibly give them." The cycling population is higher in Granbury than in other locations. Because of that, Hank thinks Granbury is a safer place to ride.
"You sweat going uphill and then going downhill, you're not working. Your clothes are wet, and the wind freezes you." During the summer, Hank participates in the Senior Games of Texas. He competed in San Antonio in 2012, winning four gold medals in races for his age group. Because of those medals, he has qualified for the National Senior Games to be held in Cleveland, Ohio, in July. He also rides in the Parker County Peach Pedal and in the Burleson Honey Tour.
He tried to get his wife to start cycling this year and bought her a mountain bike. She tried it out in the concrete driveway at their home in Pecan Plantation. "She was constantly turning," he said. "I should have taken her to a trail where there is no traffic," he admitted. "She had some near tip-overs just going real slow. Finally she said, 'I don't like this.'" Carlene has decided to keep up with her hobby of playing bridge instead of getting back on the bike. But for Hank, cycling has truly become a lifestyle. From mountain biking to taking the lesser traveled roadways, Hank plans to stick with it. "You can go as long as you want to, as hard as you want to or you can slow up and take it easy. And, just enjoy the scenery," Hank said. "I don't think there is a better sport."
Written by Amber D. Browne.