WAXAHACHIE, TX —  Ordinarily, one would not expect to see a petite, 70-year-old grandma among the graduating students of a college commencement ceremony. But Wanda Bolgiano is not an ordinary woman. Growing up in Louisiana, she knew from an early age she wanted to pursue a higher education. After graduating from Anacoco High School in Anacoco, Louisiana, she enrolled in Northwestern College (now Northwestern State University) in Natchitoches, Louisiana. With one year completed, she married Morris Bolgiano and put her college days on hold. They had two sons, Randy and Richard. "I worked full time; and with raising two boys, I just couldn't find time to go back to school," Wanda said. Morris spent three years in the Navy, and when he got out they moved to DeSoto, Texas. "When we moved here, we worked in insurance, and then we started our own agency," Morris said. "The kids got married and grandchildren came along — there was always something coming along to delay Wanda's dream." The couple thrives on being grandparents to three boys. They love going to their sports activities and having them stay overnight at their house. Wanda was emphatic that everything the boys want to do includes having fun!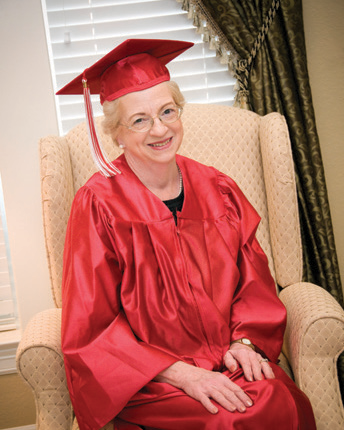 In 2004, the Bolgianos moved to Waxahachie where they have a spacious home full of calm and comfort. One son and his family lives in Files Valley, the other in Midlothian, so they are close enough to have frequent family times with their parents. Wanda has worked in the insurance business as an agent since 1983. Although successful in her business pursuits, she never lost her desire to get her college degree. Two years ago, she told her husband she was planning to finish her education. She learned there was an open house at Navarro College, so they attended it. "Everyone was so friendly," Wanda said. "When we left, I told Morris, 'I'm going back.'" She found going back late in life wasn't so bad, except for the math. "I really had to work at that," she said. Fortunately, she had two helpers close by. Her daughter-in-law is a math teacher, and Morris was a math major in college, so they helped her when she needed it. Morris coaxed her to change to a major where she wouldn't have to take math, but Wanda waited a long time to get what she wanted, and she wasn't going to settle for one iota less. She harnessed her dream and ran with it.
Although she continued to work full time, she studied in the office when business was slow. At home, she would retreat to the recreation room upstairs where she could have privacy and quiet to hit the books. The younger students at the college found it interesting to have a more mature woman in their class. They treated her like a mother, often telling her if she needed help to let them know, and they would help her. She made many friends there. "Many of them didn't know my age. They thought I was a lot younger," she said. With her youthful appearance, energy and quick wit it's easy to be misled about her age. Wanda's faith was also a big help. She prayed a lot when getting ready for tests. "She often asked me to pray for her, too," Morris said. With a mischievous sparkle in her blue eyes, Wanda shot back, "I even had the other students praying for me." With college, a home to take care of and a husband to keep happy, Wanda had a full schedule. Still, she never slowed down or fell behind in assignments. Morris helped home. "Even though we're in different offices, we still work together — but we don't discuss those things when we get home.
We leave our business at the office," she shared. "We're trying to get the company built up, so we can have more free time together," Morris chimed in. "We're hoping in a couple years we'll be able to do that." On May 12, 2012, the seed Wanda nurtured in her heart for so long reached full bloom. On this long-awaited moment, she rose from her seat among 250 classmates and delivered a praiseworthy speech, one of only three people given this honor. She presumed she was chosen to inspire other older people to get an education.
"When I looked out at the audience it made me nervous, but it worked out really well," she said. "All of my family was there, and I could hear my grandchildren clapping and cheering for me." "I couldn't have stood up in front of the auditorium full of people and done that," Morris added. "I was nervous to begin with, and I crossed my fingers when you started to talk," he said. "She told a little joke right at the beginning that got everybody's attention, and from then on it was smooth sailing." While Wanda is proud of her accomplishment, she isn't content with her educational achievements just yet. She did so well getting her associate degree in business that she earned extra hours to put toward a bachelor's degree in business management. She plans to start working on it this summer.
Written by Florence Phillips.