WEATHERFORD, TX — Immersed in the music scene most of his life, Hunter Robinson has envisioned a future in the industry. He has great plans for himself and the drive and determination to follow through with them. He wants to make music his career.
"I want to be in a band. I want to produce. I want to own a studio. And, I want to travel and play with different artists," Hunter said. Hunter is currently a freshman at Weatherford College. He does not play with the band at school but is currently taking lessons there. He is pursuing a major in music performance with a minor in business, and he knows what he wants. "I've always loved music. When I'm down, when I'm happy, when I'm mad — music is always just there."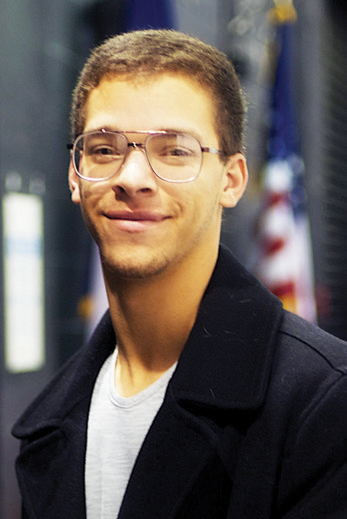 The 19-year-old grew up listening to music his entire life. "The weekend was always cleaning day at my house. My dad would always have on the surround sound. He would have the house shaking," Hunter remembered. Now, Hunter enjoys almost any type of music, from rap and rock to heavy metal. At the young age of 4, Hunter was fated with his first drum set. Also around that age, he got his first behind-the-scenes look at the music industry. His aunt, Lisa Umbarger, was the bass player for The Toadies.
Hunter and his grandparents went on tour with the band including shows in Austin, San Antonio and Dallas. For Hunter, touring with the band was a lot of fun. He remembers one incident clearly. "My aunt bought me a little toy electric guitar," he recalled. "We were always back stage with them, and I walked out on stage while they were playing 'Possum Kingdom' in front of 30 to 40,000 people," Hunter said. "I was just playing on stage with them. It was just fun." He began participating in the school band program in seventh grade and continued through high school. Hunter graduated from Aledo High School in May 2012. "Aledo was probably the best thing that ever happened to me," he confessed. Before attending Aledo High School, Hunter attended Western Hills High School in Fort Worth his freshman year and Brewer High School his sophomore year. During his sophomore year, the Aledo drum line won a prestigious competition. "My parents knew drum line was a big deal to me, so they decided to take me to that school," Hunter said. His parents thought Aledo would be a better fit in academics and the music program, plus it didn't hurt that they were big football fans.
He walked on the drum line and later made the snare line. Hunter's parents, Tony and Tara Robinson, have always been supportive of his interests. "My dad has always been a realist," Hunter said about his father, who is a retired Marine. "I was just brought up as, it is what it is." And, his parents knew drumming was one of his main interests, so they have backed him in his musical journey. "They always said, 'If you want to do it then do it, but you've got to keep your grades up. Practice, get better and you have to actually be serious about it.'" Learning to play the drums takes a lot of passion and dedication. "Drumming was something I was always able to hear." Growing up, Hunter would often listen to music and then play it. It can get frustrating at times, but he tries to break down what other drummers play to learn the notes. There can be six notes within one beat, and the drummer plays each of those six notes on a different head of the drum set. "You have to break it up between these two hands and your feet," he said. "I was always good at it, but I still had to practice."
A drummer also has to want to be taught, because if you don't fix a problem, the form could be off. "If I write with my right hand, it will be a lot stronger, so you have to get them on the same level. You have to hold the stick the same way, so it sounds the same when you hit the drum." The quality of the wood also makes the stick sound better when it impacts the drum. The sound of the drums draws Hunter to them. "All the different pieces it has. You can make it as big as you want," he explained. A drum set includes one kick or more, one or more bass drums, toms, cymbals and snares. He usually plays with a five-piece standard drum set that includes toms, a floor tom and snares. When it comes to a drum set, the drummer is playing the same line with one foot and different lines with each hand and the other foot. Marching band is a little different. "With the snare drum in marching, I got to where I had to keep the beat, the quarter note with my feet, while playing those two different rhythms with each hand." The drum line would play as many as 200 to 300,000 notes for one show. Performing for the first time in marching band as a freshman at Western Hills was an incredible experience for Hunter. "It's unlike any feeling you've ever felt. Just having all eyes on you," he said.
"When I got to Aledo and got to play at the Cowboys Stadium with so many more thousands of people watching me, it was just unreal." When he was in marching band at school and living at home, he would spend up to 20 hours practicing each week. Living in the dorms at Weatherford College has forced him to cut back on practice time, but he wants to take more lessons at the college. He's also a cheerleader there and likes going to competitions.
Hunter enjoys being out on his own. "I love it. I'm away from my parents for the first time. I'm still getting used to it." His younger sister, Jade, is a senior at Aledo. She wants to pursue a degree in architecture at The University of Texas at Austin. Hunter is looking at Texas State University-San Marcos as an option. That would get him a little closer to his sister and to the outlet mall, where he could continue his love of shopping for those designer brands. His first school choice, however,is Belmont University in Nashville, Tennessee. Hunter is constantly working to improve his talent and wants to play in a band with other musicians who are as talented as he is in music. "I want to find people as serious as I am about it. I want to actually go somewhere with it."
Written by Amber D. Browne.