DUNCANVILLE, TX — "Never judge a book by its cover" is how the saying goes. For anyone who happens to encounter Josh Townsend, judging a book by its cover would be a big mistake. Josh, a 15-year-old Duncanville resident, looks like your typical teenager, and in many ways, he is. However, most typical teenagers have not suffered a life-changing stroke as a child, endured years of physical, occupational and speech therapy — or become a well-known, virtually self-taught and in-demand pianist. As a toddler, Josh did not hit certain milestones as far as speech and motor skills go. Despite the concerns of his mother, Kevalyn, Josh's teachers and a few doctors insisted nothing was wrong with him. Relying on her instincts as a mother, Kevalyn knew something was not quite right.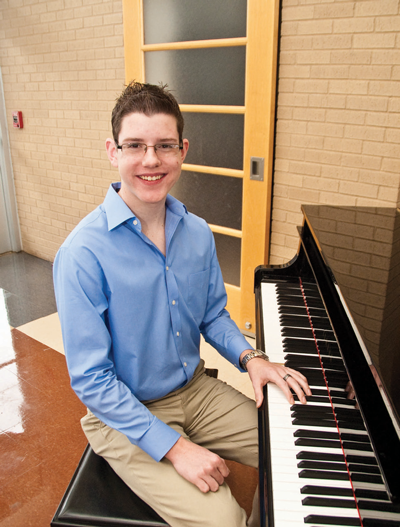 "In my baby pictures, when I would smile, my left eye would be sort of closed, and my right eye would be open," Josh said. "I had trouble walking, and I couldn't hold things in my left hand. I had no strength." "I kept saying something was wrong with my baby. The teachers kept saying he was fine, but he wasn't," Kevalyn said, By Katrina D. Lewis recounting how she noticed Josh's reading and other physical skills were not on the same level as his peers. After a teacher shared her concerns, Kevalyn took Josh to Children's Medical Center in Dallas. Josh was in second grade when she finally had an answer. He had suffered an undetectable stroke as an infant. Doctors have never been able to determine why it happened.
Looking back, Kevalyn realizes had she known exactly what was wrong with Josh, he might not have turned out to be the kid he is now.
"The neurologist said his stroke was like that of a child with cerebral palsy," Kevalyn said. "So they said he really disintegrated. I learned by ear. I could work it out on the piano after a few tries. Once I gain it, I have it." "Hours and hours, literally," Kevalyn admitted. "He would just play what the people were playing." Once he has memorized a song and caught the melody, Josh's improvisation skills engage, allowing him to add soulful riffs and runs to traditional southern gospel songs. Playing in his grandfather's church is not the only place Josh has showcased his skills while being an inspiration to others. While driving home one day from an appointment, Josh had the overwhelming urge to play a piano, any piano. Kevalyn remembered there was one in the D.L. Hopkins Senior Center in Duncanville, so Josh stepped inside to ask permission to play. "It has a gravitational pull," Kevalyn said. "It doesn't matter where we are, the piano will pull him in." Since that time, Josh has played during lunch at the center and has been invited back to be a part of productions, dancing, singing and playing with CenterStage, the center's performance group. Josh has proved quite popular at the center, learning the names of those who attend and being welcomed into their lives. Josh is recognized by many of them when he's out and about in Duncanville, and Kevalyn likes to joke that "he has more grandparents than anyone I know."
Josh has taken his talents — and his remarkable testimony — far past Duncanville city limits. After forming a relationship with The Old Paths Quartet, a southern gospel group, Josh had a chance to tour with them recently, traveling to eight states in seven days. The tour stopped in Florida, Alabama and Missouri, to name a few, with crowds sometimes numbering in the thousands hearing him play. Although his story is beyond inspirational and his talent is unquestionable, Josh remains refreshingly humble about what he can do and wants to ensure he is reaching others when he plays. "I recognize I've been blessed with this talent," he said. "I like to play songs you can feel music you can relate to — music you can get a blessing from."
Written by Katrina D. Lewis.