RED OAK, TX —  When you think of a 15-year-old, you don't generally think of him or her starting a nonprofit organization. Some teenagers are focused on stereotypical things, like getting their license or making weekend plans, but 16-year-old Sky Holman has a different outlook. His focus is on music and fine arts. "I think everyone should have the opportunity to pursue their dreams, even if they may not be able to afford it, or if they don't have a very good support system behind them," Sky explained. It was this passion that eventually led to the creation of The Association of Fine Arts: Benefiting Children, a nonprofit charitable organization Sky founded last year. Sky's passion for music began at a young age.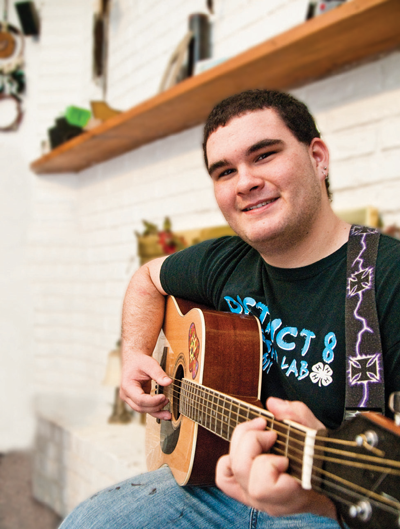 "I started piano lessons when I was 9 and only took a few lessons, but I got my guitar for my 12th birthday and have played it ever since," he shared. His love for music stretches through all genres. Sky loves to play or listen to '30s show tunes, '60s pop-rock, '80s hair metal, classical orchestrations of symphony music and techno/ hip-hop. "I can honestly appreciate and enjoy certain aspects of any genre of music," Sky said. Currently Sky plays guitar, sings and has taken up the piano again. "Since I was a little kid, I've dreamed about being a musician, performing in front of thousands and sharing my passion with the world," Sky reminisced. It was that passion that made him realize the need for a fine arts organization in the area that could help other youth follow their dreams, too. "I started the organization for kids like myself who may not always be able to afford to pursue the things they want," Sky explained. "The arts are a very expensive field, and our sole purpose is to help kids and young adults pursue and develop their natural abilities, while benefiting children and charities." Sky also views fine arts as an important aspect in child development. "When children are introduced to music at a young age, specifically between the ages of 4 through 16, certain receptor cells inside the brain are stimulated. This stimulation enhances cell growth, resulting in enhanced memory and 'outside the box thinking,'" he shared. But music isn't the only beneficial fine arts medium.
Painting can be as well. Imagine an 8- or 9-year-old whose pet just died. To an outsider, it may seem minor, but that child may have considered the pet his or her best friend. "Now, I know it isn't true with all kids, but I've never been big on talking. I don't hide my emotions very well, but I don't talk about them. I express them through music, writing and drawing," Sky said. "Perhaps giving that child a canvas is giving them a way to express the feelings they wouldn't share in a way that lets them piece everything together right in front of their eyes. That's why I believe fine arts programs are so important. It's amazing to give these kids a chance they normally wouldn't have." The organization is run by Sky and a group of teenagers, with a handful of adults supervising their decisions and actions and acting as mentors.
Even though the organization is just a year old, they are already planning for a second annual event with proceeds going to Children's Medical Center in Dallas. Last year at Music Fest, they donated more than $400 to Children's. Sky and the other members hope to someday branch out to additional worthy recipients. "We would like to work with other charities, offer grants and scholarships, workshops, master classes and a board of artistic advisors for any child who has questions about the industry," Sky explained. Ellis County Music Fest is an all-day event the organization utilized to raise money for charities last year, and they are getting ready for the Second Annual Ellis County Music Fest, which will be held on April 20. Although the music and performers will remain the main focus, this year's event will encompass other aspects of fine arts, as well as more community-based involvement. Music Fest will offer vendors, dancers, comedians and visual art that will be silently auctioned throughout the day. Concessions will also be available, and since it's a nonprofit association, all money made at the event will go straight to Children's. "My goals for this year's event are pretty straightforward. I want it to be big," Sky shared. "I want there to be more music, more art, silent auctions, raffles, vendors, dancers, concessions and just everything. So far, we have already tripled last year's results, and I can't wait to see what it's like six years from now!"
Sky believes fine arts programs are important for everyone, not just children. That's why he wants to help children and young adults pursue their dreams and passions for fine arts, no matter what obstacles they may face. Currently pursuing an associate degree in music performance, Sky knows the arts will be part of his life, no matter his future career. "There are so many things I want to do, and no one thing more than the other: I want to continue running the association. I want to be in a band. I want to be a prosthetic makeup designer. I want to record music. I want to write. I want to be an actor. I want to create stories and ideas. I want to make films. I really just want to do it all," Sky said with a smile. "I've been considering starting a production company so that I could encompass everything, but I don't know yet. All I know is that it will be something artistic, no matter what."
Written by Chelsie Sanders.